By Scott Tzu
It has been a while since we have written about BlackBerry (BBRY). A lot of the reason that we have held off is because there has not been any fantastic news worth writing about and honestly, not too much on the overtly negative side of things either. For the most part, the last few quarters have been simply underwhelming.
The last few quarters have been difficult for the company, as the company has consistently missed all of its estimates, with only software showing a small bit of promise for the company going forward. While a transition to software has actually been CEO John Chen's goal, many people including ourselves are starting to hold Chen's feet to the fire with regard to the company's overall performance.
He has been in the seat now for over eight quarters, and has yet to make a move that has made the market or analysts pay serious attention to BlackBerry. So far, it is mission not accomplished.
Compounding things from a negative public relations standpoint, it was announced just days ago that the government was going to be ditching their BlackBerry phones once and for all. USA Today reported,
The U.S. Senate is finally making the switch from BlackBerry to Android or iPhone, a switch most of us made years ago.

Senate staff will no longer receive new BlackBerry phones, according to a memo from the Senate Sergeant at Arms sent last week to administrative managers, chief clerks and system administrators that was posted by Politico and blogger Jim Swift.

The reason, according to the memo: BlackBerry told telecom carriers Verizon and AT&T that production of all Blackberry OS 10 devices (Q10, Z10, Z30, Passport and Classic) is being discontinued and future fulfillment can't be guaranteed.
Despite the otherwise negative headlines, there has been some promise. Just days after we found out the Senate was ditching their BlackBerries, we learned that BlackBerry had landed a new software contract with the government.
This is commensurate with Chen's ongoing vision of trying to transition the company into a software company. So, not all bad news. The company press release stated,
BlackBerry Limited (NASDAQ: BBRY; TSX: BB), a global leader in secure mobile communications, today announced that the U.S. Senate Sergeant at Arms Office (Sergeant at Arms) has awarded a multi-million dollar order for the BlackBerry AtHoc crisis communications software to power the Sergeant at Arms' Joint Emergency Mass Notification Systems (JEMNS) over five years. With full spectrum enterprise level alerting and accountability, JEMNS powered by AtHoc provides secure notification and communications in times of crisis for as many as 50,000 individuals working and visiting the US Capitol Complex.
Despite its poor performance, the company is also not that quick to give up on its hardware segment. It's integration with Android continues to be a portal of promise for the company, as it allows BlackBerry to tap into the Android user base of hundreds of millions of users. Verge reported that BlackBerry has three new Android phones that it is prepping for release,
BlackBerry isn't ready to give up on Android. The company is reportedly planning to release three new Android phones this year, which will come out one per quarter for the next three quarters, according to VentureBeat. That's a lot of Android on BlackBerry, especially considering the company's first Android phone, the Priv, completely flopped this past year. The company only sold 600,000 units during its first quarter of 2016.
Perhaps many of you are asking why even follow the company at all?
The story certainly seems like dead money, which is the conversation we have had with numerous people who were once bullish on BlackBerry with us. It seems as though the bleeding is never going to stop, and it seems as though BlackBerry is never really going to find where it belongs in the technology world.
We have to simply disagree with this, mainly because the company is well-suited to take as much time as it wants and be as careful as it wants in trying to figure these things out.
Is the company dead money right now? It would certainly seem so.
However, The company isn't up against the clock, and that's going to prevent its stock from moving much lower, we think. It has not been burning any significant amount of cash; in fact, its cash balances remain quite steady over $2 billion as you can see from the chart below. The dips represent small acquisitions that the company has made, but the company has committed on its last few conference calls to keeping a balance over well over $2 billion going forward.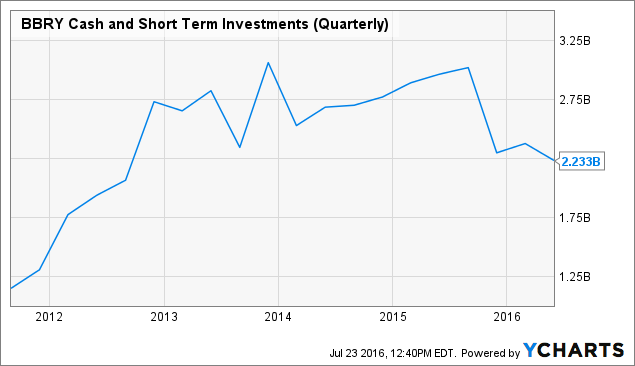 BBRY Cash and Short Term Investments (Quarterly) data by YCharts
This is cash that they can use to fund operations if necessary, but more importantly cash that they can use to continue making strategic acquisitions like they have over the last two years.
It was the company's acquisition of Ad Hoc that allowed them to land this government contract. If this opens a gateway to other contracts, it will be an acquisition that was well worth its cost. Chen is tearing down a good portion of the BlackBerry business and rebalancing the rest. The strategic acquisitions he is making are his way of rebuilding certain parts of the business to be stronger. The focus remains on security and software.
Without the cash burn, there is really no urgency to get out of BlackBerry stock. It doesn't look like it is going to go any lower than $6.50, based on the below chart showing historical pricing,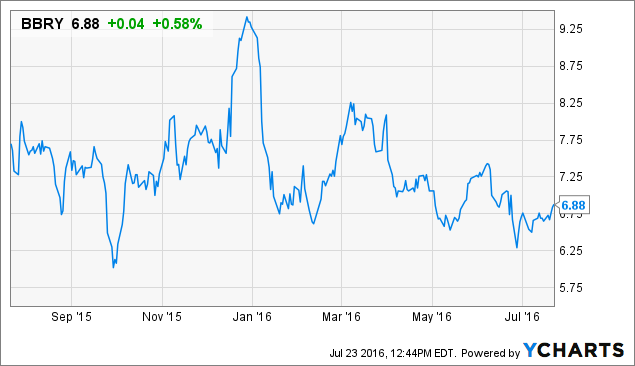 There doesn't seem to be any need for Chen and his team to rush, despite the narrative that financial media continues to play out suggesting that they are up agains the clock.
The bleeding will stop at some point, and while revenues may fall even lower, the company does not need a robust top line for its stock price to appreciate. We think that since Mr. Chen is compensated millions in stock, he is very aware of this. The company really only needs to carve out a section of its business to produce high margin profitability. Anybody in the technology sector will tell you that any type of "software as a service" is going to produce those margins. The only question now is whether or not Chen is going to be able to execute and make it happen, eventually.
With over $2 billion of cash in the bank and no time limit on the horizon, with the buyin of management and large investors all as equity holders, we believe the story at BlackBerry isn't necessarily as terrible as people want it to be. As a short, it just doesn't make that much sense to us. There is no overwhelming debt, there is no immediate catalyst for it to move much lower than it's at, and there doesn't seem to be a time constraint right now.
The company also has numerous unaddressed wild cards in BlackBerry messenger, QNX and its patent portfolio.
While BlackBerry looks like dead money, we continue to keep an eye on it and will update our analysis as new events become available in the future. We don't think the situation is as dire as many believe, and we'll update our analysis at the first shade of a tangible turnaround that may propel shares higher. We believe it is not a question of if, but a question of when.
Disclosure: I/we have no positions in any stocks mentioned, and no plans to initiate any positions within the next 72 hours.
I wrote this article myself, and it expresses my own opinions. I am not receiving compensation for it (other than from Seeking Alpha). I have no business relationship with any company whose stock is mentioned in this article.