By Parke Shall
If you have been reading us for the last month, you would know that we believe Hain Celestial (NASDAQ:HAIN) is going to be the next food company that gets acquired on the back of the WhiteWave (NYSE:WWAV)/Dannon acquisition news.
We wrote a few articles after the WWAV acquisition was announced, in all of which we went into detail about why we thought HAIN as an acquisition would make sense.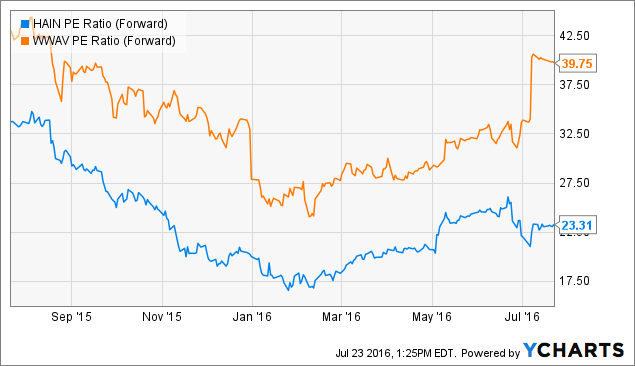 HAIN PE Ratio (Forward) data by YCharts
We have stated on several occasions that we think HAIN's valuation currently is making it an attractive candidate for a potential takeover, especially after the WWAV deal from Dannone. We agree that WWAV has the stronger portfolio of products, but the gap in between WWAV's take out valuation and HAIN's current valuation is far too wide for it not to again converge back to the average at some point. It is for this reason that we are long HAIN and believe the company is ripe for a strategic announcement any day now.
Last week, the food sector got a little more, lesser-known consolidation when Golden Enterprises (NASDAQ:GLDC) was acquired by UTZ Snack brands of Northern Pennsylvania. GLDC was a manufacturer of snack goods that were used mostly in vending machines, gas stations, and convenient stores.
It was a small company bought out at a valuation near $150 million, but it's nonetheless consoldation that's going to show up on the desks of those involved in the industry.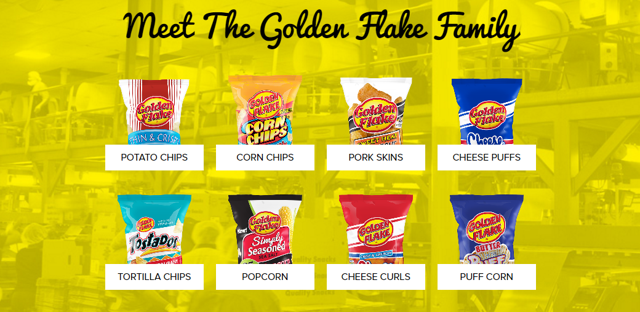 UTZ is a larger manufacture of snack foods in the Northeast PA area and likely saw GLDC eating into its competition a little bit. Utz is a private company and bills itself as one of the largest privately held snack food companies in the U.S. Utz itself makes for another interesting takeover target.
This consolidation of this snack food company, while very different from HAIN's organic theme, likely registered as a headline at the executive desks of companies like Pepsi (NYSE:PEP), who has a snack food portfolio as part of its business.
It's main competitor, Coca Cola (NYSE:KO) was a couple of weeks ago reported to have interest in HAIN. The Coca-Cola rumor, reported by Benzinga, stated,
Various sources indicated to Benzinga that Coca-Cola has approached several investment bankers seeking information related to Hain Celestial's financials. These sources also state Coca-Cola approached the investment banks prior to the White Wave/Danone news was publicly known.

Coca-Cola would make sense as a possible acquirer of a portion of Hain given the recent push away from sugar drinks. As Benzinga reported in January:

"Coca-Cola is hoping to reposition its soft drinks as a treat rather than an everyday staple. In previous years, the beverage maker sold its products in large quantities, which prompted critics to paint Coke as a major contributor to world-wide health problems."
This acquisition make sense to us, seeing as how Coca-Cola does not have a food portion of its business and buying HAIN would give it an edge into organics, an area where Pepsi does not have too much of a presence. KO could see HAIN as a real way to get an edge on its long time rival in Pepsi.
Since the rumor came out, HAIN has stayed mostly parked at around $51 per share, but is still 23% off its highs over the last 12 months. We again find this to be another reason why the company could look attractive to a potential acquirer.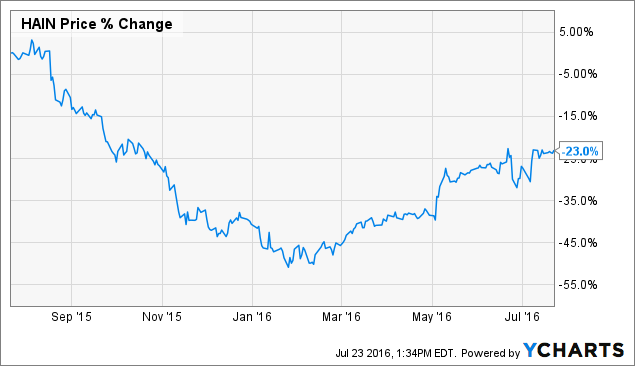 As we've said in previous write-ups, HAIN executives have to be feeling tired and are likely feeling the pressure that comes with having a few poor quarters in a row. After what has been an incredible growth stretch for HAIN, recent disappointing results may be making the idea of a takeover more attractive to management.
We continue to think that HAIN is under the microscope of several companies looking to add growth through an acquisition. We continue to think that the WWAV acquisition has spurred a sense of urgency in the sector and that this recent Utz acquisition is continuing to keep the acquisition narrative hot amogst those in the space.
To us, further consolidation in the sector, even small consolidation, helps push forward the case of HAIN potentially being acquired, which we continue to see as an inevitable conclusion. The only question we have is who will do the bidding, and for how much?
Disclosure: I am/we are long HAIN.
I wrote this article myself, and it expresses my own opinions. I am not receiving compensation for it (other than from Seeking Alpha). I have no business relationship with any company whose stock is mentioned in this article.