Boeing's Charges
This isn't meant to be an in-depth analysis of the aerospace sector or Boeing Company (NYSE:BA). Instead I hope to present a buying opportunity that may come about as BA reports earnings. For an in-depth look at BA, from both the financial aspect and the aerospace aspect, I would recommend some of Dhierin Bechai's excellent pieces on the airline. But for my take on the airline's next earnings report, BA noted on July 21 that it would be recognizing a series of charges and cost reclassifications during Q2 2016 that would total an after-tax earnings impact of $2.1 billion. The charges will be comprised of costs related to the 787 line, the 747 line, and the KC-46 program. On the 787 line, BA chose not to invest any further funds to refurbish and prepare for sale two unsold test aircraft. These test craft were built in 2009, booking over 6,700 hours of testing between them. Charges for these aircraft will reach $847 million, or $1.33/share. The company also plans not to increase the production rate of the 747-8 to 1.0/month in 2019. Instead the production rate will remain at 0.5/month because of anticipated weakness in the air cargo market. The $814 million in charges total $1.28/share. Finally the company will take a $393 million ($0.62/share) on the KC-46 tanker program because of higher costs and technical challenges. While some of the charges were expected based on previous disclosures by the company, Barclays did not expect the 787 charges. Because some of the charges were unexpected, it might cause BA to miss estimates, which could lead to a price decline. Depending on the nature of the decline, and as long as the company's cash flows remain intact, the price decline could present a buying opportunity. The company does not expect these charges to impact 2016 guidance or cash estimates; it is only the earnings per share outlook that will need to be readjusted.
Current Estimates
BA currently trades at EV/EBITDA discounts to most other competitors, as well as the industry as a whole. The company does also trade at a P/E discount to all but one of its major competitors.
Of current estimates for BA's Q2, the average EPS is estimated to be $2.22/share. Because the 787 charges of $1.33/share are somewhat unexpected, this earnings estimate might be off, and BA will likely report a large miss. In combination with the other charges, BA will book post-tax charges totaling $3.23/share for Q2. This will also impact total 2016 estimates. With guidance previously estimated to reach the range of $8.45-8.65/share, these cash charges could bring the guidance down all the way to $5.22-5.42, if no other charges materialize later in the year. However the full year earnings impact would change forward P/E estimates. Should earnings for 2016 fall to $5.32, then BA would be currently trading at 25 times forward earnings, significantly above its trailing P/E multiple.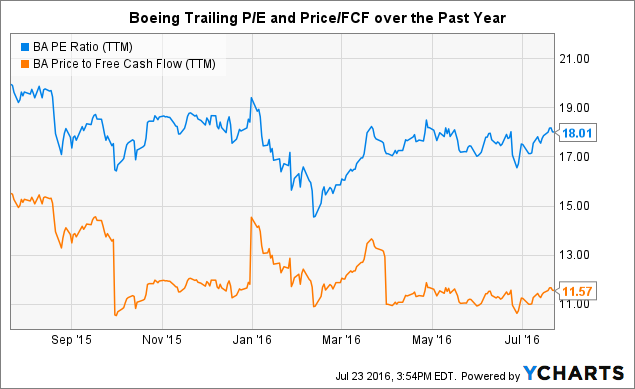 BA PE Ratio (NYSE:TTM) data by YCharts
This multiple of 25 time earnings would be quite a bit above what BA's been trading at over the past year. However as long as cash flows are indeed unaffected, BA would still be trading at the low end of its price/FCF valuation. And a price decline on a potential earnings miss would bring the company to an even greater discount.
Final Thoughts
Since cash flow is unlikely to be affected, a potential miss brings a buying opportunity. BA still will likely maintain operating cash flow estimates of $10 billion during 2016, and should still be able to meet or exceed this estimate. If the potential earnings miss brings the company's price down lower than my $124/share cost basis, I'll be happily buying more.
Author's Note:
I am on the lookout for high yet sustainable dividends. If you're looking for the same, please hit the "Follow" button by my name at the top of the article, and hopefully you'll get some good ideas for value and income stocks.
Disclosure: I am/we are long BA.
I wrote this article myself, and it expresses my own opinions. I am not receiving compensation for it (other than from Seeking Alpha). I have no business relationship with any company whose stock is mentioned in this article.
Additional disclosure: I am neither a certified investment advisor nor a certified tax professional, and do not claim to be either. The data presented here is for informational purposes only and is not meant to serve as a buy or sell recommendation. Investors and potential investors should do their own research and make their own decisions. In the event that an investor or potential investor does not feel qualified to make such a buy or sell decision on their own, they should consult a certified advisor that they trust or feel comfortable with. Investing may involve losses, including potential loss of principal. The author relies on external links for some information that may have appeared on this perspective. These external links, although believed to be accurate, have not been verified independently. Therefore the author is unable to guarantee their accuracy.