I can't think of anything in personal finance that is more universally agreed upon and recommended than the Roth IRA. From advisors to the media to that overzealous family member, everyone recommends that young adults contribute to a Roth IRA or 401(k).
The reasoning behind this recommendation is mathematically sound and well known. A young individual or family starting out in the work force is expected to be in a lower tax rate now than when they retire. In this scenario a Roth makes perfect sense. As long as their tax rate is lower now than when they retire they will have made the correct choice. However, based on current tax rates and household savings at retirement the average American will rarely benefit. Part of this is due to a misunderstanding of the taxes paid on retirement income vs. income from an employer. Another portion is that individuals have an inclination to overestimate their future financial position.
To illustrate the second point let's look at the median 401(k) account at retirement at different income levels. You might be surprised.
Those who earn between $20,000-$40,000 a year have a median 401

(k)

account at retirement of ~$70,000
Those who earn between $40,000-$60,000 a year have a median 401

(k)

account at retirement of ~$105,000
Those who earn between $60,000-$80,000 a year have a median 401

(k)

account at retirement of ~$170,000
Those who earn between $80,000-$100,000 a year have a median 401

(k)

account at retirement of ~$255,000
Those who earn over $100,000 a year have a median 401

(k)

account at retirement of ~$370,000
As you can see the median 401(k) balance is quite low, even for those making over 100k. For example $370,000 would only produce $18,500 at 5% interest. It seems most people find a way not to save.
Let's look at two scenarios using a high income individual and a more average earner. I will look at the tax rate of the individual when they enter the workforce and their tax rate in retirement (using current rates) and determine if they would be better off with a Roth IRA/401(k) or a traditional tax advantaged retirement account. First up is the over 100k scenario.
Scenario 1
Let's assume this individual is an engineer who starts out making the average starting salary of an engineer, around $56,000. Before retirement they are making over $100,000 and have the median 401(k) balance of $370,000. They have no other income sources other than Social Security. Let's also assume this person is single when they enter the workforce and married in retirement. The engineer's spouse made $50,000 before retirement, has a 401(k) balance of $100,000 and will be receiving Social Security as well.
Here is the hypothetical engineer's tax situation after his/her first full year of work as a single individual.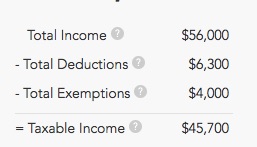 With $56,000 in gross income the engineer has $45,700 in taxable income his/her first full year on the job. This is after subtracting the standard deduction, putting him/her in the 25% marginal tax rate.
Now let's look at the tax situation of the engineer in retirement using the assumptions above.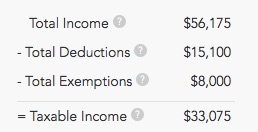 The couple had Social Security income of $45,000, $27,000 for the high earning spouse and $18,000 for the other. They also receive $37,000 (generous) per year from their 401(k) distributions -- interest and principal withdrawn from their combined $470,000 in 401(k) -- for a total of $82,000 per year in retirement income. Because Social Security income is only partially taxable, total income for federal tax purposes is just $56,175 even though actual income is $82,000. The couple also gets the equivalent of two standard deductions, reducing tax liability by $23,100. Taxable income in this case is only $33,075, a marginal tax rate of 15%. Surprised?
This is where I think the biggest knowledge gap is when it comes to picking a Roth or an IRA. You may be making more money at retirement, but that doesn't mean you will be in a higher tax bracket. The couple above would have to make $60,000 in interest/distributions in addition to their $45,000 in Social Security income just to reach the 25% marginal tax rate the engineer had when first entering the workforce. The engineer would need more than double the median 401(k) saving to get close to this level of retirement income.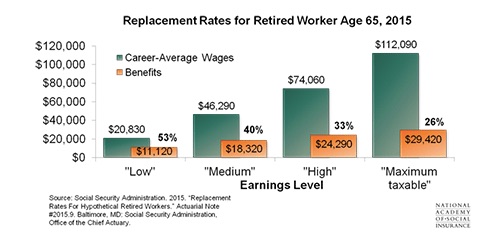 For Social Security income estimates I used the following data from the National Academy of Social Insurance. I used the tax calculator from Turbo Tax for the tax estimates.
Scenario 2
We looked at a high earning family. Now what about a more middle class family? In this scenario we have a young family with each spouse making $32,000 per year ($15 per hour) for a combined total of $64,000. The family has two children. Here is their tax situation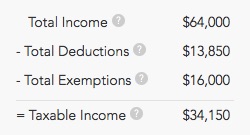 With $64,000 in income and the standard deduction and exemptions for the 2 children, this family has $34,150 in taxable income, putting their marginal tax rate at 15%.
Upon retirement each spouse was making $50,000 per year for a total of $100,000. I'll be generous and say they each have the median 401(k) balances of $105,000. This equates to $38,000 in Social Security income and $15,000 in 401(k) withdrawals per year.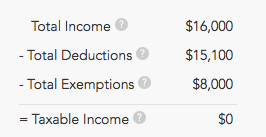 Of the $38,000 in Social Security income, only $1,000 hits total income for tax purposes and this is quickly covered by the standard deduction. Taxable income is $0. Technically this is the 10% marginal tax bracket, although they pay no taxes.
In both of these scenarios it is clearly more beneficial from a tax standpoint to contribute to a traditional IRA or 401(k), not a Roth. I ran numbers for the most common income scenarios based on median 401(k) income and Social Security; the Roth was never advantageous. Unless you are an extreme outlier -- you go from minimum wage to making over 100,000 (although how many minimum wage workers contribute to a Roth), you are the recipient of a large inheritance, you are a very high earner or perhaps receive a large pension -- the Roth never plays out.
If not strictly viewed from a tax perspective, the Roth still has advantages. You can withdraw your contributions at any time plus you can withdraw the earnings for some qualified purposes such as a first time home purchase up to $10,000. This gives more flexibility and allows the Roth to potentially double as an emergency fund. Additionally you are not subject to required minimum distributions and you can contribute to a Roth even after age 70. Therefore the Roth is a great estate-planning tool, which can be used to provide tax-free income to future generations. Many also believe that tax rates in the future will be higher than they are today; if that is your belief then a Roth can protect you from tax increases down the line.
Conclusion
For the vast majority of Americans, it is advantageous from a tax perspective to contribute to a traditional retirement account and not to a Roth. Individuals tend to overestimate their retirement income as well as their tax rate. All those but the largest savers, earners or inheritance recipients will be in a lower tax bracket in retirement unless the system changes drastically.
Disclosure: I am/we are long CVS, STAG, HASI, VTR, OHI, CCP, TD, EPD.
I wrote this article myself, and it expresses my own opinions. I am not receiving compensation for it (other than from Seeking Alpha). I have no business relationship with any company whose stock is mentioned in this article.