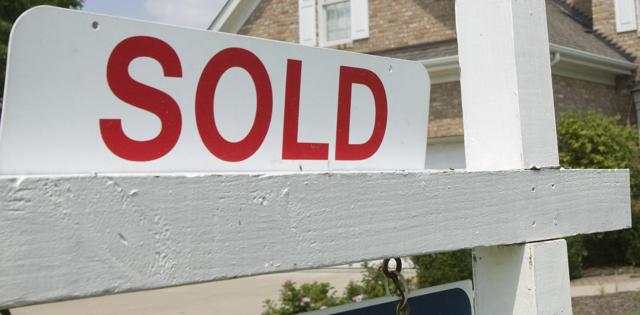 For those of you who have read any of my previous articles, you may be surprised by this article's title.
For those of you who haven't, my strategy for purchasing stocks has been to only purchase companies, ETF's and funds that I would be happy to own for the rest of my life, and with the intention of never selling the stock/fund/ETF. However, I didn't always have this strategy. In fact, (unfortunately) like many investors, there was a time where I had no strategy at all.
I graduated college at age 23 in June 2009. By September 2009, I was fully employed. I had always been interested in stocks since high school, where I took a stock market elective course that to this day was probably the most interesting class I've ever taken - college included. It provided me a very basic foundation of general investment principles. In April 2011, I had sufficient money saved up from a year and a half of working that I decided to open a personal brokerage account to experiment with.
Back then, I would define my investing strategy as somewhere between "terrible" and "non-existent." I would purchase a well-known-to-me company, wait for it to climb 10%, then sell and move the money somewhere else with little rhyme or reason. Boy, did I love paying income taxes and brokerage fees - the holding period wasn't even long enough to be considered a long-term investment. I had no idea I was racking up a tax bill, and what's worse is the bull market was so strong I kept "winning" and repeating the process. I owned both Microsoft (NASDAQ:MSFT) and Starbucks (NASDAQ:SBUX) at $28/share each, but sold them both after a 10% gain - OOPS?!
As time went on, I added more and more money to the account. Playing with higher amounts of money and suffering a handful of stupid losses on small cap companies, I became more conservative and aware that trading stocks wasn't a strategy I would excel at. Wanting to still expose myself to risk, I decided I wanted to invest directly in the NASDAQ, confident that the tear the index had been on would continue. On October 14, 2013, I purchased 25 shares of (NASDAQ:QQQ) at a purchase price of $78.90/share for a grand total of $1,972.50, plus the $7 commission.
Maybe that doesn't seem like a big deal to most of you out there, but to a 27 year old with a few years of work experience, it was a lot of money. Since then, I have collected $78.70 in dividends. On Monday, July 18, I sold all 25 shares at $112.6101/share. With dividends, my position left me with a gain of $921.4525 over 1,008 calendar days for a CAGR of 13.6%.
I don't care who you are, that is a really solid return. So why would I sell such a solid performer given my cost basis was so low, especially since I talk all the time about buying stocks with the intent of holding forever? Doesn't that make me a hypocrite?
Let me explain.
QQQ Is Not An ETF I Would Purchase Today
| | | | |
| --- | --- | --- | --- |
| | DIA | SPY | QQQ |
| P/E Ratio | 19.5 | 24.9 | 23.5 |
| Yield | 2.28% | 2.01% | 1.07% |
| Expenses | 0.17% | 0.09% | 0.20% |
In the time since I had purchased QQQ, my interest in becoming a more successful private investor exploded. After much soul searching, I determined that I am at heart a dividend growth investor - my core strategy moving forward would be to slowly accumulate positions in well-run, mostly blue chip stocks, reinvest the dividends, then one day aspire to live off those dividends without touching the principal - and if all goes well, one day leaving that principal to my (future) grandchildren.
I feel QQQ doesn't fit that strategy well. While all the indices are overvalued in terms of their historical P/E ratios, there is a divergence in quality between the NASDAQ and its brethren, the Dow Jones (NYSEARCA:DIA) and the S&P 500 (NYSEARCA:SPY). While neither the Dow or S&P 500 are strong buys and these prices in my opinion, the difference lies in their respective yields and the expenses that come along with ETF's.
As a dividend growth investor, I believe the key to long-term success lies in the power of reinvested dividends. The NASDAQ's dividend is a small fraction of what the Dow and S&P 500 offer, and when combined with a significantly higher expense ratio - more than double that of SPY - I came to the realization that I am not being paid nearly well enough to absorb the risk inherent to current market valuations.
QQQ's dividend after expenses have been deducted, I believe, is simply not powerful enough to make the index attractive, and the proof is in the historical pudding. In the nearly three years I owned the fund, I didn't even collect enough in dividends to purchase one single share of stock, even at the original purchase price from 2013!
When a dividend growth investor invests in a strong dividend stock that generates a healthy yield, the market price of a stock does not matter. As long as the fundamentals of the company remain strong, the stock could drop 50% and it would not impact that investor's lifestyle. Drops in the market price do not affect the dividend - even during the financial collapse, dividend cuts or freezes with blue chip companies were rare, and overall dividends still continued to increase. QQQ posed a great risk to me. When you purchase a high growth/low-to-no dividend stock, your only avenue for generating a significant return is to sell stock, liquidating some or all of your principal. QQQ does not fit my strategy as the dividend growth is simply not enough for me to create significant income without selling principal. I feel we are teetering dangerously on the verge of a recession, and because the dividend was so small, the risk lies in the loss of principal. I decided that that principal would be more useful elsewhere.
QQQ's Core Holdings Pose Unnecessary Risk vs Reward
QQQ's core holdings are below, along with current weights.
QQQ
Apple Inc (NASDAQ:AAPL)
10.07%
Microsoft Corp
8.11%
Amazon.com Inc (NASDAQ:AMZN)
6.49%
Facebook (NASDAQ:FB)
5.16%
Alphabet (NASDAQ:GOOG) (NASDAQ:GOOGL)
4.69%
Compare to the top holdings and weights of SPY and DIA.
SPY
Apple Inc
2.89%
Microsoft Corp
2.32%
Exxon Mobil Corp (NYSE:XOM)
2.06%
Johnson & Johnson (NYSE:JNJ)
1.82%
General Electric Co (NYSE:GE)
1.59%
DIA
3M Co (NYSE:MMM)
6.68%
Goldman Sachs Group (NYSE:GS)
5.95%
IMB (IMB)
5.94%
UnitedHealth Group (NYSE:UNH)
5.26%
The Home Depot Inc (NYSE:HD)
5.06%
While I personally use Facebook and adore Amazon, I find their valuations disturbing. Trading at 75x and 306x earnings, respectively, a couple bad quarters or a nationwide recession could cause the market price of each of these companies crash to the ground. Since neither company pays a dividend, there is little reason to stay in the game if these stocks ever see their prices move into Realville. Even worse, dividend yields tend to protect stock prices - there is little protection here, and the stock prices are mostly supported by their investors' positive attitudes. The fact that each of these companies is valued roughly about the same size as Exxon Mobil blows my mind considering neither company makes much money.
While I am a fan of Microsoft and Apple, even despite Apple's current struggles, each of these companies are heartily represented in SPY with less risk at a much larger dividend. Both Apple and Microsoft are represented in DIA as well, with weights of 3.68% and 2.06%, respectively.
Final Thoughts
I am always reluctant to sell a stock, especially in a taxable account. Because investors are taxed on the capital gain, we are at an immediate disadvantage when we sell. By selling QQQ, I now have less working capital available to me than if I were to have held.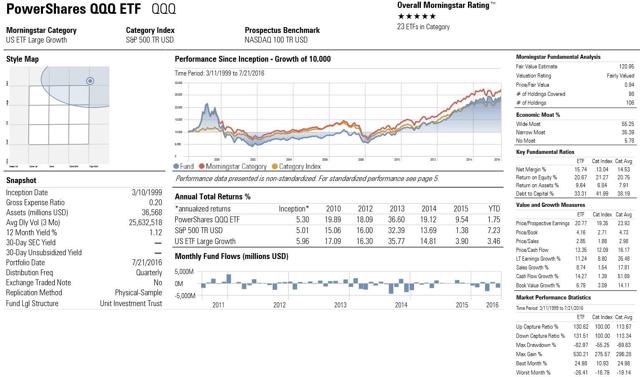 Morningstar rates QQQ 5-stars, and since 2010 it has been demolishing the S&P 500 YoY. Interestingly enough, this year seems to be the exception, where QQQ tremendously lags both the S&P 500 and the Dow. Both the Dow and S&P 500 have shot to new highs, while the NASDAQ continues to lag.
My reason for selling QQQ is simple in my own mind. QQQ is not an ETF that fits my current strategy, the dividend is paltry and makes investors over-reliant on capital preservation, and (in my opinion) overvalued key components like AMZN and FB make QQQ more susceptible to big losses during a recession. Frankly, I feel the NASDAQ will likely lead in a downturn versus the S&P 500 and Dow because its components are less likely to have strong dividends to keep their market prices afloat and keep investors confident with strong income. The NASDAQ's inability to set new highs alongside the Dow and S&P 500 may be an indicator of trouble ahead.
I am curious to hear feedback from the more seasoned investors on Seeking Alpha. What say you, experienced investor? Is my logic sound? Or have I made a mistake selling out my position on a high-growth, high-quality mega-tech-pharma-biotech fund that Morningstar considers to be Fairly Valued with a price target of nearly $121/share?
As always, your opinions and feedback is not only welcomed, but encouraged.
Disclosure: I am/we are long SPY, XOM, GE, JNJ.
I wrote this article myself, and it expresses my own opinions. I am not receiving compensation for it (other than from Seeking Alpha). I have no business relationship with any company whose stock is mentioned in this article.
Additional disclosure: All information found herein, including any ideas, opinions, views, predictions, commentaries, forecasts, suggestions or stock picks, expressed or implied, are for informational, entertainment or educational purposes only and should not be construed as personal investment advice. I am not a licensed investment adviser.