This past year I have spent a considerable amount of time scrounging through OTC lists, with attempts of finding the hidden gem that no one is looking for. I found a few that actually did quite well. However, there was one thing that I noticed when looking through OTC lists; these OTC lists were filled with community banks that I had no idea how to value.
Life works in a funny way. I ended up tweeting something about community banks and Nate Tobik, the founder of the popular blog 'OddBall Stocks', reached out to me, offering me a chance to work for him and more importantly, train me to analyze banks through his CompleteBankData platform. I have been an admirer of Nate's work for some time now and immediately jumped at the opportunity to work with him.
I am not a professional bank investor by any means. However, I have learned a significant amount about banks in the past three months and continue to learn on a daily basis. Interestingly, one of the most important things that I have learned is that community banks are overlooked, undervalued and making extraordinary progress in the right direction. Furthermore, I believe that these underappreciated community banks have real potential to beat the broad market in the next few years.
Why are Community Banks undervalued and unnoticed?
There are multiple reasons why community banks are undervalued and underappreciated. First, community banks are very boring. Investors like glam and excitement. They like hot sectors like technology or biotech, where a company can go from ~$1.00/share to $5.00/share overnight. Furthermore, investors like companies that other people like. With community banks, there is no glam, there is not hot technology moving the industry and there is hardly anyone interested in the sector.
Secondly, community banks are typically in the micro-cap space, lacking liquidity and missing the attention from most professional investors. After spending considerable time networking within the micro-cap space, I can positively state that the majority of investors in tiny micro-caps are retail investors focused on hot growth companies. Now I am not saying that community banks can't have a growth option attached-but in my opinion, most retail micro-cap investors put banks in the too hard pile, too boring pile and disregard the sector as a whole.
Additionally the lack of liquidity and absolute low market cap(s) of community banks make it hard for professional or institutional investors to buy into these tiny and thinly traded community banks. Moreover, investors are prohibited from buying more than 10% of a bank, unless they become a holding company. This means that big money will not waste their time trying to accumulate a position in a $30 million dollar community bank, given that they would be limited to a <$3 million position.
Finally, I believe that investors are still shell-shocked from the Great Recession and perceive the overall banking industry as a sector filled with delinquencies, shady practices and just a risky over-regulated sector that is hard to understand and analyze.
This has left investors who want to go off the beaten path, an excellent opportunity to capitalize on fear, ignorance and plain unawareness of what is taking place within community banks.
Why buy Community Banks?
There are multiple reasons why I believe community banks make a good buy today besides the fact that they are undervalued and underappreciated. First, I believe that interest rates will eventually rise, giving a bullish macro push to the overall banking sector-in an upward fashion.
Secondly, there are a significant number of positive trends in the industry, which are bullish. For an example, the asset trend, deposit trend and net interest margin trend are all hitting new three year highs and continuing to go much higher as I write. Furthermore, banks are continuing to deleverage, while capital statistics have pushed new highs in 1Q16. Additionally, there is rapid consolidation in the community banking space, with the number of banks falling from ~6,800 in 4Q13 to a historical low of 6,100 in 1Q16. Interestingly, it seems like there are acquisitions announced weekly, pushing the number of community banks lower every month.
Thirdly, there are a good handful of community banks that are growing their top and bottom-lines at high double digit rates, with no sign of slowing down. What I find fascinating is that you can find community banks growing their bottom-line at a 50% annualized rate, trading near or below TBV and will have almost zero market reaction to any positive underlying business developments. Thus, the business developments a lot of these community banks are making has further grounded my belief that no one is paying attention to this sector and has left it ripe for picking.
With that being said, I would like to highlight Plumas Bancorp (NASDAQ:PLBC) a 12 branch bank, hidden from the investing public.
Summary
PLBC was founded in 1980 in Plumas County, California and operates out of twelve branches. The bank has $604,042,000 in assets, $534,634,000 in deposits, and $426,679,000 in loans. In addition, the bank has an ROE of 16.3%, ROA of 1.23%, net interest margin of 4.26% and an efficiency ratio of 59.4%.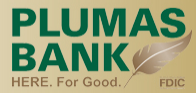 Source: Plumas Bank
Thesis
PLBC is rapidly growing, cutting costs, and sitting at attractive valuation metrics. There are two avenues my thesis relies upon. First, the company will continue to grow, with the market eventually giving the company higher multiple(s). Or, the market will not recognize vast improvements and a bigger bank will step in and take over PLBC. Either way, I believe that PLBC is very attractive at the current price and someone will eventually recognize the compelling valuation.
Recent Quarterly Results have left me pounding the table
Before reading any further, I suggest you read Insider-Alerts', who is one of my favorite commentators on SA, instablog post of PLBC. Insider-Alerts highlighted PBLC at $8.50/share, a 13.64% gain as of this writing back in December. Moreover, Insider-Alerts was the one who turned me on to PLBC to begin with.
The recent quarterly results have left me bullish on PLBC, promoting me to initiate a limit order. In the most recent quarter, earnings grew from $1.4 million to a record high of $1.8 million or a nice 36% gain. This put earnings per share at $0.36/share, an increase of $0.09/share from 0.27/share YOY. In addition, in the first six months of 2016, net income hit $3.4 million, which was an increase of 33% from $2.6 million in 2015. What is interesting, this was the highest reported earnings the company has ever had in its entire 37 year history.
The reason for the record breaking quarter was due to the expansion of their loan production capabilities-organic growth through new branch openings, continual asset quality improvement-non-performing loans fell to $2.1 million from $5.1 million YOY and an increase of net loans by 10% while maintain a strong NIM of 4.26%, increasing ROE to 16.3% and the upward push of ROA to 1.23%.
With a record breaking quarter, the market responded with a 4.87% pop in the stock price on volume of 29,653.
But is the 4.87% pop justified?
Given that PLBC just experienced a decent move in the stock price, is there value to be mined? Moreover, have we missed the boat? In my opinion, no. I believe the company is fairly valued on a TBV basis and undervalued on a P/E basis. Furthermore, another year of positive operations and earnings will push TBV much higher and make the current P/E ratio seem puny.
In regards to TBV, shareholders' equity increased from $39.0 million last June to $46.4 million in the most recent quarter. The ~19% increase in equity was the result of a drive in earnings, unrealized gains on investment securities and an overall positive year for asset, loan and deposit growth. With a $47.1 million market cap, zero preferred stock, no goodwill and only a slight amount of intangibles, the company is trading near TBV.
What I find most attractive is that the P/E ratio for PLBC is 7.97x. This is an absurdly low P/E ratio for a company growing its earnings at a double digit rate and further having a record breaking quarter. Furthermore, there are a few avenues that will continue to drive earnings in the near-term.
The first earnings driver is from organic growth. For an example, on 2/26/15, the company announced that they filed an app with the FDIC to open a full-service branch in Reno, Nevada. Before the filing, the company had a commercial lending office in Reno. This branch will not only give PLBC a toe-hold position in one of America's fastest growing markets, but will also allow the company to expand mortgage lending further into the Reno area when the opportune time is right. The branch is now open and should provide for deposit, loan and earnings growth.
Secondly, on August 3 rd, 2015, the company completed the acquisition of its Redding, California branch. This bolt-on acquisition will give the company ample room to grow deposits in a new city. Interestingly, the deposits in the Redding branch are sitting around $10,539,000 and the average deposit per branch at PLBC is ~$44,686,000. Thus, there is more than enough ample room for the company to continue to drive deposits at Redding, eventually leading to higher loans and higher earnings.
Thirdly, on April 17 th, 2016, management announced the bank was in the process of opening a new loan production office in Klamath Falls, Oregon. According to the most recent earnings PR, the bank has opened this location and hired John H. Rayhl as the VP of ag/commercial lending. This branch will not only drive for more deposits in a state untouched by PLBC, but it appears as if this branch will be focused on agriculture and commercial lending, which typically has high margins. Thus, we should see continued deposit, loan and margin growth from this new addition to the banks arsenal.
Fourthly, on April 16 th, 2015, the company retired expensive subordinated debt (7.5% annual interest on $7.5 million). The company also bought back an eight-year warrant to purchase up to 300,000 shares of the bank's common stock. In 2015, 2014, and 2013, interest expense for the subordinated debt was $219,000, $756,000 and $541,000, respectively. 2016 will be the first full year, since 2013, where this interest expense will be eliminated, giving the company more cash inflow.
Finally, the company has $40,965,000 in cash and $99,426,000 in investment securities, representing~23% of the company's assets. Due to the fact that non-performing loans equate to 0.69% of total loans and 0.96% of total assets, the company could put more cash/investment securities to work. Putting cash/investment securities to work, has real potential to drive earnings in the near-term. Furthermore, the downward trending non-performing loans suggest the company has quality and conservative underwriting practices.
Overall, I believe that the company has more than enough ample room to continue growing their bottom-line, in the near and mid-term. In addition, with the efficiency ratio now at 59.4% (from 64.8% YOY), the company has shown shareholders that they can organically grow without ramping up costs. Ask yourself, is a P/E ratio under 8.0x rational?
Insiders Buying-Does Management See Value?
There has been a decent amount of insider purchases, in the last year, which suggests that management believes the bank is undervalued, that it can continue to grow, or both.

Source: NASDAQ
Aggregated, all directors and executives offices own 13.2% of the shares outstanding. Furthermore, executive officers are paid a respectable salary, guiding me to think that they have skin in the game and have many incentives to create shareholder value…

Source: Recent Proxy
Overall, I believe that management is aligned with shareholders and the recent insider buys make for a compelling case.
Compelling Acquisition Target
There have been a significant amount of acquisitions in California in the past few years.
Feb 26 th, 2016: Finance and Thrift and Pan American Bank (OTCPK:PAMB) announced a signing of an agreement to merger in an all stock deal.
Dec 17 th, 2015: Pacific Commerce Bank (NASDAQ:PCBC) and ProAmerica Bank (Private:PRMA) announced to merge the two banks into Pacifica Commerce Bank. The price represented 119% of PRMA's TBV.
March 28 th, 2016: NCAL Bancorp (OTCPK:NCAL) and National Bank of California received regulatory approval for National Bank of California to merge into NCAL.
Feb 29 th, 2016: CVB Financial Corp announced that it completed its merger with County Commerce Bank of California.
Nov 10 th, 2015: TFC Holding Company announced that it was to be acquired by RBB Bancorp. TFC serves the Los Angeles and Orange county areas.
Feb 1 st, 2016: HomeStreet (NASDAQ:HMST) completed the acquisition of Orange County Business Bank (OTCPK:OCBB).
Oct 1 st, 2015: Pacific Premier Bancorp (NASDAQ:PPBI) announced to acquire Security California Bancorp (OTCQB:SCAF). As of Feb 1 st, 2016, the acquisition was complete.
Jan 29 th, 2016: PBB Bancorp (OTCQX:PBCA) announced that it would acquire First Mountain Bank of California.
Dec 31 st, 2015: California Bank of Commerce (OTCQX:CABC) completed its acquisition of Pan Pacific Bank (OTCPK:PPFC) of California.
Jan 1 st, 2016: American Riviera Bank (OTCPK:ARBV) is buying The Bank of Santa Barbara.
What is interesting is that the M&A activity is not slowing down. Furthermore, in 2014, out of the 188 banks that were acquired, they had an average P/B ratio of 132.92%, multiple of earnings of 27.7x, price-to-assets of 12.70%, and a price-to-core deposits of 4.24%.
Interestingly, the acquisition value has continued to increase in the 1Q16 to 1.5x TBV, 1.3x BV and 19.1x P/E, on an average basis.

Source: PWC
Assuming that PLBC continues to grow at a double digit rate, while further trading around TBV, I believe the company would make a great acquisition target. Additionally, if PLBC is bought out for 1.5x TBV, we will get a quick 50% upside to the current price.
If the company is not bought out, continual top and bottom-line growth will eventually be recognized by the market.
Risks
Economic deterioration in the California market could result in higher default rates.
If the company takes on riskier loans, the risk premium will rise.
A further increase in regulations will increase non-interest expenses.
The lack of liquidity will give the bank extreme volatility.
Conclusion
Based upon the company's metrics and recent growth activities, I believe the bank will continue to have strong near and mid-term earnings, giving the company a record breaking year for 2016. As their new branches start to accumulate deposits, there will be an infusion of loan growth, leading to top and bottom-line expansion. Furthermore, the retirement of the subordinated debentures will allow the company to have less cash outflows for 2016.
Grounded upon the recent acquisitions in the industry and the average purchase price of these acquisitions, I believe the bank has real potential for at least 50% upside in the next 12-24 months. Additionally, if and when the Fed raises interest rates, gains will likely exceed my near-term price target.
Disclosure: I/we have no positions in any stocks mentioned, but may initiate a long position in PLBC over the next 72 hours.
I wrote this article myself, and it expresses my own opinions. I am not receiving compensation for it (other than from Seeking Alpha). I have no business relationship with any company whose stock is mentioned in this article.
Editor's Note: This article covers one or more stocks trading at less than $1 per share and/or with less than a $100 million market cap. Please be aware of the risks associated with these stocks.