The story starts back in late 2014 when cattle futures were making record highs, with prices over 50% from current trade. Massive expansion from cattle farmers domestically helped put a top on the market. It is not a demand story with meat eaters losing their appetite for beef; but rather, a story of the supplies dramatically increasing to take advantage of higher prices… rather simple economics.
I bring that to your attention so you know where we came from. The idea in this piece is to examine if we are close to a turning point and if prices will move higher once that value zone is identified like in years past. Let us look in the rear-view mirror and see historically what this time of year generally signals. Cattle feedlot numbers traditionally are at an annual low, after peak slaughter that has just passed (May/June). While some cattle are replaced in feedlots with heavy beef supplies and potentially more expensive feed preventing operators from immediately rebuilding numbers on feed. But is this year different with corn prices trading just over $3.30/bushel and down 25% in the last 6 weeks?
Typically, with harvest for corn approaching, feedlot operators will replenish their numbers. Thus, going into September, when corn harvest begins, cattle for December delivery typically rise in price. Will this year follow the trend?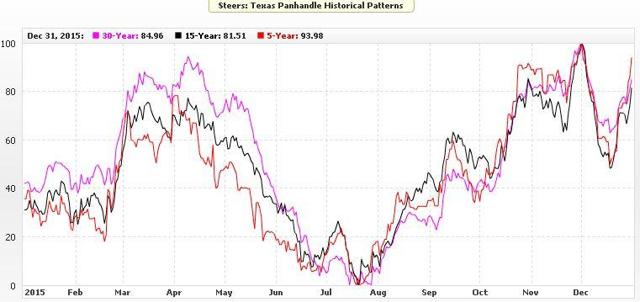 Disclaimer: Past performance is not necessarily indicative of future results.
In the chart above, you can see that over the short-, medium- and long-term timeframes, the trend is generally that of appreciating cattle prices into the fall, after finding a bottom.
Bigger picture: Cattle Inventory Saw Largest Year-over-Year Increase Since 1975
The US cattle inventory officially began a new cycle in 2015. A cattle cycle is a period of time in which the number of beef cattle in the nation is alternately expanded and reduced for several consecutive years in response to perceived changes in profitability of beef production. The cattle cycle is measured from trough to trough. The last cycle spanned from 2004 to 2014, with 3 years of growth followed by a 7-year liquidation. The longest cycle since 1928 began in 1990 and ended in 2004, which saw 6 years of growth and 8 years of decreasing inventory.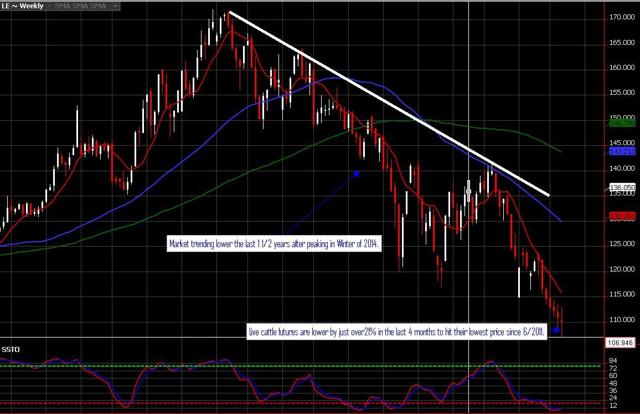 Disclaimer: Past performance is not necessarily indicative of future results.
On the weekly chart above, one can see that the trend for live cattle has been lower for the last 1½ years. I am not one to pick a bottom, but we are finding buying support near the $1.08/1.10 level. A pause before the next down leg or do the bulls grab the steering wheel? Interestingly enough, the peak in futures prices coincides when the cycle shifted.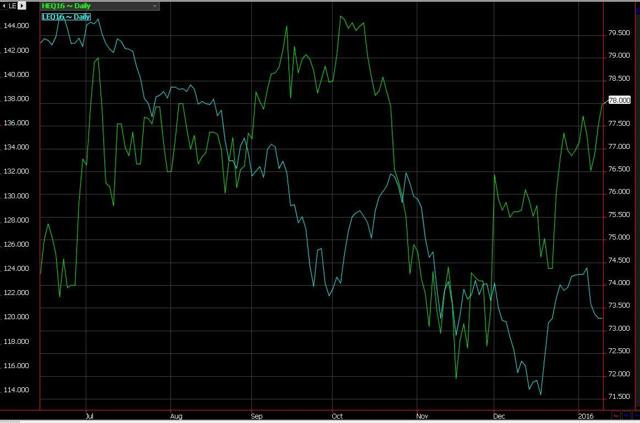 Disclaimer: Past performance is not necessarily indicative of future results.
Livestock complex as a whole moving lower?
Lean hog (green) prices are lower by 17% in the last 2 months. History may not repeat, but it tends to rhyme. Live cattle (blue line) will move because of their own fundamentals, but the correlation of late (LH to LC) has been strong. Could it be a story of "baby out with the bath water" as livestock traders take prices lower across the board? If you see a move of that magnitude in live cattle, that would put futures just under $1. Cattle have not traded under $1 since the winter of 2010. At that time, the S&P was at 1200 or nearly 1000 points lower than current trade. The current decline in live cattle prices within that same timeframe represents a decline of 7%. Bears still appear to be in the driver's seat and the path of least resistance appears to remain down.
Friday's (7/22/16) cattle on feed report came in slightly bullish:
Cattle and calves on feed for the slaughter market in the United States for feedlots with capacity of 1,000 or more head totaled 10.4 million head on July 1, 2016. The inventory was 1 percent above July 1, 2015. The inventory included6.87 million steers and steer calves, down 1 percent from the previous year. This group accounted for 66 percent of the total inventory. Heifers and heifer calves accounted for 3.49 million head, up 5 percent from 2015.

Placements in feedlots during June totaled 1.53 million head, 3 percent above 2015. Net placements were 1.46 million head. During June, placements of cattle and calves weighing less than 600 pounds were 290,000 head, 600-699 pounds were 255,000 head, 700-799 pounds were 340,000 head, and 800 pounds and greater were 640,000 head.

Marketing's of fed cattle during June totaled 1.91 million head, 9 percent above 2015.
Side note… As I was putting together this piece, I just so happened to run into a 30-year seasoned veteran cattle trader who stopped by our office. I asked (let's call him "Lou") his opinion of the cattle market and where we go from here. His response was, and I quote, "cattle have 4 legs and a tail… I have no idea where prices go from here." That is not meant to be a market recommendation; but it just goes to show you that, even former professionals feel it's not that easy to determine where prices go from here.
Risk Disclaimer:
Please note: Futures prices may have already factored in the seasonal aspects of supply and demand.
Also note: You should fully understand the risks associated with trading futures, options and retail off-exchange foreign currency transactions ("Forex") before making any trades. Trading futures, options, and Forex involves substantial risk of loss and is not suitable for all investors. You should carefully consider whether trading is suitable for you in light of your circumstances, knowledge, and financial resources. You may lose all or more than your initial investment. Past performance is not necessarily indicative of future results.
RCM Alternatives is a registered 'dba' of Reliance Capital Markets II LLC.
No market data or other information is warranted by Reliance Capital Markets II LLC as to completeness or accuracy, express or implied, and is subject to change without notice. The information in this article has been obtained from sources believed to be reliable, but is not necessarily all-inclusive and is not guaranteed to be accurate. Any comments or statements made herein do not necessarily reflect those of Reliance Capital Markets II LLC, or their respective subsidiaries, affiliates, officers or employees. Reliance Capital Markets II LLC shall not be held responsible for any actions taken based on this electronic communication. Parties acting on this communication are responsible for their own actions.
Disclosure: I/we have no positions in any stocks mentioned, and no plans to initiate any positions within the next 72 hours.
I wrote this article myself, and it expresses my own opinions. I am not receiving compensation for it. I have no business relationship with any company whose stock is mentioned in this article.