Skechers (NYSE:SKX) has lost over a fifth of its value since reporting earnings on Thursday evening. It missed on revenues, and the investor community declared Skechers' period of growth over. I wrote a piece on Skechers after their first quarter earnings report (see here - Key Takeaways From Skechers' Earnings Report) and highlighted two key points. One, that international markets would fuel growth moving forward. And secondly, that Q2 wasn't going to be pretty. I want to revisit these two claims to determine if international growth is sustainable and if the ugly 2nd quarter will be a minor speedbump along the way or a warning sign to get out.
International Growth
For Q2, the international wholesale and retail portion represented 41.9% of the business. Total international sales grew 25.5%, or $61.6 million, from Q1. I believe the growth is sustainable, because it is clear that international is the main focus of the company now. During the earnings call, "international" was said nearly 50 times, compared to 33 mentions of "domestic". International was the focus, as well as the bright spot, in the earnings call.
It makes perfect sense to devote the majority of attention to international growth. Skechers faces tremendous competition in the U.S. from Nike (NYSE:NKE), Under Armor (NYSE:UA), and Adidas (ADDY). In the struggle for dominance, Skechers has become the third wheel to Nike and Under Armor's battle. So why focus all your resources and attention to a market that is saturated and becoming even more competitive by the minute? The management team at Skechers realizes this and has decided to focus on where they can really grow the company.
I know that international growth won't sustain itself just because the management team wills it. However, they are taking concrete steps to expand their international dominance strategy. The expansion of their European distribution center to 1 million feet was completed in Q2. The automation portion of the expansion is slated to be completed by the end of the year. Translation: the volume from that center will increase now (they have already witnessed the effect of this in Q2, June was the strongest shipping month from that center), and cost efficiencies will be realized by year's end. In conjunction with a larger distribution center, Skechers plans to expand its store locations by up to 35 stores before the year closes.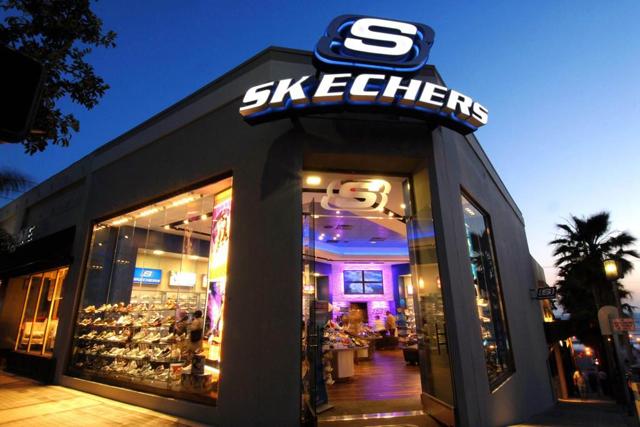 Investors should turn their focus to China and India, where the true growth for Skechers will be realized. Although they represent a small portion of sales now, the brand seems to be performing particularly well in that region. Skechers increased its store count in India by just 19% and saw sales explode by a triple digit percentage. Skechers is more established in China, but nonetheless notched high double digit growth in the country. As it stands now, there are around 300 Skechers stores and roughly 3 billion people in India/China. That turns out to be 10 million people per Skechers store. This incredibly low market penetration enforces my belief that growth in that region has a long runway for success.
Rough Quarter or Long-Term Woes?
It seemed like Skechers couldn't catch a break. We knew going into the quarter that it would be difficult, due to several orders being pulled into the previous quarter, and an inflated Q2 comparison from last year from a similar reason. On top of this, Skechers incurred a $2.7 million VAT tax in Brazil, suffered a warehouse fire in Malaysia, and currency headwinds equitable to -$8.3 million in earnings. All told, these factors took away $0.07 per diluted share. This isn't to say I think Skechers would've knocked it out of the park on this one. Domestic same store sales were flat, which is considered deadly in retail. However, COO and CFO David Weinberg expects same store sales growth to return with 4-5% projected in Q3.
I believe this quarter was a bump in the road and that significant upside remains for Skechers in the long-term. It was a bad quarter, but it shouldn't have warranted a 22% drop. I think the dramatic drop was because the investing community believes that the growth phase in Skechers is over. And I agree with them….domestically-speaking. However the growth story has changed. The market in the U.S. is simply too competitive and saturated for any real growth to be realized. However, I restate from my previous article that Skechers is still a growth company due to its tremendous potential in Asia and the rest of the world. Skechers has over $600 million in cash on hand and an analyst asked what they would do with the cash, perhaps questioning a significant dividend raise in the coming quarters. Weinberg responded to the inquiry, stating,
"…growth is the first thing. We now know we have to expand. We need some more office spaces here in California and we are going to start looking at distribution centers and automation in China and some more space in India. So right now, we are still focused on supporting our growth."
The hefty dividend will have to wait. Skechers isn't done growing, and it won't be long before $1 billion in sales is reached on a quarterly basis. Once the investing community realizes that slow growth in the U.S. will matter less due to strong international performance, I believe the stock will trend upwards.
Author's Note: I encourage you to follow me as I cover a wide variety of current topics, with a special interest in the technology and entertainment industries.
Disclosure: I am/we are long SKX, NKE.
I wrote this article myself, and it expresses my own opinions. I am not receiving compensation for it (other than from Seeking Alpha). I have no business relationship with any company whose stock is mentioned in this article.