There aren't many companies in the world that invest wisely in building networks to ensure growth in the future. Facebook (NASDAQ:FB) is certainly not one of them. But that is just one of the many reasons I am very long this tech monster. For me the long-term story for Facebook remains more or less unaltered. Facebook has a wide 'mental moat', so to speak, and owns assets, including WhatsApp, Instagram and Facebook Messenger, that have not yet been fully monetized.
Ever since the days of Myspace and Hi5, social media has evolved immensely. Never before was social media as ubiquitous a part of our lives as it is today and this can largely be considered a repercussion rather than a cause of Facebook's worldwide success. Seeing how millions are literally hooked to Facebook because of the way it allows them to share information and voice their opinions, one is almost tempted to replace the word 'God' with 'Facebook' in the following quote, attributed to the great French philosopher Jean-Paul Sartre: "There is a god-shaped hole in human consciousness". Something similar couldn't have been said for Myspace or any other social network before the arrival of Facebook. Yes, one could send bulletins to friends on Myspace and share photos via Flickr or Hi5, but those platforms never really perfected the social networking concept quite like Facebook. On Myspace, for instance, you had to visit your friend's page to see what he/she was up to. Facebook destroyed all competition by showing your friends' activities on your own page in your newsfeed. With time, the newsfeed has become more and more addictive thanks to Facebook's Artificial Intelligence experts, including the likes of legendary computer scientist Yann LeCun, working endlessly to analyze the data created by our posts each minute. Just last month, Facebook announced that its Apple Machine Learning Team had developed a new artificial intelligence tool called "Deep Text" to help the company understand the main idea of thousands of written posts in seconds. In other words, Facebook wants to make the most of the 1.5 billion or so posts created by its users each day so that it can sell addiction more effectively.
Despite Facebook being ingrained in the minds of millions who view it as an irreplaceable platform to share their lives with others, is this company finally showing signs of slowing down? There have been articles reporting engagement losses on the Facebook mobile app which is, to a certain extent, a cause of concern. After all, engagement is what matters ultimately. While the number of monthly active users could keep on increasing, the total amount of time spent by users on Facebook's products could yet decline. Bears further point out that Snapchat (PRIVATE: CHAT) is growing rapidly and its users seem to be far more engaged than Facebook's. In spite of all the noise, I remain optimistic for simple enough reasons. First off, Facebook owns three extremely popular platforms in WhatsApp, Instagram and Messenger, whose growth should more than make up for the waning 'original broadcast sharing' on facebook.com. Snapchat, moreover, doesn't represent a major threat to Facebook mainly because its target audience is rather limited.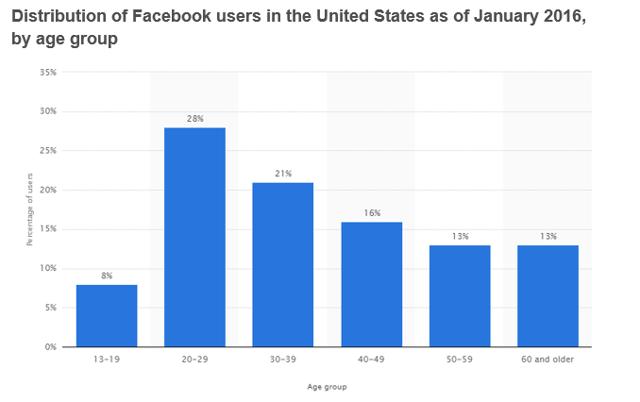 (Source: Statista)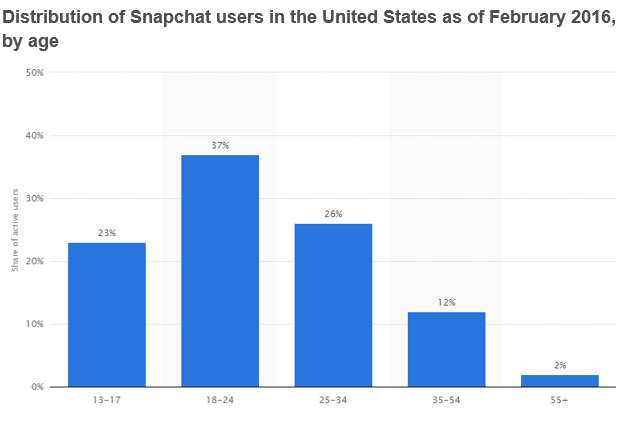 (Source: Statista)
The two charts above show the distribution of Snapchat and Facebook users in the U.S. by age group. No less than 60% of Snapchat's U.S. users are 13-24 year-olds, whereas only 36% of Facebook's U.S. users are 13-29 years old. Unlike Snapchat, nearly all age groups are well represented in Facebook's user base. However, according to comScore, the proportion of users aged above 25 using Snapchat is increasing steadily. In 2013, only 5% of all U.S. smartphone owners used Snapchat. That figure has risen to a substantial 38% now.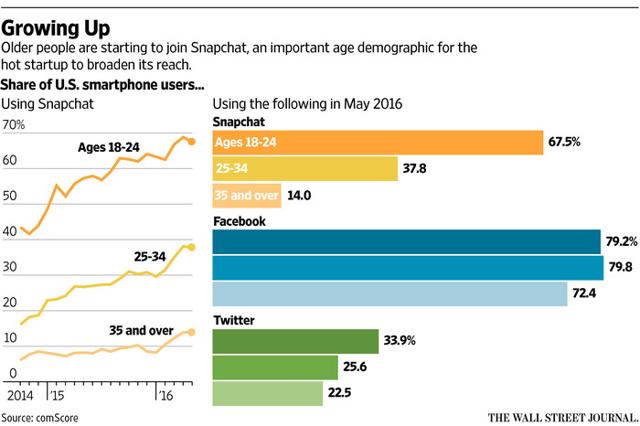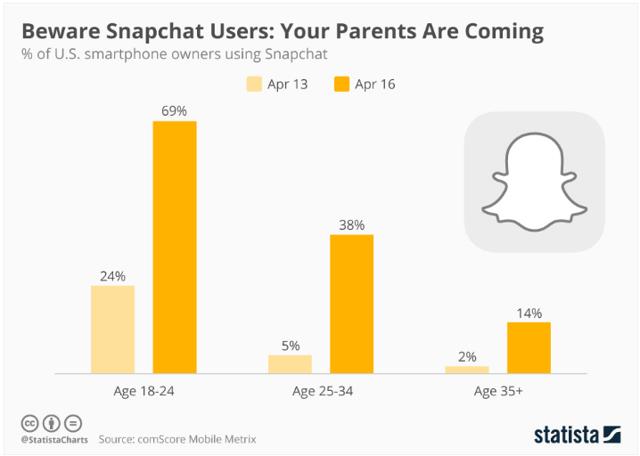 Perhaps a lot of adults are intrigued by the spontaneity Snapchat offers or are being attracted to the app's redesigned features which make video sharing, video calling and content sharing easier. In any case, I don't believe Snapchat can keep attracting adults and transform into a mainstream internet utility like Facebook or Alphabet/Google (NASDAQ: GOOG) (NASDAQ: GOOGL). The content shared by users on Snapchat is ephemeral so one interacts somewhat superficially with others on the platform. Facebook, on the other hand, offers adults the opportunity to document their lives. This is something that is highly valued by thoughtful individuals who invest considerable time in creating original posts.
Additional insight can be gained if we look at the reasons why people, regardless of their age, use Snapchat. 35% of the users like Snapchat because snaps or stories disappear after a certain time interval. This tells me that communication on Snapchat is a game more than anything else. Little surprise then, Snapchat appeals overwhelmingly to teens who perhaps want to hide their naughty conversations from their parents. I can't imagine adults 'quitting' Facebook in large numbers and switching permanently to a messaging platform like Snapchat that offers little in the way of preserving thoughts and moments publicly.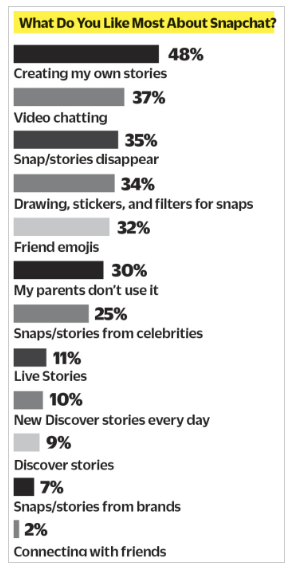 (Source: Search Engine Watch)
Coming back to the point about Facebook's assets, Instagram in particular has great growth prospects. By the end of 2016, Instagram is likely to have more than 600 million users or twice as many as Snapchat's current monthly active users. As per eMarketer's forecasts, by 2019 around two-thirds of all people using smartphone will be Instagram users. And the important point is that Facebook has just begun to monetize Instagram. In my opinion, Instagram is the perfect platform for video advertising. In merely 2 years, Instagram could account for 15% of Facebook's total mobile ad revenues.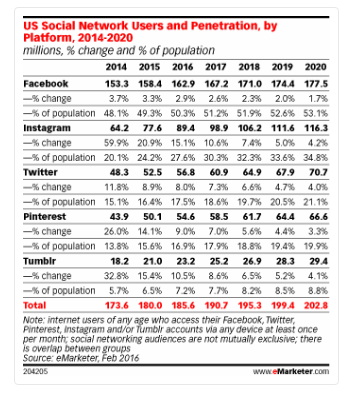 Apart from Instagram, Facebook Messenger is another 'gem' whose monetization via chatbots is just beginning. The fact that the Messenger app crossed the one billion user mark didn't surprise me at all. Messenger is anything but your average chatting app. Among other things, users can shop by chatting with bots, conduct banking and read news stories on Messenger. The app just keeps improving and Facebook continues to successfully experiment with new stuff. Here it is worth mentioning that the company's decision to bring end-to-end encryption to Messenger could be a sign of things to come. Users of instant messaging platforms love secret messaging so Facebook seems to be pushing all the right buttons and it could well be dominating the messaging ecosystem in a few years. Apple (NASDAQ:AAPL) of course will be fighting with Facebook to take control of the messaging space. Facebook's messaging tools, it must be noted, have the huge advantage of being cross-platform unlike Apple's iMessage.
Analysis of Facebook's economic profits
In addition to assessing the growth prospects of a company, I like to look at the value being generated by the company for its shareholders. A company that is capable of consistently generating value or economic profit is likely to be enjoying significant economic moats. Value creation also indicates that the management has been doing a good job of allocating capital.
Economic profit can be measured by considering the difference between ROIC (Return On Invested Capital) and WACC (Weighted Aggregate Cost of Capital). So in Facebook's case, let's first compute the WACC using the following intuitively obvious formula:
WACC = (Weight of Equity X Cost of Equity) + (Weight of Debt X After-tax Cost of Debt)
Where After-tax cost of debt = Pre-tax cost of borrowing X (1 - Marginal Tax Rate) and Cost of Equity = Risk-free rate + (Beta X Implied ERP)
Facebook belongs to the "Software (Internet)" sector so in order to calculate its Cost of Equity, I use a beta of 1.34 as per the table here. I use 10-year constant maturity rate as the risk-free rate and an implied ERP of 5.08% (Trailing 12-month, with adjusted payout). We, therefore, have Facebook's Cost of Equity equal to 8.36%.
Facebook's interest coverage ratio has constantly stayed above 40. Consequently, using the table given on professor Aswath Damodaran's website, the company can be assigned a 'safe' default spread of 0.75%. This corresponds to a "synthetic rating" of Aaa/AAA. By adding the default spread to the risk-free rate, Facebook's pre-tax cost of borrowing comes out to be 2.31%
Equity constitutes 100% of Facebook's capital so it can be assigned a weight of 1. Weight of debt, as a result, is simply 0. Hence, I estimate Facebook's WACC to be 8.36%.
So how does Facebook's WACC compare with its ROIC? The chart below shows that Facebook's ROIC has not fallen below 9% since 2013. Presently, it stands at 11%, roughly 2.6% above the company's WACC, implying that for every $100 invested Facebook generates $2.6 of value or "excess returns". This rubber stamps Facebook's management's ability to use the company's capital wisely. Going forward, I expect Facebook to continue creating significant value for its shareholders.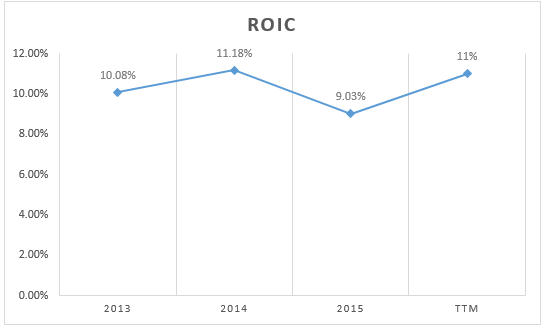 (Source: Morningstar)
Conclusion
In sum, I can't envisage Facebook being displaced by any other social network or messaging service in the next couple of decades. It's a bold prediction because humans are unpredictable and the social media landscape is constantly evolving, but owing to reasons outlined in the article, I am willing to bet on Facebook. From an investment point of view, the company is undervalued because it is yet to fully unlock value in its other businesses like Instagram and WhatsApp. As revenue contribution from these products increases, Facebook's top-line will accelerate at an unprecedented rate. I am ignoring all 'noise', including BTIG's decision to downgrade FB to 'neutral', and will be buying shares with both hands if they go down post-earnings.
Disclosure: I am/we are long FB.
I wrote this article myself, and it expresses my own opinions. I am not receiving compensation for it (other than from Seeking Alpha). I have no business relationship with any company whose stock is mentioned in this article.