Subscription video-on-demand services are most popular in North America, but the adoption is quickly increasing in other continents, particularly Europe and the Asia-Pacific. According to the Nielsen online survey report, the United States is largest video-on-demand marketplace which Netflix (NASDAQ:NFLX) dominates with its 47 million subscribers.
Netflix's management is making a lot of promising efforts to extend its reach to under-penetrated market segmentation. However, in my opinion, easy growth phase is over, and Netflix will face escalating challenges in the future. Netflix can add more subscribers at slowing pace, but earning stream is likely to remain thin for now due to low net margin. Netflix still looks like an expensive and risky stock for low-risk tolerance level investors with investment horizons less than five years.
Digital TV Research shows that video-on-demand subscriptions will reach 101 million by 2021, of which 76 million will be primary users with 25 million secondary subscriptions. These estimates are very logical because on-demand video service providers have a penetration ratio of just 37% among the age group of 55-64 and 23% for those 65-plus. These age groups are 27.1% of total U.S. population.
The first mover advantage has helped Netflix deeply penetrate the domestic market at an average quarter-over-quarter subscriber growth rate of 4%. Over the next five years, the average growth rate is likely to stabilize in a range of 2% to 2.5% primarily due to intensifying competition and a maturing domestic marketplace. Resultantly, Netflix is now leaning toward more foreign markets to build a bigger international subscriber base.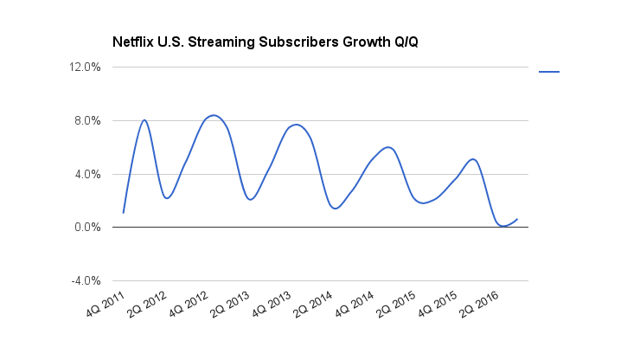 Source: SEC Filings
Is Netflix hitting the right spots abroad? The on-demand video has become a global phenomenon in the past few years, and opportunities are so vast that it is nearly impossible for Netflix to hit every sizeable foreign market with budget and timing constraints.
Outside the U.S., Netflix's primary focus is on European countries where video-on-demand services are gaining popularity. In Europe, video-on-demand subscriptions are expected to hit 53.7 million by 2021, up from expected 31.4 million subscribers at the end of 2016. The penetration ratio of just 30.7% by 2021 means the upside will be limited, compared to current 59% in the U.S. It seems that the international streaming business could take more time to become profitable as Netflix will continue to spend more to gain market share.
There are several different markets within Europe with distinct programming tastes and less passionate TV viewing habits. According to IHS Technology (IHS), every major European country lags behind the U.S. in average time spent on TV viewing. However, online video viewing time has started increasing in all the major European markets as people move away from traditional TV viewing, which bodes well for Netflix.
Last year, subscribers spent 42.5 billion hours streaming content on the Netflix platform, and Americans accounted for 68% of the total streaming time. Although average streaming time per Netflix user is expected to remain high in the U.S., the contribution will increase considerably in European markets as Netflix continues to add more long-form content.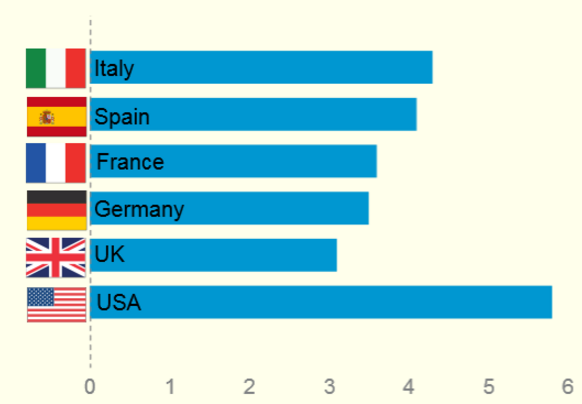 Source: IHS
Netflix is relatively a new entrant in most of the European countries and faces intense competition from well-established local players. However, Netflix has gained quick popularity in the U.K. where approximately 24% of total households are Netflix subscriber. In Western Europe, subscription video-on-demand revenues will reach $5.63 billion annually in 2021, up from $2.10 billion in 2015, and the U.K. alone will generate $1.5 billion due to continued adaptation of online streaming services among age groups of 16 to 44 year olds. That said, Netflix's dominant position and vigorous focus on local content will help the company generate growing revenues from the U.K. and the Netherlands in the coming years.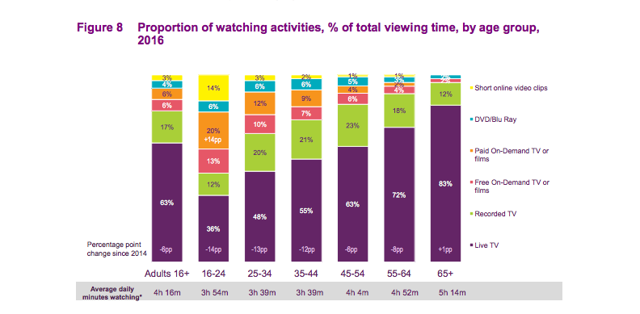 Source: Ofcom
To survive the competition and gain market share in Europe, Netflix is increasing its focus on local content licensing and partnership agreements with studios. Although Netflix's first French-language drama Marseille received mediocre reviews, the upcoming mega-budget drama The Crown could gain a lot of attention due to the royal family storyline.
The story is a bit different in rest of the major European countries where local broadcasters are expanding their online streaming services, while Netflix has a small presence. For instance, Pluzz TV, Orange TV, and MyTF1 are top streaming services in France while Rai TV and Mediaset have gained popularity in Italy. Similarly, the competitive environment is entirely different in Germany, which is the second largest market. Amazon (NASDAQ:AMZN) Prime Instant Video is the leading on-demand video platform in Germany with 32% share of pay video-on-demand usage while Netflix lags with a share of just 16%.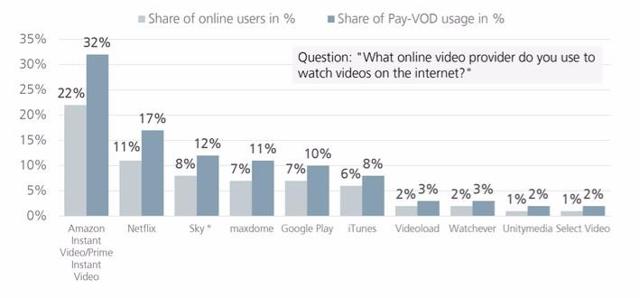 Source: Goldmedia
Online streaming is at its early stages in France, Italy, and Spain, and subscriptions in all three markets will increase many folds over the next five years, but the expected market size is not huge as it is in the U.K. and Germany. Amazon's entry in France, Italy, and Spain later this year will be a head-to-head competition, but Netflix and Amazon both will be able to develop a decent subscriber base. Although I don't expect Netflix will dominate Europe, continued expansion and localized programs will help improve the profitability of the international streaming business.
According to Digital TV estimates, global video-on-demand market will add 220 million new subscriptions by 2021, out of total new subscribers, the Asia-Pacific region will add 107 million, or 48.6%. Netflix will face a lot of growth hurdles in the Europe without early mover advantage, but the potential is even weaker when comes to the Asia-Pacific markets where Netflix has a very small presence.
Netflix is present in four primary markets, Australia, Japan, South Korea, and India, but it is struggling to get regulatory approval to enter China, which is set to become the largest film market next year. Subscription video-on-demand markets of China, India, Japan and South Korea are already dominated by the regional player while others are growing quickly.
Asia-Pacific subscription video-on-demand revenues will increase from just $1.81 billion in 2015 to $6.44 billion in 2021, and China will account for $1.84 billion. My view on Netflix's international streaming business is positive, but the company will miss sizeable opportunities in the Asia-Pacific due to several critical factors.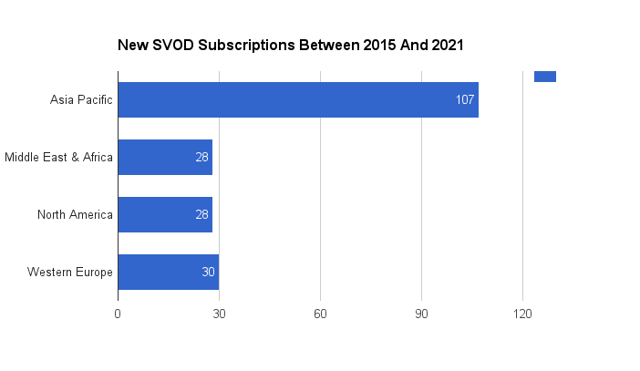 Source: Digital TV Research
First of all, Netflix services are too expensive for a lot of people, whereas the competitors are offering better services at cheaper rates. Secondly, Netflix just doesn't have the right amount of local content, which is essential to Chinese, Indian, Japanese, and South Korean viewers.
The regional and foreign rivals, such as HBO Go, Hooq, and iFlix, are already successful in building the meaningful subscriber base. iFlix is aggressively expanding in the regional markets, and rolling out services in the Philippines, Indonesia, and Thailand helped it gain 4 million subscribers. On the other hand, it is unlikely that Netflix will introduce significant changes in its international services to respond to intense competition. Moreover, Netflix will not cut its prices for these markets as the international streaming business is already operating at a massive contribution loss of 16%.
Thus, the likelihood is that Netflix could experience more modest growth in Asia and emerging markets where its potential audience is already squeezing. Media Partners Asia estimates that Netflix will be able to add 9 million subscribers by 2020, excluding China, which is very disappointing given the size of the opportunities in the region.
Focus On Profitability
Netflix is cash hungry. In 2015, Netflix raised $1.64 billion from financing activities, up from $542 million a year earlier. Resultantly, the long-term debt has spiked to $2.37 billion from just $197.8 million in 2012, and now its long-term debt to equity ratio stands at 100%. Netflix is heavily investing in original content development, but rock-bottom net income margin means Netflix will raise more debt in the future, which will further increase financial risk.
The second-quarter performance and third-quarter guidance point toward the continued bearish trend in the near term as pricing actions in North America will disrupt new subscriber additions. The profitability of the international streaming business, however, is a bigger concern as an average international customer currently costs Netflix approximately $4.8 more to acquire than the revenue they generate. Netflix will have to build a long playlist of high-quality local content for a radical improvement in the profitability of its international streaming business.
In contrast, Netflix has shown an impressive ability to boost domestic streaming contribution margin, which has almost doubled to 34.3% in the second quarter 2016. Netflix has developed an enormous customer base, and a smart trade-off strategy between new additions and the periodic increase in monthly subscription fees will help Netflix achieve its U.S. streaming contribution margin target of 40% by 2020. The increasing contribution margin in the U.S. on growing top-line will result in substantial net income growth in the longer run. That said, investors should look for an entry price level of low to mid-$70s with an investment horizon of at least five years.
Disclosure: I/we have no positions in any stocks mentioned, and no plans to initiate any positions within the next 72 hours.
I wrote this article myself, and it expresses my own opinions. I am not receiving compensation for it (other than from Seeking Alpha). I have no business relationship with any company whose stock is mentioned in this article.