The payment company PayPal (NASDAQ:PYPL) just published their Q2 2016 results. Shortly after, the company's shares were down 7 percent. The reason for this was PayPal's announcement to work closer with the credit card provider Visa (NYSE:V). Many analysts claim that the deal gives Visa the better economics. Royal Bank of Canada even cut PayPal's 2017 earnings estimates. But was this deal really so bad? I don't think so.
PayPal's financial and growth background
PayPal's cash flow from operating activities is steadily rising, climbing by 28 percent to $323 million in Q2 2016. Furthermore, the company is pretty profitable. CFO to sales ratio amounted 12 percent and the transaction margin is around 60 percent.
Much more important is PayPal's strong customer growth and customer engagement. Since Q2 2015, customer numbers rose by 11 percent. I'm sure that PayPal will maintain this growth rate, at least for some years.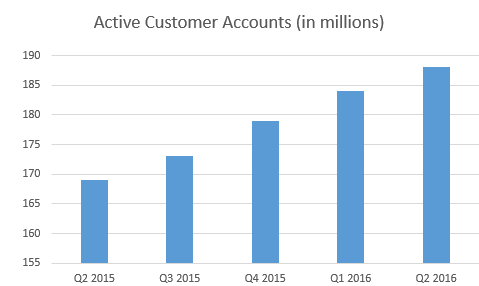 In addition, PayPal managed to increase payment transactions per active account by 13 percent year-over-year. This means PayPal's customer base is growing as well as their involvement in people's everyday life. Probably, I'm one of the users who fits right into the scheme. In 2015, I used PayPal sporadically for online payments. Today, I'm using the payment service almost every day mainly because of their reworked smartphone app and the One Touch function. One Touch makes it possible to pay via one click on my devices. Maybe that's a little bit riskier than before, but the saving of time is worth it.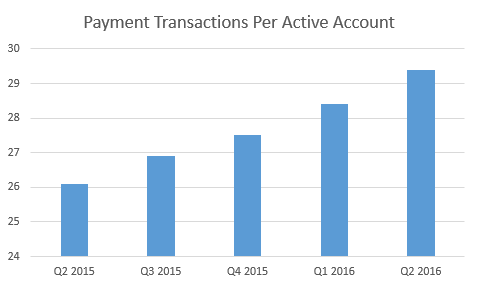 Evaluating the partnership with Visa
One of analysts' main argument against the deal with Visa is that it might cause higher costs. I agree to that point, costs might rise. But I dare claim that PayPal can afford this due to their strong cost base. Additionally, the payment provider has now long-term fee certainty.
Far more important are the additional growth opportunities through the deal. PayPal's CEO Dan Schulman said in an interview: "We want customers to pay any way they want, and the deal with Visa allows us to move more aggressively into the store".
I'm optimistic that PayPal will increase its market share in in-store transactions significantly. The Visa deal enables PayPal users to pay "everywhere Visa supports contactless payments."
Several brands already are accepting PayPal in-store payments, e.g. Abercrombie & Fitch, Office Depot and Foot Locker. Recently, Vodafone Italia announced to implement PayPal in their payment service Vodafone Wallet. The telecommunications provider plans to roll out PayPal payments within Vodafone Wallet across Europe.
Diversification throughout the payment market
PayPal also occupies attractive niche markets with the aid of its acquisitions XOOM U.S. and Venmo. XOOM enables people from the U.S. to send money, reload phones and pay bills for their relatives all over the world.
Through Venmo users could share bills and send money to their friends and relatives. In Q2 2016, Venmo processed around $4 billion in P2P payments, which means an increase of 141% year-over-year. Venmo is now available in eight more apps like Parking Panda and Wish, which will additionally boost growth.
Altogether, PayPal's Q2 2016 merchant services payment volume increased by 36 percent to $71.3 billion.
Conclusion
In my opinion, somewhat higher costs through the Visa deal in exchange for long-term fee certainty and additional growth opportunities are a good deal.
Furthermore, PayPal strengthened their portfolio through smart acquisitions like Venmo and XOOM, which are heading for further growth and complementing the company's service portfolio.
Disclosure: I/we have no positions in any stocks mentioned, and no plans to initiate any positions within the next 72 hours.
I wrote this article myself, and it expresses my own opinions. I am not receiving compensation for it (other than from Seeking Alpha). I have no business relationship with any company whose stock is mentioned in this article.