FireEye (NASDAQ:FEYE) shares have rallied since the middle of May on the news that several companies are interested in acquiring the company. However, FireEye reportedly rejected the offers, as it was holding out for a bid of $30 per share.
A potential acquisition has always been a plus point for FEYE longs. However, investors tend to forget that it is a good buy without any acquisition prospects as well. This is because FireEye is well positioned to benefit from the strong growth in the cybersecurity market in the U.S., which is leading to growth in the company's business. Let's see how.
Cybersecurity presents a huge end-market for FireEye
The cybersecurity market is growing at a good pace due to the rise of data breaches across the world, making stocks such as FireEye, CyberArk (NASDAQ:CYBR), and Palo Alto Networks (NYSE:PANW) attractive. According to a recent report by Cybersecurity Ventures, the market will grow to the tune of 12-15% through 2021, as compared to the earlier forecasted growth of 8-10%. Meanwhile, Juniper Research expects the cybersecurity market to reach $175 billion by 2020, after growing to $75 billion in 2015, representing an increase of $100 billion in just five years.
This remarkable increase in the growth forecast of this market is due to an increase in spending on cybersecurity products and services. This increase in demand for the products is not surprising, since Juniper Research anticipates the cost of data breaches to increase to more than $2.1 trillion globally by 2019, representing an increase of more than four times the estimated cost of breaches in 2015.
In fact, many companies, such as JPMorgan Chase & Co. (NYSE:JPM), Bank of America (NYSE:BAC), and the U.S. Federal government have increased their spending on cybersecurity of late. For instance, JPM has recently doubled its cybersecurity budget to $500 million from the earlier forecasted budget of $250 million, while Bank of America expects a significant increase in spending here, after having spent nearly $400 million in 2015. At the same time, the U.S. government has increased its annual cybersecurity budget by over 35% to $19 billion in 2017 from $14 billion in 2016.
This growth trend is set to continue, as Cybersecurity Ventures' market report suggests that industries such as aerospace, defense, and intelligence will experience massive growth in cybersecurity spending over the next five years. The increasing spending in this area makes FireEye a good bet in the long term, and the potential of an acquisition further strengthens the bull case.
Shifting gears from on-site and cloud-based applications to FaaS
FireEye is tweaking its business in order to improve its performance in the long run. For instance, the company has started shifting its business from on-site and cloud-based applications to FaaS (FireEye-as-a-Service). FaaS is a cloud subscription platform, which will lower the company's dependence on product revenue, which dipped considerably in the last reported quarter.
In my opinion, this is a good move, for a couple of reasons. First, FaaS carries higher margins as compared to product margins, and second, the market for as-a-service remains strong from a future point of view.
For instance, FireEye's gross margin in the FaaS segment for the first three months of the year came in at 60%, an increase of 3 percentage points from the gross margin of 57% in the same quarter last year.
Meanwhile, gross margin for the product segment had decreased to 49% for the quarter as compared to 62% in the first quarter of 2015. All the more, gross margin for the product business was below FireEye's internal expectations by about 8 percentage points. Therefore, the company has made the right move by laying more stress on the FaaS business. More importantly, the FaaS business could drive more upside for the company going forward due to the reasons discussed below.
FireEye is looking to achieve economies of scale by adding more customers to its platform. For instance, last quarter, the company executed its largest transaction with an eight-figure cloud email deal in the United States. As per this deal, FireEye will be protecting more than 100,000 mailboxes. Also, it secured a contract with a well-known luxury retailer, which is expected to replace its legacy SIM product with FireEye's Threat Analytics Platform. This deal is expected to cut through the noise and help it with the contextual threat intelligence.
On the back of such deals that will enhance economies of scale, FireEye expects its product gross margin in the high-60% range and service margin in the mid-70% range for the full year. The chart given below illustrates the company's annual billing growth for its subscription platform, which is expected to grow in the range of 22-32% this year as compared to 2015.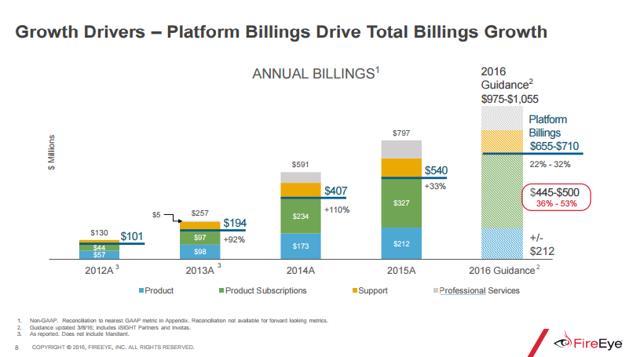 (Source: FireEye)
In addition, FireEye should also benefit from the software as-a-service markets, such as email security, intrusion prevention, and endpoint protection. According to a survey conducted by Morgan Stanley, more companies are spending money on improving endpoint security. As evident from the snapshot below, email security accounts for 72% after next-generation firewalls.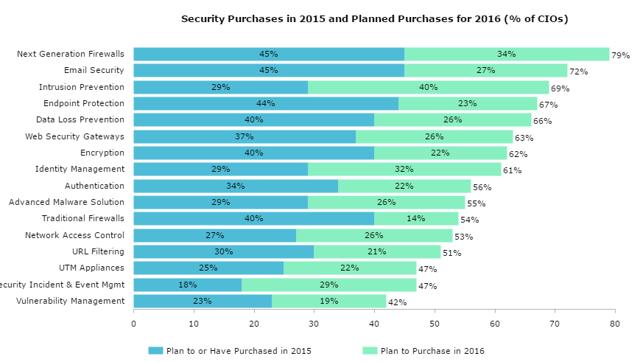 (Source: FireEye)
Increasing efficiencies will be added advantages
FireEye, meanwhile, should also benefit from its focus on enhancing cost efficiencies. For instance, the company is targeting savings of $35 million in 2016 due to a number of reasons. These include its accelerated shift toward fewer and lower-cost locations, while consolidating support and SoC operations, and improving purchasing efficiencies and a reduction in discretionary spending. As a result of these operational efficiencies, FireEye expects its operating expenses to drop to 18% of revenue by the end of 2016 as compared to 22% of revenue in 2015.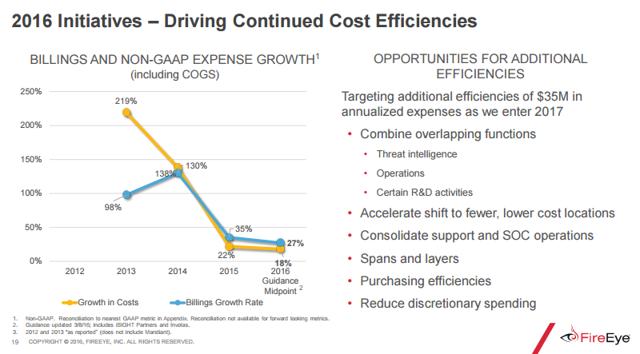 (Source: FireEye)
FEYE bears have always complained about the company's expenses growing at a faster pace than its revenue. However, the additional cost savings, along with the shift to FaaS, should boost the company's bottom line in the long term.
Conclusion
Given the growth in cybersecurity spending, I find FireEye to be a robust investment at this point in time. The company has shifted its focus from on-site and cloud-based applications to FaaS, which has a higher gross margin and bright prospects, as discussed above. At the same time, it is actively working on reducing its expenses, which should boost the bottom line going forward.
Disclosure: I/we have no positions in any stocks mentioned, and no plans to initiate any positions within the next 72 hours.
I wrote this article myself, and it expresses my own opinions. I am not receiving compensation for it (other than from Seeking Alpha). I have no business relationship with any company whose stock is mentioned in this article.