M&T Bank Corporation (NYSE:MTB) is down 5.5% after missing revenue (by $10 million) and EPS (by $0.01) estimates. One could joke that this quarter has been full of banks doing a "great" job of beating targets with down trending EPS, but to be fair, MTB's premium valuation means more is expected.
I too have tired of reading anything about spending to enhance compliance, blah blah data security investments, and never-ending merger fees. But slowly and quietly, MTB has accumulated just enough problems to make room for improvements. And considering how well the bank is already doing, these incremental gains are meaningful.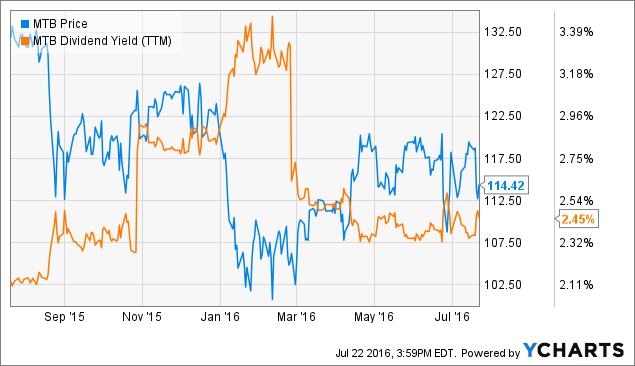 For the quarter, MTB reported core earnings per share of $2.07 (excludes intangible amortization and merger fees), which is better than last quarter's figure ($1.87) and YOY results ($2.01). Annualized return on tangible assets and shareholders' equity were 1.18% and 12.68% (respectively), and in the quarter, the bank's efficiency ratio improved to 55.1% from 58.2% in the same quarter last year. Again, not a huge swing, but everything is moving in the right direction.
The loan portfolio only grew at a 3% annualized rate, but core C&I loan growth of 14% was hidden by a 15% roll-off of residential mortgages in the Hudson portfolio. Over the next year, this churning will continue, but as core grows so will asset yields, and eventually, margins. Converting thrift assets does take time, but in addition to the new products MTB has to offer, its acquired customer base is the opportunity to work off expensive deposits. A source of fat that, this late in the game, has mostly been cut from the balances of the bank's larger peers - who also are flush and not exactly chasing after new accounts.
NIM was down 5 bps to 3.13%, even though the aforementioned improvements suggest it should have gone up. But on the call, management addressed this by saying that the impact of expensive time deposits on margins is exaggerated, because mortgage runoff is outpacing 9-to-1 ($900 million a quarter, versus ~$100 million). It's still early, but ~75% of remaining non-core deposits are expected to mature (management's exact words were "play itself out") over the next 12 months.
If rates flatten, the discussion above gives MTB an earnings stabilizer that most don't have, and a couple more remain. A court date in January could finally put to bed legal issues related to acquired Wilmington Trust indictments (that add up to a ~$14 million charge this quarter), and eventually, we will see savings from lower BSA/AML spending/investing. Some of those savings are already in and being channeled into a short-term marketing campaign, but I got the feeling from the call that most non-core costs will finally be much lighter this time next year.
Considering growth from acquired assets, I think this quarter's results deserve more weight in a valuation discussion, and based-off of them, the company is trading with a P/E of ~13.6. This is higher than that of peers, but these earnings are stable and ready to grow. The CCAR results were considered an "embarrassment" by some, and an opportunistic try/mulligan by others, but at the end of the day, the bank has $1.15 billion to spend on buybacks. Based on the current market cap, this is equivalent to 6.4% of shares outstanding, so long-term investors may actually want to welcome the recent pullback and hope for more of it. Critics will call MTB what they want, as evidenced by the lack of thought put into apples-to-apples comparison of CCAR scenarios (that assume the bank will maintain a large payout ratio when everything hits the fan - something that gives credit to peers that can't afford to return capital at comparable levels, and something I call "room at the bottom").
Bottom Line
MTB is safe and worth watching. Maintaining the valuation premium is necessary for appreciation driven by earnings growth. And for $40 each, the warrants are in play once again. The original exercise price of $73.86 per share yields a very small premium (~0.4%). But if payout adjustments (which I haven't calculated) are similar to those advertised by JPMorgan (warrant buys 1.01 shares, strike price down 0.669%), the warrants technically trade at a slight discount (expire December 23, 2018). With the market hot, this may not be the best time to buy, but after accumulating a lot of dust, MTB could impress.
Disclosure: I/we have no positions in any stocks mentioned, but may initiate a long position in MTB over the next 72 hours.
I wrote this article myself, and it expresses my own opinions. I am not receiving compensation for it (other than from Seeking Alpha). I have no business relationship with any company whose stock is mentioned in this article.
Additional disclosure: I've been trading MTB Warrants this year, but have no holdings as of the time of this writing.