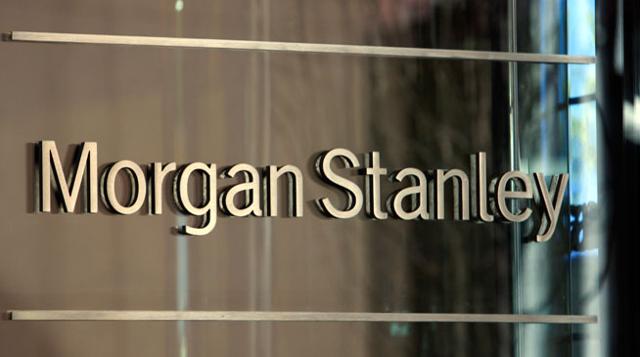 I've been a big fan of Morgan Stanley (NYSE:MS) of late because it has looked very cheap for a long time. The company's Q2 report seems to have proven to me that the stock is too cheap at 92% of TBV and with its massive capital return plan, MS will also return lots of cash to shareholders. That bit of good news could potentially have a lot to do with MS' valuation over the next couple of years as David Schawel wrote in his recent paper linking the valuation of financials to ROE. With that in mind, I'll use this article to look at MS' recent history with its capital structure as well as its return on equity to see where it has come from and where it may be going.
I'll be referencing the chart below throughout, which I've created using data from company SEC filings.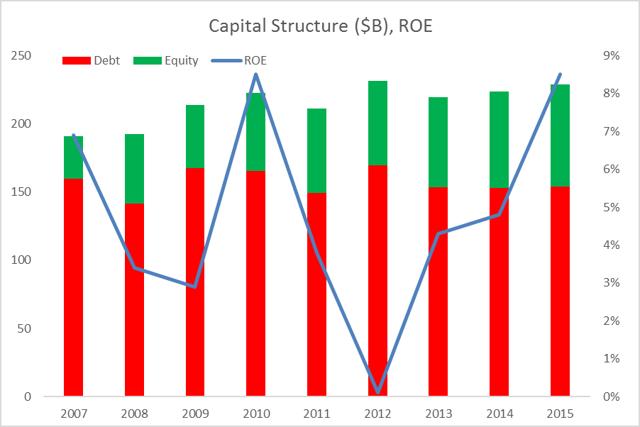 We'll begin by taking a look at the elements themselves as there is a lot going on here. The red bars are the company's long term debt levels, the green bars are shareholders' equity and the line is ROE. There is a lot to talk about here so we'll go through it piece by piece and we'll start with debt.
MS carries more debt than its more traditional bank competitors and it has even carried more on a relative basis than Goldman Sachs at times in the recent past. That's fine as MS and GS aren't traditional banks and their models dictate that more debt is acceptable; the big banks tried that leading up to the crisis and it didn't go very well. At any rate, one thing to notice about MS' level of debt is that it has been pretty constant in the past decade or so. While today's level is lower than it was in 2007, it is only marginally so and that has been the story every year. MS is apparently quite happy with its level of debt and has chosen to do virtually nothing with it. In short, that part of the capital structure is pretty boring but where it gets more interesting is with equity.
MS has averaged a 13% annual gain in its equity level since the bottom in 2007. That's unbelievably impressive and while that number was juiced by a trough level to start with, even recent years have seen 6% or 7% increases on very high marks. Regardless of how you look at it, MS' capital builds have been very strong. While that's great for safety and soundness as well as returning capital to shareholders, it makes it very difficult to produce higher ROE.
Another thing that is working against MS's ROE and - ostensibly - its valuation, is the composition of its balance sheet. Virtually all of the major financials have undergone some sort of change where debt is lower and equity is higher since the crisis. Indeed, many of them have undergone radical shifts in the composition of their respective balance sheets but MS hasn't to the same extent. There are many factors including improving profitability and the quest for balance sheet safety to avoid another financial crisis blowup but the regulators have played a big part too. That has driven equity up across the sector and as earnings haven't kept pace, ROE is lower. But that's not necessarily the case for MS, as I shall now demonstrate.
In 2007, MS had 5.1 times as much debt as equity on its balance sheet. That is enormously lopsided by today's standards and even for an investment bank, that is a lot. What that means is that MS had - in rough terms - $6 it could invest for each $1 of equity it contributed. That should have led to enormous ROE but MS didn't have a great year in 2007 and ROE ended at just 6.9% despite the outsized debt position. Since that time, MS' debt-to-equity ratio has moved down such that it is only 2. That's a much more reasonable level of debt with far less risk but it also means that MS only has $3 to invest for each dollar of capital it contributes, again, in rough terms. Operating leverage is working against MS for that reason but despite that, we see growing ROE.
MS's ROE numbers have been all over the place since the crisis - including a 0.1% showing in 2012 - but since then, MS has put together a string of increases up to 8.5% last year. That's not where MS wants to be but it is roughly on par with where Goldman Sachs is today and thus far this year, MS is slightly lower than GS at 7.2%.
So what does this all mean for the valuation? MS has a similar ROE profile to GS but I believe MS has more levers to pull to see improvements. MS now has a huge new capital return plan that should allow it to get rid of some excess capital it clearly cannot find a profitable use for and that will at least slow the building of additional capital in the coming years. As MS grows earnings on a flattish or slightly rising capital base, we should see ROE move up even if earnings don't go gangbusters. MS has a big catalyst here as the Fed has become much more tolerant of big capital returns of late. That's great news for MS, a company that has way too much on its balance sheet right now. This is the single biggest lever for MS to pull in the coming years and it is great not only for future ROE but shareholders get to enjoy the capital while it is being returned via a sizable dividend and buyback. Let's not forget that MS is an earnings growth story as well so we should see leverage on both sides and that is exciting.
At 92% of TBV and a lower valuation that GS but with better growth prospects, MS is the clear choice between the two. MS is growing earnings and building capital at a terrific rate, capital that can be used to return to shareholders and boost future ROE levels. This is a long term story as well; MS will be allowed to continue to produce enormous capital returns for the foreseeable future and that's great for the reasons I mentioned. While MS has a checkered history with ROE in the recent past that has ostensibly kept a lid on its valuation, the pieces are in place for that barrier to be broken down and for a higher valuation to come into play for patient shareholders.
Disclosure: I am/we are long MS.
I wrote this article myself, and it expresses my own opinions. I am not receiving compensation for it (other than from Seeking Alpha). I have no business relationship with any company whose stock is mentioned in this article.