Q2 FY 2016 Update
EPS of $2.73 (diluted), up 24% YOY
Book Value Per Share: $69.69, up 14% YOY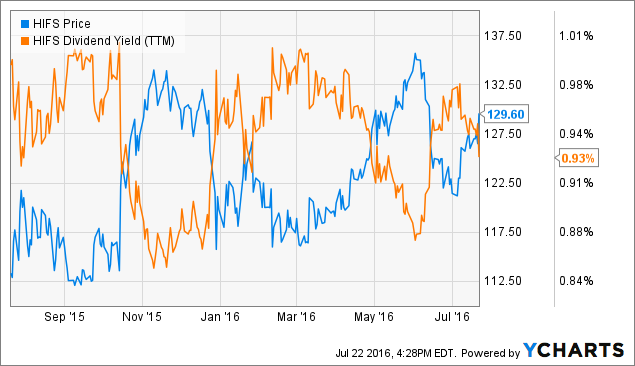 Soon after my last write-up on Hingham Institution for Savings (NASDAQ:HIFS), the stock took a nosedive on news that the annual special dividend was cut from a $1.00 (announced in November, 2014) to $0.30 per share. This is a move I thought would benefit me more, as a shareholder, since it meant extra capital for this compounding machine to work with - but I'm not Mr. Market. Since that time, shares have ebbed and flowed but are for the most part still trading at the levels they were 9 months ago. Which, in combination with improved earnings, means they are cheaper now.
Annualized, this quarter's core results ($2.63 per share - excludes investment gain of $221K) yield a P/E of 12.23. A P/BV of 1.84X means the company trades in line with other high performing banks that regularly produce an ROE of 13-16%... but wait, what other small bank produces an ROE of 13-16%?
Leverage is a funny thing with banks because by one measure a company looks like it's stretching and by another it's conservative. Hingham is no different. An ROA of 1.21% was leveraged up to a 15.96% ROE in Q2, implying little capital, but at the same time the bank's cash balance is 2X stockholder's equity. And, including securities and Home Loan Bank Stock, liquid assets moved up to 2.39X from 2.28X in June of last year. The bank needs this liquidity to finance new loans (up 17.8% YOY) and safety leverage a growing deposit base (up 16.9%, L/D ratio of 115%). But there we go again, aren't loans in excess of deposits a thing of the past?
Not if you can do it safely (nonperforming loans of 0.22% covered by allowances 3Xs). By focusing on low yielding residential loans the bank is taking less risk, but needs leverage to provide for above average returns. Sounds simple, but not many banks are doing it as profitably as HIFS can with an efficiency ratio of 32.96%, down from 36.36% last year.
Going forward, the story here is still interesting because the bank can scale up earnings faster than it needs to grab assets. Note this quarter's YOY EPS improvement of 24% only required a 17.4% increase in total assets. Less risk, more reward. Buy, hold and while you forget, the company will continue to grow your shares. HIFS has $1.9 billion in assets now, imagine where earnings will be when that balance is up 84%, to the $3.5 billion mark management is aiming for. My bet is much more than 84%.
A simple thought experiment:
1.2% returns on $3.5 billion = $42 million a year. The bank's current market cap is only $270 million, and we'll arrive at $3.5 billion in less than 5 years with 15% asset growth (below current pace). $42 million X 12.5 P/E = a $525 million bank in ~4.5 years and a ~16% annualized return.
A solid option and conservative considering the following assumptions (in calculations above):
Asset growth rate falls.
Returns assume no dividend payments (yield without special payments is 0.94%).
No market premium expansion - which if you haven't read Philip Fisher, is a powerful driver for above average returns.
Efficiency ratio doesn't improve from 32.96%, which is possible.
Wishful thinking?
Disclosure: I am/we are long HIFS.
I wrote this article myself, and it expresses my own opinions. I am not receiving compensation for it (other than from Seeking Alpha). I have no business relationship with any company whose stock is mentioned in this article.