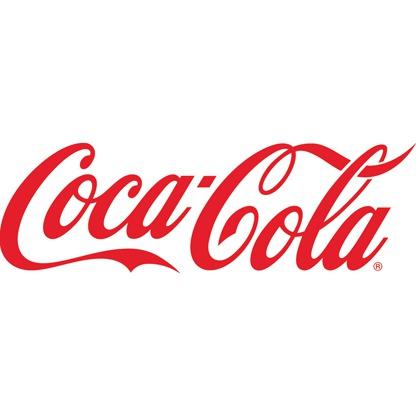 Coca-Cola (NYSE:KO) has been on a great run, as the stock is up 13% over the past year thanks to investors moving towards defensive names thanks to the volatility of the market. Shares of Coca-Cola are not cheap by any means and could see a correction as we head into the latter part of 2016. Q2 2016 earnings results are around the corner and I think it's a strong sell before the release. Analysts expect a 4% year-over-year decline in revenue to $11.7 billion, but I believe the actual decline could be quite worse thanks to weaker soda volumes that continue to decline as the trend of consumers moving towards healthier alternatives starts to pick up. Pepsi (NYSE:PEP) saw a 4% decline in beverage volumes in their Q2 report and this should be considered a warning side for shareholders of Coke heading into its own Q2, as the industry-wide trend of decreasing soda volumes continues to gain downward momentum as we head into the latter part of 2016. Coke has made acquisitions of beverage company's that cater to local markets, but these investments will not offset the headwinds of declining soda volumes, which appears to be a long-term downward trend.
In an effort to combat declining beverage volumes, Coke is planning to release new innovative drinks catered to specific markets. Coke Brazil launched Cafe Leão, which is a coffee beverage catered to the Brazillian market that is expected to be a big driver of sales, as the brands expands across the country starting next year. Earlier this year, Coke also acquired Xiamen Culiangwang, which is a Chinese producer of protein beverages sold around China. These small acquisitions around the world will help coke drive consumer demand for beverages, however, these initiatives will not offset the decline in beverage consumption as a whole. Although they will provide some relief from the decline in soda sales, these investment initiatives are no expected to affect the company's top-line until later next year, especially considering the marketing and expansion efforts that still need to be done.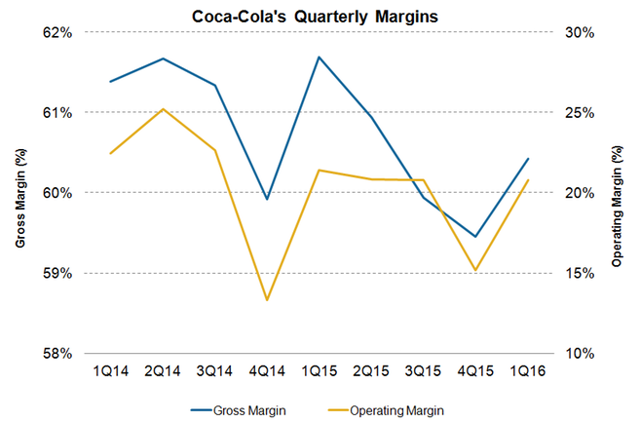 To add to decreasing soda volumes, Coke's margins are facing a lot of pressure. Gross margins dropped 1.3% YoY and operating margins dropped by 0.8% YoY last quarter thanks to the strong U.S. dollar and the refranchising of its bottling division. Coke knows this is an issue and management has been actively pushing for a cost savings strategy to increase productivity while driving down costs. Coke plans to restructure its supply chain and implementation zero based budgeting in order to better keep track of the firm's expenditures. Coke expects the plan to create over $600 million in savings, thanks to increased operational efficiency and cost cuts for this year. These efforts will help drive long-term operating margins and would allow Coke to spend more on innovating its already impressive portfolio of drinks, in order to reverse the trend of declining soda sales.
There are major headwinds that may cause Q2 2016 to be a huge disappointment. Currency headwinds are expected to eat into earnings this quarter thanks to the Brexit which further strengthened the U.S. dollar. There was a lot of acquisitions, divestitures and restructuring investments made this past quarter, and this will weaken earnings even more for Q2. When combined with decreasing soda volumes, I believe Q2 will be a disaster that could send the stock back to more reasonable valuations.
Coke is a terrific brand, but its ridiculously expensive at current levels. The P/E, P/B, P/S, P/CF of 27.6, 8.0, 4.6 and 21.1 are all much higher than their five year historical averages of 20, 5.4, 3.8 and 16.9 respectively. All these metrics are also a lot higher than the industry average values as well. Operating cash flow is at 0.4x net income, which is not a good sign, especially considering the huge premium that the stock has right now.
The PEG ratio is a ridiculous 4.5, which means there is a massive growth valuation on a company which has very little growth. This company is the most overvalued its been in over a decade and I would not recommend this stock especially considering the huge amount of headwinds preventing the stock from moving higher. I believe there is a large chance of a correction in 2017 or the latter part of 2016 because decreasing revenues and margins will result in horrendous upcoming quarters. Although the business has a healthy operating margin of 19.5% over the past year, I find that the decreasing trend is alarming. Long-term revenue growth is also very weak, with revenue growing at 2.9% over the past five years. I would short Coke going into Q2 2016 earnings, as the stock is way overpriced and could be in for a disappointing surprise.
Disclosure: I/we have no positions in any stocks mentioned, and no plans to initiate any positions within the next 72 hours.
I wrote this article myself, and it expresses my own opinions. I am not receiving compensation for it (other than from Seeking Alpha). I have no business relationship with any company whose stock is mentioned in this article.