In Q2, Halliburton (NYSE:HAL) reported revenue of $3.85 billion and EPS of -$3.73. The company beat analysts' revenue estimate of $3.76 billion, but overall, the results were disappointing. I had the following takeaways on the quarter.
Cash Really Fell By $6.5 Billion
Heading into the quarter, I suspected cash could fall from $9.6 billion in Q1 to less than $5 billion. When I saw the company's cash balance of $3.1 billion - a decline of $6.5 billion - I did a double-take. The $3.73 loss per share included a $3.5 billion break-up fee to Baker Hughes (BHI) and a $423 million impairment charge. Halliburton also repaid $2.6 billion in debt, which drove down the cash balance. Of note is that after monetizing its working capital, the company generated cash flow of $92 million in Q1 and suffered an outflow of $20 million in Q2. This implies that certain current assets - inventory, in particular - are stale or slow-moving.
In my opinion, Halliburton needs to squirrel away as much cash as possible in order to survive the oil patch. The company has used its prodigious balance sheet to offer price concessions, and has contemplated financing clients' purchases of oilfield services and equipment. There is a thesis that clients' flight to quality has allowed Halliburton to take market share from lower-capitalized competitors. The company's rapid loss of capital could mean: (i) it has to be more selective in offering price concessions or financing packages, and (ii) its competitive advantage over smaller competitors could dissipate.
Have Animal Spirits Returned To North America?
Halliburton's total revenue fell 9% sequentially. The worst performers were North America (down 15%) and Latin America (down 12%).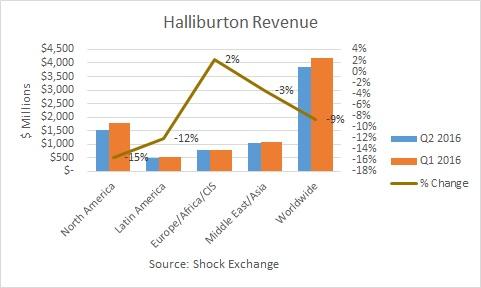 Management was assuaged that the decline in North America revenue was less than the rig count decline (down 23%). They also indicated that North America had bottomed and animal spirits had returned to the region:
I spent a large amount of time with customers late in the quarter taking their pulse and I can tell you there was a growing survivor mentality out there, and you can't underestimate the positive change in attitude that we're seeing in our North American customers... they are talking about adding rigs, buying assets or doing something value accretive...

The psychological factors are getting better. Oil reaching $50 per barrel, even for a brief time, was a critical emotional milestone for our customers as was being able to buy a strip above $50 per barrel. So maybe it can be summed up best by one customer who told me, Dave, it's actually a light at the end of the tunnel and not an incoming train. To borrow a Keynesian economic term, the animal spirits are back in North America.
The days of double-digit revenue declines in North America could be over. However, I believe the region could muddle along. There is also a possibility that oil could re-test $40 and cause E&P to fall again. Since North America represents 40% of total revenue, I don't see Halliburton's razor-thin EBITDA margins improving until the region bounces back in a big way.
That said, Latin America could be the next shoe to drop. The rig count in Mexico and Brazil has fallen to levels not seen in decades. Economic turmoil in Venezuela caused the country's oil production to fall to 13-year lows in June. Halliburton has offered to finance purchases of oilfield services and equipment for PDVSA, Venezuela's state oil company. This quarter, it reported a $148 million loss pursuant to a promissory note in exchange for unpaid invoices.
Conclusion
I expect Halliburton to experience flat-to-negative growth on its top line, while its liquidity could become further strained. Having to service nearly $13 billion in debt with no growth in cash flow could trigger a capital raise. Investors should continue to avoid HAL.
Disclosure: I am/we are short BHI.
I wrote this article myself, and it expresses my own opinions. I am not receiving compensation for it. I have no business relationship with any company whose stock is mentioned in this article.