Back on January 25, 2016 I penned an article where I suggested that there was no compelling reason to initiate new long positions in Chipotle (NYSE:CMG). At the time the stock was $442.17. The stock closed at $442.48 Friday July 22, 2016 which results in a six month change of 0.01%. Over the same six month period the S&P has risen from 1877.08 to 2175.03 for a 15.87% increase. This under performance was aided in large part by a 5.84% rally in the stock on Friday July 21, 2016. So, given the huge underperformance of CMG is it now time to buy shares of Chipotle?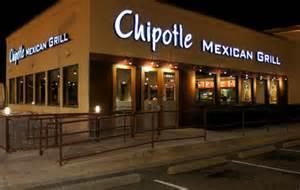 Lets examine the company's latest SEC 10q quarterly report filed with the SEC.
Same store sales
Still a major disappointment. The previous quarter saw a 23.6% drop in same store sales.

While a drop in same store sales was anticipated, the drop was expected to be no worse than in the 15% to 20% range. The bulls for CMG had predicted flat sales by the end of 2016. That clearly is not in the cards, and management has even admitted it. As noted in the q2 2016 earnings call transcript, Chipotle's co-CEO Steve Ells came out and said "While it has only been a few weeks since Chiptopia launched, we are pleased to see that July sales comp trends have already improved by 200 to 300 basis points, and transaction comp trends have improved by an even greater amount," That translates into q3 2016 same store sales still trending down 21% over last year. Clearly the American public is still not ready to forgive Chipotle for the eColi scare and the various mis-steps they had when dealing with it. Back in my previous article I discussed how CMG needed to be pro active on this issue. One of my comments was "Reestablishing trust is paramount. I also suggest that they even consider taking extreme measures such as a new advertising campaign aimed at heightening awareness of food borne illnesses. " They still have not done so.
Year over year business segment comparisons
Same store sales are only part of the problem. When dissecting the bottom line to see how the business is faring it is evident that CMG still faces significant headwinds:
Clearly there is work that needs to be done. The biggest obstacle that CMG now faces is how can they get customers back in the store without gimmicks such as free food coupons and loyalty liberal loyalty program offers? There is no easy answer to that question. It is a problem that has plagued all retailers for decades.
The common stock reporting error and share buyback progress
Nothing can unhinge a companies credibility more than making mistakes or misrepresentations in the SEC filings. Unless someone can correct me on this, I have found an error with a 19% variance in the number of shares CMG currently has outstanding. On the main page of Chipotle's latest 10q filing CMG reports that as of July 18, 2016 there were 29,115,783 shares of stock outstanding

All other information in the 10q pegs the June 30, 2016 number of outstanding shares as 35,826,000 shares. The discrepancy of over 6,710,000 shares is over 19%. I than asked myself if this discrepancy could be related to share buyback activity. Unfortunately the numbers make it impossible for this to be the reason. According to data from the 10q Chipotle has $139.504 million still available under their share buyback program. Even at $400 a share Chipotle would not be able to buy back more than 349,000 shares. So where did the 6.71 million shares go? The company would need to have spent almost $4 billion to justify buying back the missing 6.71 million shares.



Also of interest is that despite the share buybacks the total number of shares is still increasing.
Analyst EPS estimates
So far the analysts on Wall street have been willing to hang in there and not offer sell recommendations. The tide of optimism however is changing. The EPS estimates continue to get slashed. In the past 90 days, per Yahoo the average EPS prediction for 2017 has been slashed from $13.26 to $10.72 per share. Even the $10.72 seems rosy given the continuing trend of same store sales being down over 20%. Given the current stock price, the 2017 earnings afford the stock a PE ratio of 41 for 2017. At such a lofty PE ratio the stock is severely overpriced. Chipotle is priced for perfection but they have delivered nothing in the past 12-18 months to validate such a lofty and likely unrealistic scenario.

Also of note are the after earnings comments made by Credit Suisse and Merrill Lynch as reported by 24/7 WallSt.com: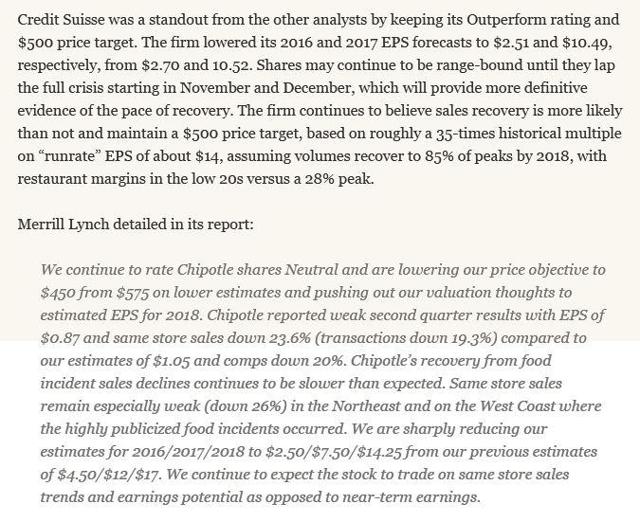 The management spin on the q2 2016 results
Unfortunately it seems that management still is in denial. Also taken from the earnings call transcript was this comment:
"The best thing that we can do for our business is to earn customers' trust and loyalty by consistently providing a terrific restaurant experience with safe, delicious food and excellent service. We will do that by continuing to develop great leaders who can build restaurant teams of empowered top performers that can successfully deliver on this goal," said Monty Moran, co-CEO.
I stated in my first Chipotle article that being pro active is how to get the customers back. While late, it is still advantageous for Chipotle to introduce a food safety education campaign to educate their customers and acknowledge their prior mistakes. Hiding from your mistakes does not make them go away. Chipotle is still so unsure about their future and the regaining of lost customers that they have still issued nothing in their outlook addressing their anticipated recovery.
Conclusion
While Chipotle is not going out of business any time soon, the company has still not been able to attract back the customers that they have lost. Those that expected same store sales to be positive by the end of 2016 are in for a long delay in seeing that prediction become a reality. It is far more likely that 2018 is the timeframe for same store sales to once again become positive. For that reason it is logical to expect another 12 to 18 months of under performance in Chipotle stock when measured against the overall market indices.
If you enjoyed this article and would like to follow me to read future articles, go to the top of the page and click the "Follow" button under the title and next to my name or click here.
Disclaimer: Investing in stocks such as Chipotle can be risky. There is no guarantee that your investment will be safe. There is also a possibility that you may lose some or all of your investment. Please do your own due diligence before investing in Chiptole or any other investment. Information provided in this article is informational and should not be the sole guide to determine if investing in the company is appropriate for you. The above are my opinions and should not be the sole purpose for initiating a trade. Always do your own due diligence prior to investing. Also remember to only initiate trades that are within your pre-defined risk parameters.
Disclosure: I/we have no positions in any stocks mentioned, and no plans to initiate any positions within the next 72 hours.
I wrote this article myself, and it expresses my own opinions. I am not receiving compensation for it (other than from Seeking Alpha). I have no business relationship with any company whose stock is mentioned in this article.