2016 has been a difficult year for offshore contract drilling services provider Ensco (NYSE:ESV), which has lost almost 40% of its value so far this year. However, a recovery in oil prices over the past five months has helped Ensco recover around 25% of its value since the end of February. In fact, WTI crude has recovered over 75% since hitting lows of $26 a barrel in the middle of February, and this has helped Ensco make a comeback on the market.
More importantly, the recent stability in the rig counts has also acted as a tailwind for Ensco. But, will the recent rally in Ensco shares continue going forward? Let's take a look.
Is the rig count stability indicative of a broader recovery?
The rig count in the U.S. has improved due to a recovery in the crude oil price as this has encouraged oil and gas companies to bring online more rigs to benefit from an improving price environment. For instance, the total rig count in the U.S. for the week ended July 15 came in at 447 rigs as compared to 440 rigs at the end of the preceding week. This improvement in the rig count was due to an increase in both land-related rigs, which rose to 425 at the end of last week as against 421 rigs in the previous week, and also an increase of 3 rigs in the offshore.
The following chart shows the improvement in the rig count in the U.S.: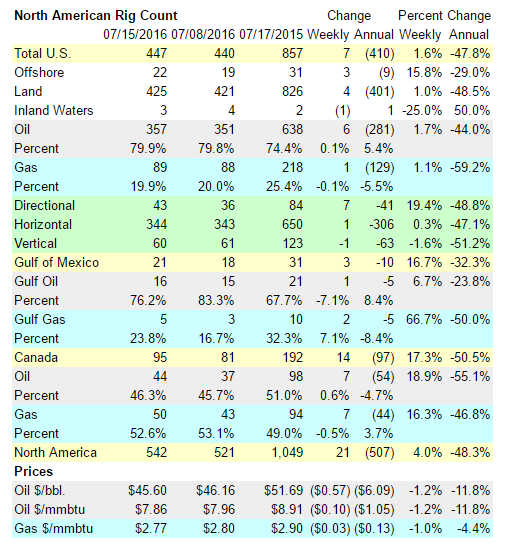 Source: WTRG
However, this improvement in the rig count does not necessarily indicate that offshore spending will pick up pace. This is because North American E&P companies are expected to cut their capital expenditure by an additional 25% this year. Meanwhile, in the international markets excluding North America, E&P companies are expected to slash their offshore capital expenditure by 20%-25% in 2016.
Therefore, it is evident that spending in the offshore oil and gas industry is not going to pick up pace anytime soon. This is bad news for Ensco as the company's top line is dependent on the capital spending of oil and gas companies since it is an offshore drilling services provider. But, investors should not be ignoring the fact that a continuous drop is being witnessed in the inventory levels in the oil market and this could lead to a comeback in spending in the long run as demand rises.
Lower spending will eventually lead to a recovery
For example, the spread between crude oil inventories and their five-year average had widened consistently until January this year, breaking four-year highs and hitting record levels, leading to a massive drop in prices. However, as oil inventories have now started declining this year, the prices are now picking up pace. This is shown in the chart below: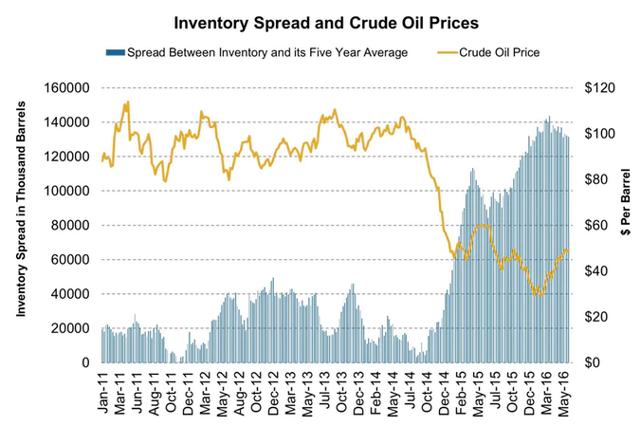 Source: Market Realist
This indicates that the inventory levels will have to drop in order for pricing to pick up pace. In my opinion, the oil and gas market is indeed moving toward balanced inventories as huge cuts in capital spending are now leading to a drop in production. For instance, in the U.S. itself, oil production is set to drop by 800,000 barrels per day this year, followed by another decline of 400,000 barrels per day next year.
On the other hand, production in Russia has also started declining of late. The country's oil output was as very strong levels in the first quarter of 2016, but it pulled back in the second quarter. This is shown in the chart given below: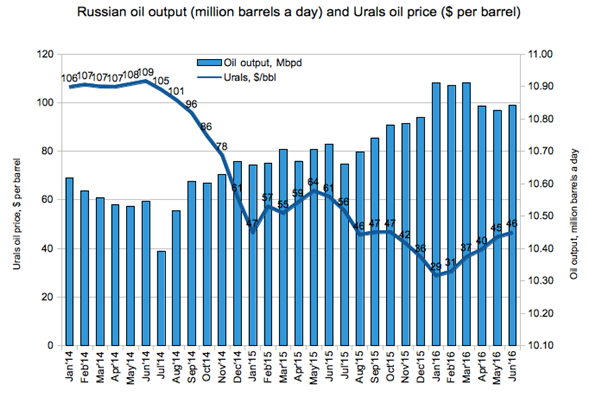 A slowdown in oil production in both Russia and the U.S. is good news for the global oil industry as the two are among the top three crude oil producers globally, with the U.S. occupying the number one rank. Another factor that will play a key role in helping the oil market achieve balance is a rise in demand. According to the EIA, the consumption of petroleum and other liquid fuels across the world is set to rise by 1.4 million barrels per day this year, followed by a rise of 1.5 million barrels per day in 2017.
As demand rises and production falls on account of reduced investment across the oil and gas space, production and consumption will ultimately attain a balance by next year as the EIA forecasts. This is shown below: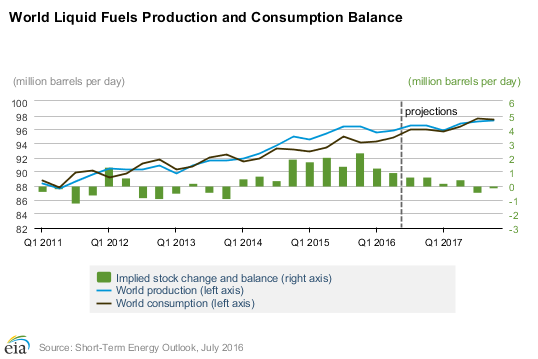 Source: EIA
Therefore, as oil demand and supply achieve a balance on account of reduced spending and higher demand, oil production will need to rise in order to satisfy higher demand. This will lead to a rise in offshore spending due to a rise in floater demand. For instance, Rystad Energy expects the market to stabilize next year and then gradually recover toward the end of the decade. More specifically, Rystad Energy forecasts that floater demand could rise to 254 in the next two years and then to 300 by 2020, up significantly from 226 units at the end of last year.
This means that a recovery in the offshore drilling market is still at least a year away. Over this period, it is important for Ensco to stay cost-effective and maintain a strong balance sheet so that it can withstand the downturn. But, is Ensco taking enough proactive steps to keep its balance sheet in order? Let's take a look.
A look at Ensco's balance sheet management
At the end of the previous quarter, Ensco had total debt of $5 billion with a debt-equity ratio of 0.87. This level of debt is lower than the $5.9 billion that the company had at the end of last year, which means that Ensco has effectively brought down its debt this year. More specifically, the company has been able to retire its debt at a discount and this should also lead to a drop in the interest expense.
For instance, in the first quarter, Ensco had completed a tender offer that allowed it to repurchase $861 million worth of senior notes for $622 million, translating into a discount of 28%. As a result of this debt repurchase, Ensco has been able to generate overall savings of $460 million in terms of both interest and principal. The good part is that as a result of such a move, Ensco has been able to bring down its debt-equity ratio of late, as shown below: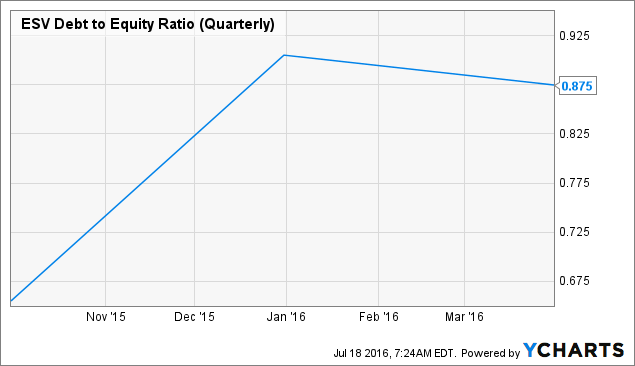 Additionally, in order to improve its liquidity, Ensco has taken the route of secondary offerings. The company had issued 65.6 million shares last quarter and raised $586 million in the process. Though this move will dilute the company's earnings performance going forward, investors should not ignore the fact that this has also strengthened its liquidity.
Ensco now has $1.4 billion worth of cash and short-term investments, along with $2.25 billion worth of revolving credit availability. Moreover, its backlog currently stands at $5.2 billion, which is substantially higher than the revenue of $3.7 billion generated by the company in the past four quarters. Finally, considering the fact that Ensco does not have to meet any new debt maturities for the next three years, and its capital expenses for 2016, 2017, and 2018 are expected to come in at a combined $1.33 billion, the company has enough liquidity and backlog available to withstand the weak offshore drilling environment.
Conclusion
Although the recovery in the offshore drilling industry is still a couple of years away, Ensco looks well-placed to withstand the weakness in the end-market owing to its debt reduction moves and a strong liquidity position. So, in my opinion, investors should keep their faith in Ensco as it is doing well to overcome the challenges faced by it and its performance could improve as the market recovers in the long run.
Disclosure: I/we have no positions in any stocks mentioned, and no plans to initiate any positions within the next 72 hours.
I wrote this article myself, and it expresses my own opinions. I am not receiving compensation for it (other than from Seeking Alpha). I have no business relationship with any company whose stock is mentioned in this article.