Dunkin' Brands (NASDAQ:DNKN) is a quick-serve restaurant franchiser that sells coffee and ice cream. The company franchises both Dunkin' Donuts and Baskin-Robbins restaurants in the US and worldwide. It operates in 4 divisions: Dunkin' Donuts US, Baskin-Robbins US, Dunkin' Donuts International, and Baskin-Robbins International.
Dunkin' as a business model has sold off substantially all of its company-owned restaurants and moved to a nearly 100% franchise model similar to Restaurant Brands (NYSE:QSR). Although both Dunkin' and Starbucks (NASDAQ:SBUX) are big coffee sellers, their business models are completely different when it comes to operations and expenses. For example, Starbucks buys all of the coffee for its operations and is subject to the benefits of price decreases and the added expense of price increase. For Dunkin', these expenses are borne by the franchisee, so they do not directly affect the company's income. Because of this, I would not consider Starbucks a closely comparable business when looking at relative valuation.

(Source: Morningstar financials)
Dunkin' is focused on expanding its US Dunkin' Donuts footprint, rebuilding the Baskin-Robbins brand, expanding internationally, creating innovative new products, and increasing brand loyalty through digital technology and mobile order and pay. If you had to simplify the growth story, you'd say the company is looking to grow revenues by around 10% annually. 6% of that growth would come from expanding franchises with new stores, and 2-4% of that growth would come from same-store sales growth.
If we look at segment revenues from the Q2 2016 Investor Presentation, you see that 76% of the revenues come from the US Dunkin' Donuts franchisees. 18% of the revenue comes from International, with most of that from Baskin-Robbins international franchises. Internationally, the revenues have been flat-to-negative, but the company is looking to improve that situation. The Dunkin' Donuts US brand is really the driver of significant growth for at least the next 3-4 years.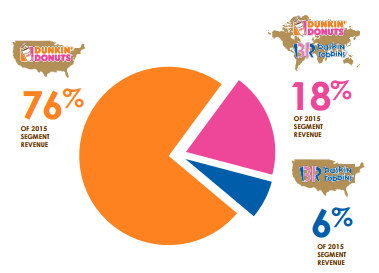 (Source: Dunkin' Brands Investor Presentation)
Dunkin' Donuts, although a well-known brand in the US, has a significant opportunity to grow domestically. It has a significant footprint in the New England states, an emerging footprint in the Midwest and South, and almost none West of the Mississippi River. So, we see tremendous market potential based on the current US footprint and the strength of brand recognition.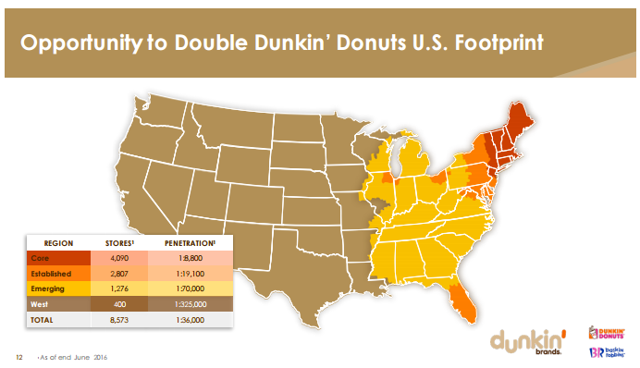 (Source: Dunkin' Brands Investor Presentation)
In addition, the management team has shown the ability to execute their strategy by accelerating growth in new franchise locations to near the 5% level. We think it is reasonable to assume this growth to continue at the 5-6% level for the next few years. So, the main component of the growth strategy is firmly in place.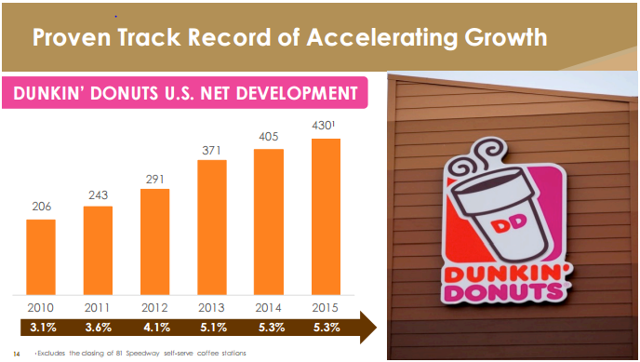 Source: Dunkin' Brands Investor Presentation
With the bulk of the forward growth firmly established, the company is looking to grow same-store sales by 2-4%. To do this, it is looking at new products, such as the K-Cup offering, expanded coffee offerings, increased customer loyalty through DD Perks, and improving the customer experience through mobile technologies such as On-the-Go mobile ordering. Let's examine the Q2 earnings to see how the company is performing.
Q2 Results
The second quarter showed a slowdown in comparable sales growth. During the quarter, Dunkin' Donuts US saw comparable sales growth of 0.5% and Baskin-Robbins US had sales growth of 0.6%. Internationally, sales growth was negative. This recent quarter slowdown is a continuation of one seen for the past few quarters. Looking at the TTM, we find an average 0.7% same-store sales growth for Dunkin' Donuts. This brings the current quarter slightly below average growth. Digging deeper into the growth is a little troubling. There was a decrease in same-store traffic, which was offset by an increase in average ticket price. In the first quarter, we saw an increase in both ticket charges and traffic. This decrease could be seasonal, but it's still worrying. The growth in traffic is key to meeting the same-store sale increase target.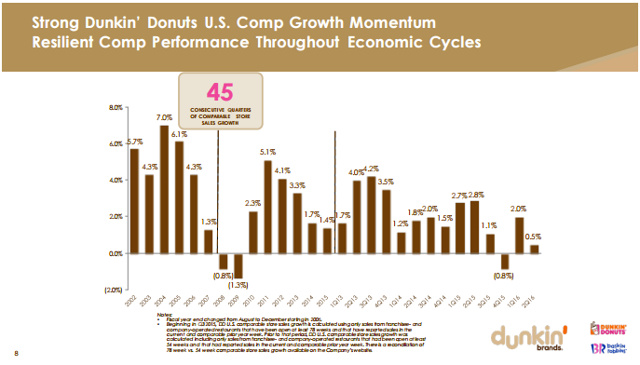 (Source: Dunkin' Brands Investor Presentation)
Let's explore the key drivers of the company's comparable store growth strategy, starting with new products. Earlier this week, Dunkin' announced tremendous first-year sales for its K-Cup product offering. This is a good sign that the company is executing well in expanding its product offering.
The J.M. Smucker Company (NYSE: SJM) and Keurig Green Mountain, Inc. (Keurig) (NASDAQ: GMCR) today announced that more than 300 million Dunkin' K-Cup® pods were sold in the first year since being made available at retail outlets nationwide, with sales totaling nearly $220 million
Dunkin' is continuing to add to an expanded coffee menu offering cold brew coffee in the New York and Los Angeles markets. This continual improvement of the menu is key to attracting new customers. With the focus on the coffee drinkers these innovations will keep the customers coming in.
I would have liked to see more information regarding DD Perks and On-the-Go mobile ordering discussed in the financials to see their impact. The company did announce in June that the On-the-Go ordering has been made available nationwide as of June 13th. So, it will be interesting to see the impact of this product launch in the next quarterly earnings. In the earnings call, the company announced there are 4.9 million DD Perks members.
Even though revenues were down, net income and EPS delivered a strong quarter. Net income grew over 19% YoY, and EPS grew over 22% YoY. As a good friend of mine always said, "It's not what you make that counts, it what you keep." The strong earnings growth for the quarter is expected to continue going forward. For the full year, analysts are expecting EPS of $2.21 for 2016 and EPS of $2.47 in 2017.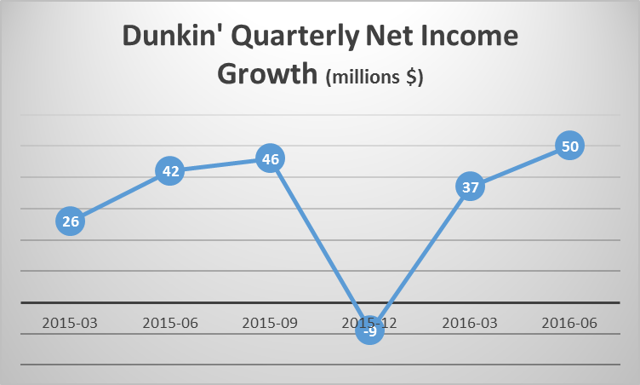 Dunkin' Brands, like many companies recently, has engaged in aggressive share buybacks to increase shareholder value. In the past 6 quarters, the company has repurchased nearly 10% of its shares, reducing the diluted shares outstanding from over 102 million to 92.5 million. I would have rather seen Dunkin' reduce its debt, but it does increase the company's EPS.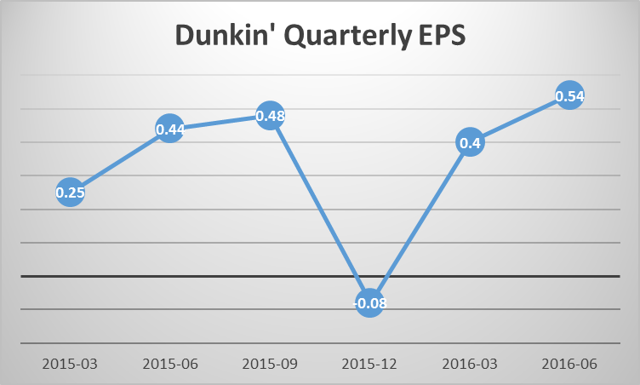 This company's share price has been relatively flat for the past 2 years, and is currently at $47.64. This puts it in the middle of the 52-week range of $36.44-55.34. I think the marking is wanting to see further evidence of the growth strategy working before getting too excited about Dunkin' Brands. It is clear from the large 52-week range that this stock can be very volatile (read risky). Which, when looking at Dunkin', brings us to the elephant in the room.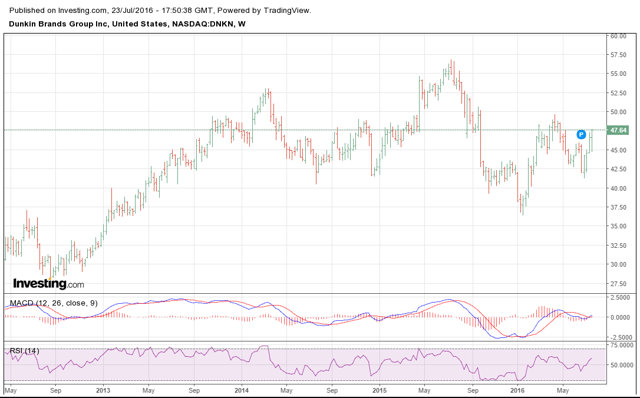 (Source: Investing.com)
The Risk with Dunkin' Brands is its Debt Load
Taking a look at the Liabilities section from the consolidated balance sheet of Q2 2016 just released this week, you see that Dunkin' Brands has $2,411,234 in debt. Now, debt in and of itself is not a bad thing. The first thing I did was take a look at the Asset section of the balance sheet and asked myself, what did Dunkin' Brands buy with all that debt? It turns out the company bought Goodwill and other Intangible Assets, which consists of the trade names. From its most recent 10-K, we find "Other intangible assets consist primarily of franchise and international license rights ("franchise rights"), ice cream distribution and territorial franchise agreement license rights ("license rights"), and operating lease interests acquired related to our prime leases and subleases ("operating leases acquired")."
In essence, debt was used to acquire the business, and the management team has continued to leverage this company to the maximum. Look at the shareholders' deficit at $(203,694) in the balance sheet below. Currently, shareholders have negative equity. A company with negative equity implies that if it were to go bankrupt, the shareholders would be left with nothing. All the other claimants, such as the lenders, would have a priority claim on the remaining assets of the business. This is not meant to imply that Dunkin' Brands faces any possibility of bankruptcy in the future. With an interest coverage ratio 3.1, Dunkin' has ample capability to finance its borrowing needs. What I want to see is how this situation will change and increase shareholder equity.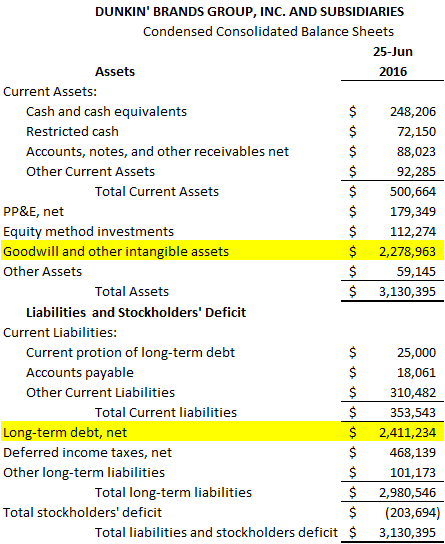 The question I struggle with is that, is an ordinary shareholder a beneficiary of the company's growth? To help me answer that question, I put together a simple balance sheet model to estimate how Dunkin' Brands would perform over the next 4 years. I assumed that the company was going to do really well for the next 4 years. I want to see how it would grow, how much debt it could pay off, and what was the value to the shareholder at the end of 4 years. For 2016, I assumed the company would earn $2.20/share earnings. I also assumed it would grow bottom line EPS at 15% annually. From that, I calculated the retained earnings and then applied it to a balance sheet forecast for 2019. I did not perform any net present value calculations on these numbers.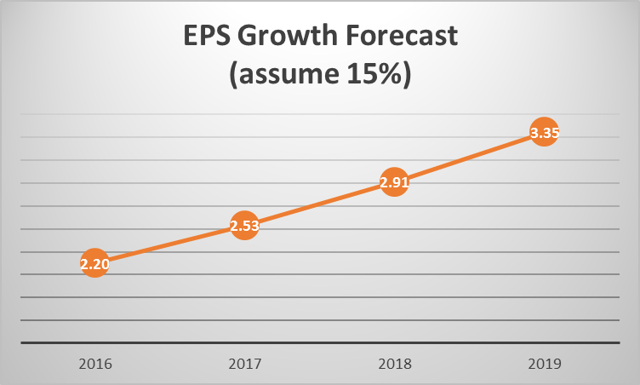 Since the company's debt is reported at a fixed rate through 2019, I made no assumptions for an interest rate increase. I assumed that 80% of the retained earnings would go to reduce debt, even though we have not seen any substantial debt reduction since 2012. The balance of the retained earnings would be offset by some asset, which, in effect, nets the balance impact. I assumed the diluted shares outstanding would remain constant at 93,000,000. The dividend paid would be $1.04 in 2016, $1.20 in 2017 and grow 4% annually for the next 2 years. In addition, I did some sensitivity analysis and also calculated an 11% and 8% growth rate.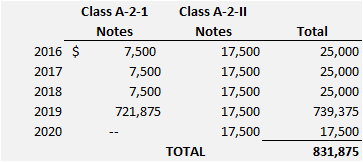 Dunkin' has provided a target debt repayment schedule from the annual report. There are minimal payments between now and 2019, then a balloon payment of $721,875 for the Class A-2-1 note. I wanted to see if the company would be able to make this balloon payment, given the model assumptions.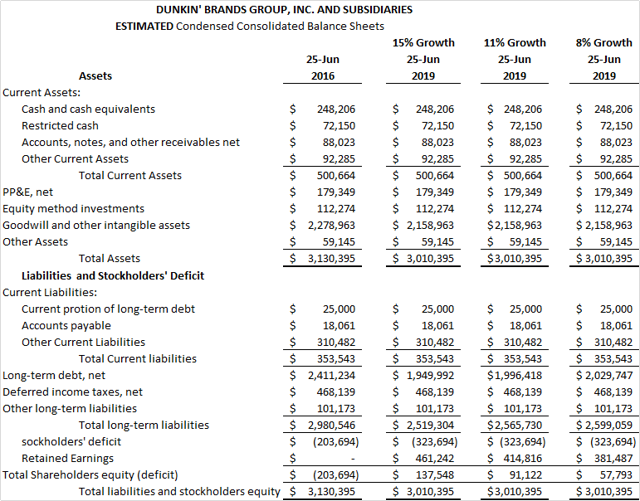 Under even the best assumption of 15% annual growth, the company would only have a shareholder equity of about $1.50/share and would not be able to fully meet its repayment target. The repayment target is only a goal, and if not met, the debt would have to be refinanced at the prevailing rates. If interest rates return to more normal levels, this amount of excessive debt would be an added drag on the company. To me, the price paid for this growth versus the risk worn by the excessive leverage is not attractive, and that is the best case. If the growth rate drops to 11%, shareholder equity falls below $1.00/share.
Conclusion
I view Dunkin' Brands as a good brand with strong growth potential. The problem is the immediate beneficiaries of that growth are franchisees, the management team, and the lenders. Individual shareholders can benefit from share growth, but that is risky due to the large amount of leverage. I am not a fan of using large amounts of unsecured debt to grow a company. What may work in a near-0% interest rate environment will not work if interest rates return to normal levels. Would the company be able to pay down its debt to be able to operate in a normal interest rate environment? According to my model, even under the best case, what I view as excessive leverage would still exist. I think this form of financial engineering and its associated accounting nuances are best left to the professional investor and not the ordinary investor. For this reason, I would not buy Dunkin' Brands stock.
Disclosure: I/we have no positions in any stocks mentioned, and no plans to initiate any positions within the next 72 hours.
I wrote this article myself, and it expresses my own opinions. I am not receiving compensation for it (other than from Seeking Alpha). I have no business relationship with any company whose stock is mentioned in this article.
Additional disclosure: The information contained in this article is taken from sources believed to be reliable, but is not guaranteed by AgTrades, LLC, nor any affiliates, as to accuracy or completeness, and is intended for purposes of information and education only. Nothing herein should be considered as a solicitation to trade commodities, equities, or a trade recommendation by AgTrades, LLC. Futures, equities, and options trading involves the risk of loss. Past performance is not indicative of future results.