Online reviews can actually trump proprietary data used in the methods employed by banks, such as channel checks or industry contact information. As a result, they may carry through to the way securities trade, as after Q3 of last year several lowered estimates and downgrades coincided with a plummeting of Harley-Davidson's (NYSE:HOG) stock. News releases are easily found that describe the corporation's marketing chief's brusque choice to move on after Q3 - a decision consistent with customer perception of deteriorating product quality that offset his efforts.
Now, nearly one year later, HOG's problems should linger. Some models should be discontinued and new variants introduced. However, though the company can work past the issues, it is not guaranteed to regain market share, and any success may not be immediate.
While being careful not to criticize the former CEO, I suspect that the new leader Matt Levatich should be able to counteract some issues that were passed on to him over time. A concern is that the company's increased debt is not a strong suit - like all the power of the Indian Chief Classic, offered by competitor Polaris Industries (NYSE:PII).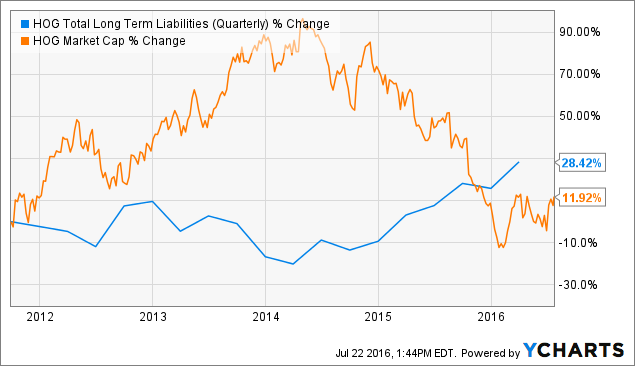 HOG Total Long Term Liabilities (Quarterly) data by YCharts
A potential reason for a positive outlook is that motorcycle-usa.com, an online magazine that consistently criticized Harley-Davidson products, is winding down. It is not a surprise. Any publication that caters to an enthusiast or niche audience might struggle if focusing on the difficulties of esteemed components of the industry. Hypothetically, if a sports car website consistently slams the Ford (NYSE:F) Mustang, or shows videos of a speeding Chevrolet (NYSE:GM) Corvette being passed by a motorcyclist on a BMW S1000RR, it might lose popularity and advertiser revenue. With the stoppage of motorcycle-usa.com's negative reviews, marketability of new HOG products should improve.
Remaining publications such as Cycleworld and Motorcycle.com are writing up the corporation's motorcycles in an increasingly positive light.
Pertaining to performance, evidently if a rider aggressively leans into a corner, then foot pegs or mufflers can strike the ground. Harley-Davidson products are consistently identified for having this issue. In fact, it is present in the brand new 2016 Roadster. Similarly, the new CVO Pro Street Breakout makes it difficult, and perhaps dangerous, for a rider to corner aggressively; but, the overall write-up of the model is positive.
The new Indian Scout 60 edges the Harley-Davidson Iron 883, a Sportster model, in a head to head comparison. The Sportster is a cornerstone of the company, its sales have been languishing, and matters such as this do not help. Cycle World once picked the Sportster XR1200 over a comparable Ducati, which would be an aberration among virtually all reviews in the past several years.
Contrastingly, write-ups on the new Low Rider S are generally positive (II). It has even cracked Cycle World's Ten Best Motorcycles of 2016. Eventually, Harley-Davidson might even supplant Yamaha's hold on the list, as the Japanese company has three models awarded there. If it is the case, you might then observe a substantial pickup in sales that coincides with enthusiasm from a customer base that is diversifying demographically.
Harley-Davidson's LiveWire project to produce an electric motorcycle is thus an important opportunity. An unqualified success can help to reinvigorate the lineup. The video portion of this article from The Wall Street Journal makes it sound like its release is years away, though.
In light of everything discussed above, there is reason for a more positive opinion of the stock than in the past, but not confidence that an inflection point is imminent. There can be a lag between motorcycle-usa's demise, improved sentiment at remaining publications on products, and then increasing retail sales. Still, HOG stock does pay a decent dividend, the corporation should continue to enjoy long-term horizons, and its P/E multiple is lower than it used to be.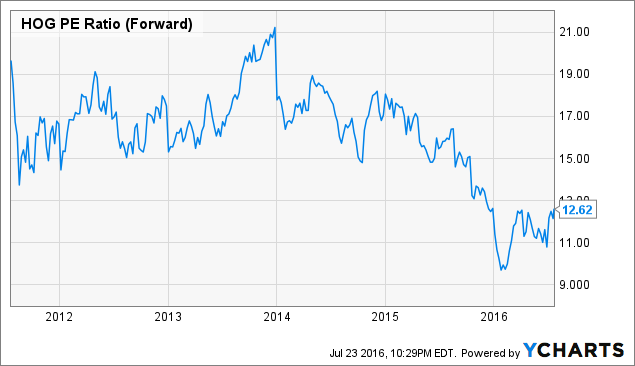 HOG PE Ratio (Forward) data by YCharts
Quarterly results are scheduled to be announced on the morning of July 28th. It is an important data point, but perhaps not so meaningful to the long-term direction of the company. Sentiment is already low, with virtually all analysts having the stock at a rating of Hold or Sell, muting further downside. With problems effectively priced in, it could be worthwhile to invest now. However, there is also the likelihood of modest results that coincide with other new information.
Harley-Davidson's shares have been struggling amid product quality issues. With the disappearance of a critical publication, and the efforts of a new CEO, a future shifting in sentiment is a possibility. An investor can potentially do well to own the stock now or buy ahead of Q3. A combination of disappointing results stemming from persistent problems and the availability of new information would actually present a better situation.
Disclosure: I/we have no positions in any stocks mentioned, and no plans to initiate any positions within the next 72 hours.
I wrote this article myself, and it expresses my own opinions. I am not receiving compensation for it (other than from Seeking Alpha). I have no business relationship with any company whose stock is mentioned in this article.