Whenever I think about Estée Lauder (NYSE:EL), it seems to tick all the right boxes. It earns economic profits, spits out a lot of cash flow, and in all likelihood has an exceedingly rare, long-term perspective - largely due to the high concentration of control still held in the hands of its founding family. Makeup tends to be recession-proof. The company is also growing rapidly, and a decent chunk of this growth is spilling into its increasing dividend payments.
High return on invested capital and return on equity: The path to economic profits and sustained shareholder wealth
By my calculations, Estée Lauder earns excess returns. I created the below model with data from its financial statements.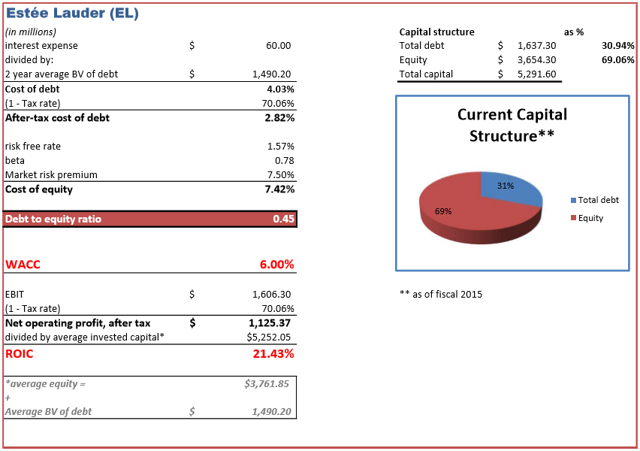 The company has increasingly relied on debt as a funding source over the last few years, and this is helping push down its overall weighted average cost of capital or WACC. Its overall capital structure still remains rather equity-heavy, however. The firm is roughly three-fourths through its fiscal 2016, and total debt continues to push higher, sitting at about $1.93 billion as of its most recent quarter. The majority of this notable jump came from an increase in short-term debt.
While debt continues to be driven higher, equity has dipped slightly over the last few years.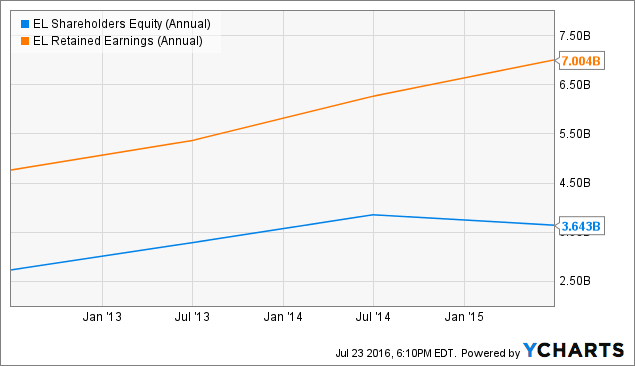 EL Shareholders Equity (Annual) data by YCharts
This has increased the firm's financial leverage ratio over the last three years, which in turn has helped increase its overall return on equity as well. The declining equity seems to be mostly as a result of buybacks, but retained earnings continue to march higher - which is probably a good thing considering the above-average returns the firm is able to earn on its equity.
Looking back further in time, we can also see that fiscal 2015's leverage ratio of 2.26 assets-to-equity is actually lower than the ratio of 2.33x it maintained at the beginning of the decade. Asset turnover, another component that drives ROE, has deteriorated recently, but looking at its asset base, it seems that the usual suspects like goodwill and intangibles aren't making much of a difference versus a decade ago as a percentage of overall assets.
I wouldn't go as far as to say management isn't utilizing its assets as well as it used to, but I also wouldn't hesitate to blame currency fluctuations that are clipping underlying sales growth. Negative forex issues are hampering true sales growth, while the asset base isn't as affected by currencies - which could help explain the decline in asset turnover (revenues over assets).
Largely due to expanding net margins, which have almost tripled over the last ten years, however, Estée Lauder has still managed to improve its return on equity from just 14.73% in 2006 to 29.04% for full-year 2015. Quite impressive. The firm is also on track to surpass the 30% mark this year, assuming it doesn't have a terrible fourth quarter.
The premiumization process is paying off
Estée Lauder is moving more of its product mix into more premium offerings. It's also moving more merchandise via online, direct-to-consumer sales, which grew by double-digits in fiscal 2015. Relying on more "aspirational" luxury type brands likely helped it (at least in part) land its higher margins. Lines like M·A·C are popular with millennials, who the firm thinks will have $3.4 trillion in purchasing power by 2018. The increasing e-sales are encouraging, as this is likely the right side of history to be on going further into the future.
It estimates that 86% of millennial consumers share their brand preferences online, and the company wants to get in front of the growing direct-to-consumer online trend.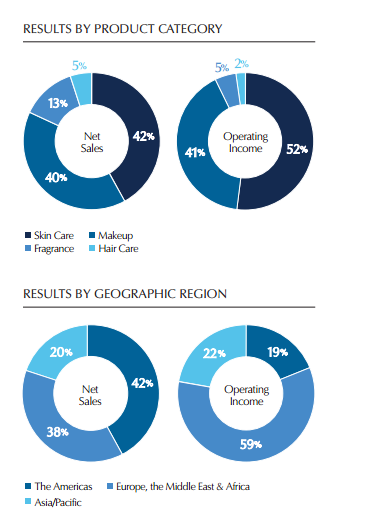 It's also much more than just makeup as well, and owns over 25 "prestige" brands, which it sells all over the world. The graphic on the left was pulled from its 2015 annual report, and it provides a snapshot of the firm's business mix. We can see that skin care products are actually more vital to overall operating income than makeup. It owns premium brands like Origins in this category.
The company plans to outpace the overall industry it operates in growth-wise, and has grown sales by 7% or more in constant currencies during the first nine months of 2016. It's guiding for 9% to 10% constant currency sales for all of fiscal 2016, but roughly 5% of this growth is expected to evaporate due to the strengthening of the dollar. We can see that its broad geographical footprint backfires when the dollar keeps ripping higher, but this probably won't be the case forever.
Conclusion: Shares are expensive, as usual
Estée Lauder is richly valued, but rightly so. Shares tend to trade at high valuations on an absolute basis historically, too.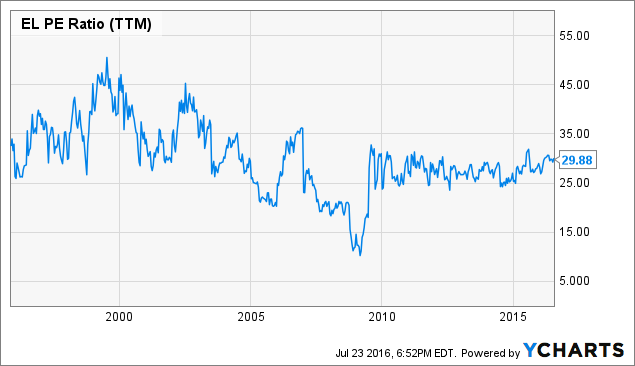 EL P/E Ratio (TTM) data by YCharts
EL shares trade at roughly 23.6 times forward earnings and provide a ticket to a great growth story - one with arguably lower-risk exposure to faster-growing emerging and frontier markets as well. Barring another financial crisis, its multiple will probably remain elevated. 25 times earnings seems to be a reasonable entry point, post-crisis. Its price to sales ratio currently sits at over 3 (the highest it's been in a very long time), but when a significant amount is skimmed right off the top because of a stronger dollar, it seems that shares might be cheaper than they appear to be at first glance.
Considering its growth prospects and insertion into fast growing markets (and successful infiltration into the minds of millennial consumers), I'm considering paying up for this premium franchise. Sometimes you simply have to for quality merchandise that rarely gets marked down.
CEO Fabrizio Freda seems to be doing an excellent job running the company, and the fact that the Lauder family (who controls 87% of the voting rights of the company) is giving him room to do this is good, especially considering he's the first "outsider" to really be allowed to run the company. I think that the majority of the voting rights resting in the hands of the founding family likely allows more room for long-term thinking than many other companies, which also means that the business is also probably better aligned with shareholder's interests than most as well.
If you enjoyed this article and would like to receive further updates and articles in the future, please feel free to hit the "Follow" button at the top of the page next to the author's name.
Disclosure: I/we have no positions in any stocks mentioned, but may initiate a long position in EL over the next 72 hours.
I wrote this article myself, and it expresses my own opinions. I am not receiving compensation for it (other than from Seeking Alpha). I have no business relationship with any company whose stock is mentioned in this article.
Additional disclosure: Articles I write for Seeking Alpha represent my own personal opinion and should not be taken as professional investment advice. I am not a registered financial adviser. Due diligence and/or consultation with your investment adviser should be undertaken before making any financial decisions, as these decisions are an individual's personal responsibility.