As we move into earnings season for automobile manufacturers, a lot of these companies are showing up in value screeners' radars. Recently, we discussed Fiat Chrysler (NYSE:FCAU) and its almost shockingly low PE ratios.
Today, we're looking at one of their competitors, Ford Motor Company (NYSE:F). A much bigger company, they have a common feature with Fiat Chrysler, a fundamental lack of understanding among investors for where their revenue and (admittedly limited) growth is coming from. Their value proposition is quite a bit different from Fiat Chrysler's, but in many ways just as compelling.
Steady as it goes
Founded 113 years ago, Ford is the definition of a mature manufacturer. The company has followed the rest of the auto industry through a very rough patch in the past decade, and come out the other end in a much better condition and without the restructuring that companies like Chrysler and General Motors (NYSE:GM) had to go through. But now, Ford has a dependability in revenue and earnings few can match.
| | | | | | |
| --- | --- | --- | --- | --- | --- |
| | 2013 | 2014 | 2015 | 2016 (est) | 2017 (est) |
| Revenue | $147 bil. | $144 bil. | $149 bil. | $143 bil. | $145 bil. |
| diluted EPS | $2.94 | $0.31 | $1.84 | $2.08 | $2.05 |
| dividend | $0.40 | $0.50 | $0.60 | $0.85 | ? |
The relatively poor earnings in fiscal-year 2014 reflected some bad results on investments in affiliates and rising expenses, but were quickly resolved. The 2015 results and the Q1 that followed show that was an outlier. The consensus estimates suggest that those strong 2015 results are only going to continue.
Those FY2015 results put the trailing PE ratio at 7.52. If the analysts' estimates pan out, we're looking at a current and forward year PE ratio that's more in the 6.65 range. Either way, that's a nice discount value play.
The dividends are the real story here though, particularly its growth. The regular dividend went from 10 cents a quarter, to 12.5 cents, to 15 cents in just a couple of years. In Q1 of this year, the company also added a 25 cent special dividend.
Putting the special dividends aside, the stock is paying a 4.3% dividend. That's pretty good, both with the solid growth and with the reality that the strong earnings could easily support continued dividend increases. If those earnings keep panning out, Ford has little reason not to consider more special dividends or more increases in the baseline quarterly dividend.
Ford's future: China
When we looked at Fiat Chrysler, we saw an Italian-owned, Netherlands-based company whose business is heavily dependent on the US market. Ford is as American as apple pie, until you look at where the cars are going.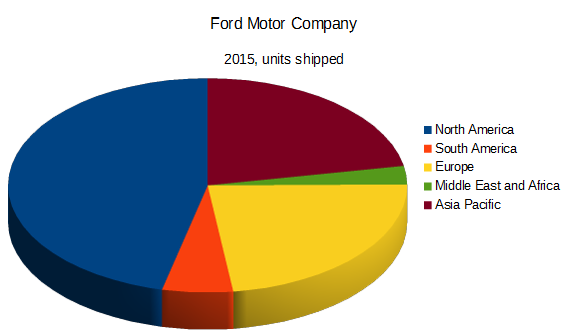 Ford has invested heavily in China over the past several years, so it's unsurprising that the Asia-Pacific segment is becoming such a huge market for Ford. Obviously, Ford's primary market is still the US, but China has rapidly become a strong second.
It's also the big chance for Ford to grow. The US auto market has long since matured, and Ford's market share there is locked in the 14%-15% range. China, by contrast, is still seeing their auto market grow strongly, and Ford's market share there is just 4.5%, and growing.
And while there are ongoing concerns about the status of the Chinese economy in the near term, they're still a growing market in general. As that middle class continues to grow in the years and decades to come, Ford's investments could pay off hugely.
Conclusion
While the upcoming earnings release will obviously be a big driver of Ford's share price over the next few weeks, it is the company's status as a nice income-growth play as well as its very low PE ratio that makes it a long-term investment.
With the American market hitting new highs day after day, it's getting harder and harder to find stable companies trading at appealing multiples to future earnings. Ford is exactly that.
Investors looking for companies to add to an income portfolio with a good chance of raising their dividends going forward could do a lot worse than Ford, and those looking to play an eventual rebound in Chinese growth will also find a lot to like here. That the dividend remains solid until those things happen is just a bonus, and another incentive to buy and hold.
Disclosure: I am/we are long FCAU.
I wrote this article myself, and it expresses my own opinions. I am not receiving compensation for it (other than from Seeking Alpha). I have no business relationship with any company whose stock is mentioned in this article.