On Wednesday last week, Kinder Morgan (NYSE:KMI) released its results for the second quarter. The results were not that pretty as the company missed the top line estimate by a big margin of $310 million as its revenue declined over 9% from last year.
This top line miss has created weakness in Kinder Morgan shares as the stock has lost over 3% of its value after the results were released. But, in my opinion, investors need to take a closer look at Kinder Morgan's financials as despite a weak top line performance, key metrics such as net income and distributable cash flow remained consistent.
For instance, Kinder Morgan's second-quarter net income was flat on a year-over-year basis at $333 million. Additionally, its distributed cash flow fell just 4% on a year-over-year basis to $1.05 billion. More importantly, for the rest of 2016, Kinder Morgan believes that its distributable cash flow will higher than the growth in its capital expenditure, thereby enabling the company to stay away from financial markets in order to fund its growth or business. But, why is it so that Kinder Morgan's distributable cash flow performance is resilient despite the top line weakness? Let's take a look.
Kinder Morgan's cash flow is predictable
According to Kinder Morgan, an overwhelming 91% of its cash flow is fee-based. This means that of its $8 billion worth of projected earnings before depreciation and amortization, $7.2 billion is fee based. Now, of this $7.2 billion, 67% or $5.3 billion is on the basis of take-or-pay arrangements. As a result, Kinder Morgan's customers will have to pay the company a fee in case they are not taking delivery of natural gas volumes.
Thus, 74% of Kinder Morgan's fee-based cash flow is secured by take-or-pay contracts. On an overall basis, two-thirds of the company's cash flow is secured under this arrangement. This can be gauged from the chart below: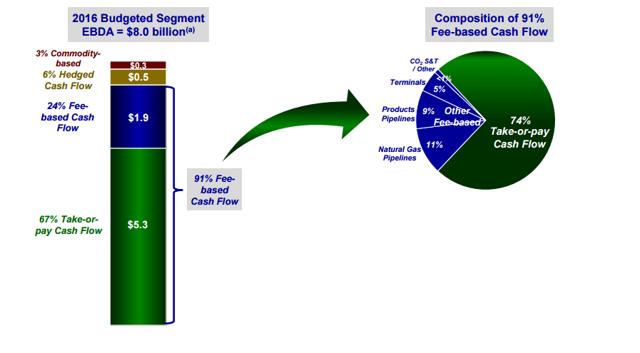 Source: Kinder Morgan
Having a majority of its budgeted cash flow backed by take-or-pay contracts gives Kinder Morgan a sense of predictability about its cash flow performance going forward. As far as the rest of the company's budgeted cash flow is concerned -- the part that is not covered by take-or-pay contracts - Kinder Morgan should witness strength in this area as well owing to the rising consumption of natural gas in the U.S.
This is because the rest of the budgeted cash flow is backed by those pipeline contracts that have historically delivered stable volumes. More importantly, the other type of fee-based cash flow, i.e. not backed by take-or-pay contracts, is driven by pipelines that are used to connect key supply hubs of natural gas with the end-markets. For instance, Kinder Morgan has the only pipeline in the Permian Basin to serve the El Paso refinery.
For such reasons, almost all of Kinder Morgan's pipelines run at very high utilization rates, as shown in the chart given below: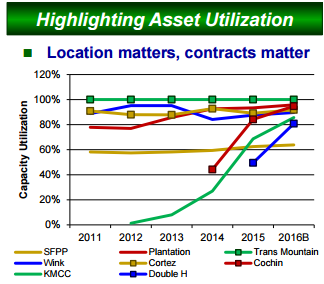 Source: Kinder Morgan
More importantly, I believe that Kinder Morgan's utilization rates will improve further going forward on the back of rising petrochemical demand and insufficient takeaway capacity in certain areas. For instance, it is forecasted that petrochemical demand in the U.S. will continue to rise in the long run on the back of strength in natural gas consumption and industrial usage. This is the reason why $158 billion worth of pipeline projects will be put into place in this segment until 2023 in order to meet the rising demand, which will keep utilization rates high.
What's more, given the prospects of the end market, Kinder Morgan is focused on developing more of its pipeline infrastructure that connects key hubs and end users. For instance, Kinder Morgan is currently working on the Susquehanna West project, which will connect natural gas from the Marcellus Shale to National Fuel Gas Supply LLC. This project is being developed at a cost of $156 million and is expected to go online toward the end of 2017.
Overall, Kinder Morgan will invest $14 billion in capital projects over the next five years, and more importantly, 87% of its backlog will consist of fee-based pipelines. As a result, Kinder Morgan's distributable cash flow will improve going forward.
Robust credit grades of customers is a tailwind
Earlier in the article, I had discussed how the majority of Kinder Morgan's cash flow is under take-or-pay contracts. The good part is that the majority of its customers carry robust credit ratings, which is why the credibility of its take-or-pay contracts remains strong. For instance, 75% of Kinder Morgan's top 209 customers, which account for 83% of its overall revenue, are either A-rated or better or are BBB rated with substantial credit support.
More specifically, 33% of the company's customers carry an A-rated or higher rating, while 42% are BBB rated or have robust credit support. In fact, just 5% of Kinder Morgan's overall revenue is derived from customers that have a credit rating of B or lower. Therefore, Kinder Morgan's fee-based cash flow that's secured by take-or-pay contracts is also backed by customers that have robust credit ratings, and this reduces the probability of default. In fact, due to a strong customer base, Kinder Morgan's refined product volumes have always been within a 1% range of its forecast in the past five years.
Conclusion
Kinder Morgan has done impressively on the stock market this year, gaining more than 45% so far. Looking ahead, strength in natural gas volumes and Kinder Morgan's fee-based backlog will help the company deliver more upside. As such, it will be a wise idea to remain invested in Kinder Morgan for the long run in light of the points discussed above.
Disclosure: I/we have no positions in any stocks mentioned, and no plans to initiate any positions within the next 72 hours.
I wrote this article myself, and it expresses my own opinions. I am not receiving compensation for it (other than from Seeking Alpha). I have no business relationship with any company whose stock is mentioned in this article.