Over the last few weeks, I have written several articles on the so-called KISS REITs.
In case you missed it, KISS stands for "keep it simple, stupid", and the purpose for my series was to examine the universe of REITs that, in my opinion, were the simplest.
In the equity REIT sector, I selected Realty Income (NYSE:O) as the least complex REIT, and of course, Mr. Market tends to agree with me - the shares closed on Friday at $70.41. (See article here.)
In the mortgage REIT sector, I selected Blackstone Mortgage (NYSE:BXMT), viewed as the simplest of the mREITs based upon its focus on senior secured loans. (See article here.)
While O and BXMT are viewed as near opposites as it relates to risk, I view them collectively as sound securities that are easiest to understand, and arguably command a higher premium. That does not mean, however, that you should rush out and buy a simple REIT that's expensive - that's a recipe for failure.
History tells us that investors should favor simplicity over complexity. There are hundreds of examples of corporate failures that were caused by complicated business strategies and no true circle of competence. As companies increase their complexity, they often fail to pay attention to their flaws, and they become more vulnerable to risk of loss.
In other words, catastrophic events are guaranteed to occur with more complex businesses, and generally, the risk-adjusted returns do not adequately compensate investors for stepping outside of their comfort zone. Today, I am going to tell you about one such REIT that has experienced adversity - it was once a highly complex enterprise - and has evolved into a simpler, KISS-like operation.

Once a High-Flying REIT That Looked Like a Hedge Fund
Vornado Realty (NYSE: VNO) was founded over 53 years ago (in 1962) and became a REIT in 1993. The company's chairman and CEO is Steve Roth, a veteran financier who was named by Barron's magazine as one of the World's Thirty Most Respected CEOs.
Roth was the CEO of Vornado from May 1981 through May 2009, and was reappointed on April 15, 2013. Roth is the co-founder and Managing General Partner of Interstate Properties and the chairman and CEO of Alexander's Inc. (NYSE:ALX). (See article here.)
Vornado owns a portfolio 195 properties, primarily located in the New York and Washington, DC areas. The company's core businesses include New York; Washington, DC; and, retail properties primarily in the northeast states, California and Puerto Rico. About 90 percent of Vornado's earnings come from properties in Washington, DC, and New York City.

In the early 2000s, the company made frequent plays "outside its wheelhouse of prestige office and retail leasing", which is unusual for a REIT.
In doing so, Vornado made debt and/or equity investments in numerous companies that it did not control (or have sole control over), including investments in Alexander's Inc., Toys 'R' Us, J.C. Penney Company (NYSE: JCP), LNR Property Corporation, and other equity investments.
However, many of these bets didn't paid off for Vornado, and the company was forced to shed itself of non-core assets. In September (2013), the company sold its remaining 13.4 million shares in J.C. Penney for $13 a share, ending a three-year investment in the struggling department store operator it had pushed to renew itself. Vornado owned 6.1 percent of shares, which it sold in a block trade to Citigroup (NYSE:C).
Vornado's original tender was for 9.9 percent in Penney concurrently with activist investor William Ackman's Pershing Square Capital Management, and both pushed the retailer to offer trendier merchandise and try to attract a younger shopper. Obviously, that bet didn't pay off, and that $250 million hit translated to a 40 percent loss in Vornado's original investment in Penney.
Also, back in April (2013), Vornado reaped around $241 million as net proceeds from the sale of LNR Property LLC, a company in which it owned a 26.2 percent stake. The deal that LNR Property penned was disclosed in January 2013 and saw Starwood Property Trust Inc. (NYSE: STWD) and Starwood Capital Group acquiring LNR Property for $1.05 billion.
Both deals - Penney and LNR - were initiated as a means for the company to focus on improving its core real estate business.
Vornado's non-core approach to investing - likened to a mutual fund strategy - was originally structured to diversify its revenue. By investing in higher-risk marketable equity securities or companies that have significant real estate assets, such as J.C. Penney and Toys 'R' Us, Vornado was hoping to become the first REIT to "crack the code" for conglomeration.
Conversely, because Toys 'R' Us is also a retailer, its operations are subject to the same risks of a retail company that are different than those presented by other lines of business. Also, the business of Toys 'R' Us is highly seasonal, and historically, the Toys 'R' Us fourth-quarter net income accounts for more than 80 percent of its fiscal year net income. As you can see below, Vornado still has a stake in Toys 'R' Us, but the bleeding has stopped: (VNO Has a 32.5% interest in Toys "R" Us).

Complexity is often viewed as the cost of doing business, even as a means to obtaining a competitive advantage, but clearly, Vornado's investments outside of its circle of competence served as a significant setback.
Where Vornado Was In 2011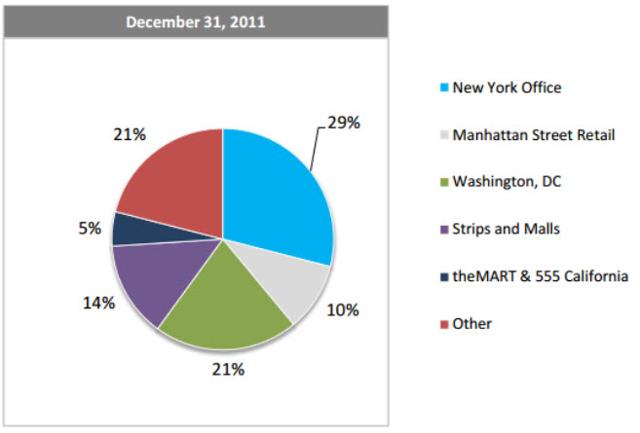 Also in another bold move, Vornado separated the shopping center business in January 2015 by completing a tax-free spin-off into Urban Edge Properties (NYSE: UE), a portfolio of 79 properties, three malls, and a warehouse. As part of the spin-off, VNO shareholders received 94.6% of the shares, and Vornado retained a 5.4% ownership interest in the form of 5,712,000 UE operating partnership units.
In December 2014, the REIT sold 1740 Broadway for $605 million - $1,000 per square foot. The financial statement gain on the sale was $439 million. The tax gain of $484 million was deferred in a like-kind exchange for the acquisition of the St. Regis Fifth Avenue retail.
Also, the company recently completed the transfer of Springfield Town Center to Pennsylvania Real Estate Investment Trust, or PREIT (NYSE: PEI). The proceeds of the transfer were $465 million, comprised of $340 million in cash and 6.25 million common units valued at $20 per share (current market value is $23.38).
As you can see below, Vornado is a much simpler REIT today:
Where Vornado Is In 2016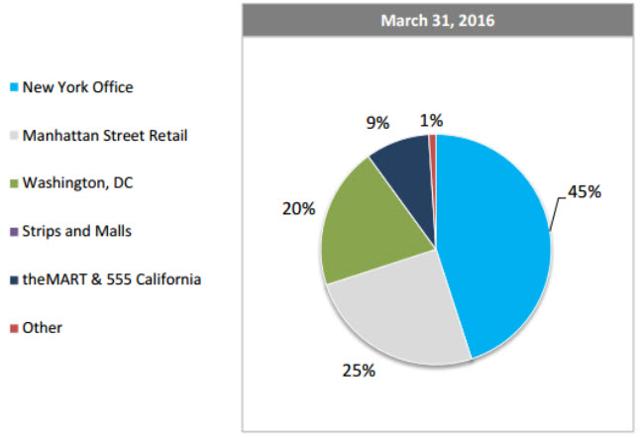 The New York City Portfolio
Around 70 percent of Vornado's EBITDA is generated in New York City. The company owns a portfolio of 23.8 million square feet of office in Manhattan (39 properties), and it is the largest owner of street retail space (3.2 million square feet in 71 properties). Vornado also owns 995 residential units and 1.2 square feet of lodging space (in NYC).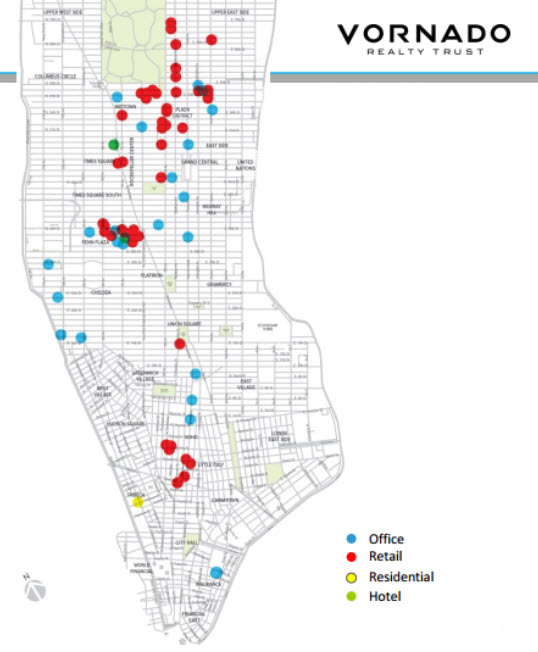 Asking rents in Midtown continue to increase quarter over quarter, having now eclipsed the $80 per square foot mark. The overall availability rate continues to hover around 10% - importantly, which includes sub-let availability, which is now down to a nominal 1.5%, representing the lowest rate since the first quarter of 2008.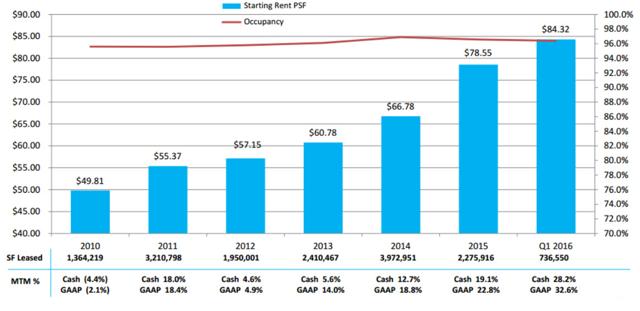 New York City's job growth continues to be solid, with total private sector employment growth of 24,200 jobs, including 7,100 office-using jobs, both on par with strong job growth realized in 2015.
In the first quarter, Vornado outperformed the market as it relates to deals of $100 per square foot or greater. The company executed six leases totaling 340,000 square feet, with starting rents averaging $116 per square foot.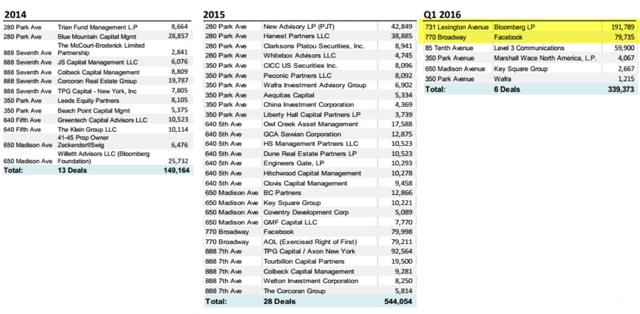 Driving these numbers, Level 3 (NASDAQ:LVLT) renewed at 60,000 square feet. Facebook (NASDAQ:FB) added another 80,000 square feet at 770 Broadway, and Bloomberg extended its lease in the tower office floors at 731 Lexington Avenue to 2029. As you can see below, Vornado owns quite a few dominating office towers in Manhattan, including 1290 Avenue of the Americas (Donald Trump owns 30 percent with VNO). I write extensively about the partnership with Trump in my upcoming book, The Trump Factor.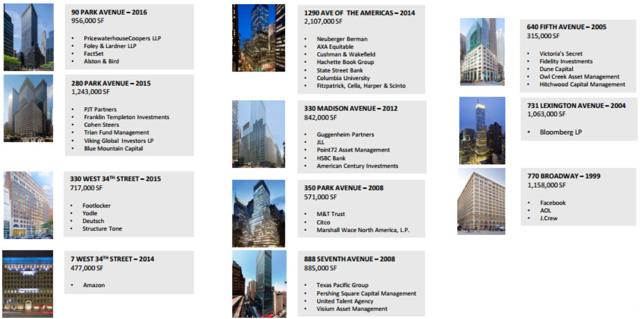 Vornado recently broke ground on the 61 Ninth development and will be delivering the iconic 170,000-square foot building (designed by Rafael Viñoly) by the end of the quarter. It owns several other high-profile properties in the Chelsea/Meatpacking district.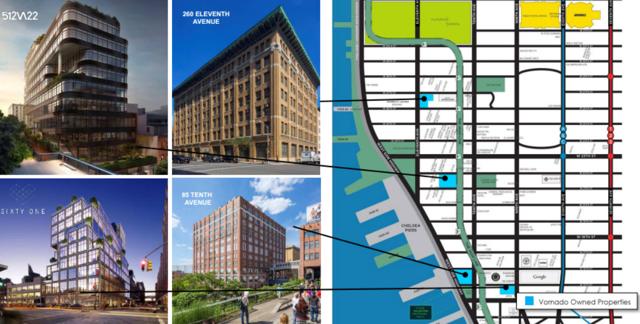 Vornado has been quite active in leasing retail storefronts along Fifth Avenue, as the REIT also owns properties on Fifth Avenue, including 697-703 Fifth Avenue, 689 Fifth Avenue, 666 Fifth Avenue, 655 Fifth Avenue, 640 Fifth Avenue, 608 Fifth Avenue, and 510 Fifth Avenue.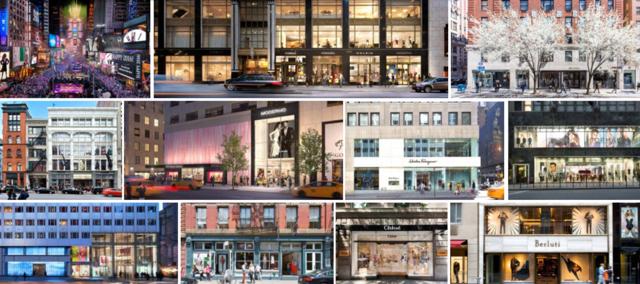 Vornado's Manhattan street retail platform is the largest in New York City. The company has the best collection of street retail assets in the best corridors. Up and down Fifth Avenue, Times Square at the bowtie, Madison Avenue, SoHo, Union Square, and Penn Plaza.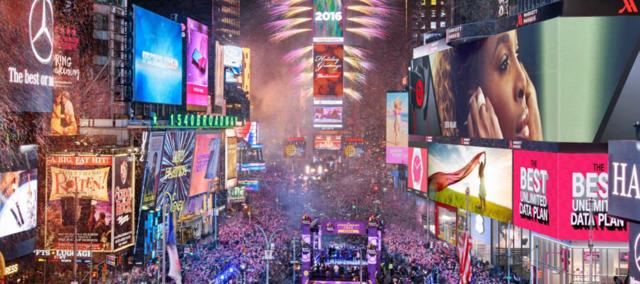 Vorando's DC Portfolio
The company owns 49 office and retail properties in Washington, DC, that consist of 13.9 million square feet in DC, including 7.2 million square feet in Crystal City, Arlington, VA (23 properties and 2,414 residential units)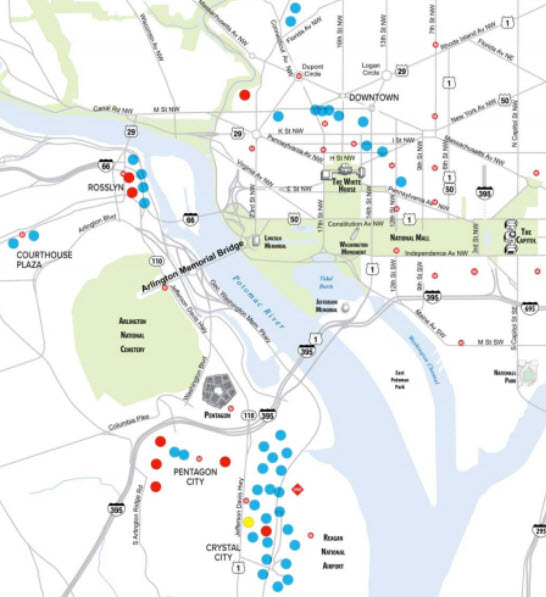 In downtown DC, Vornado owns approximately 3.2 million square feet of office space in 11 buildings that are now 96.8% leased. It has a roster of high-quality tenants that include Baker Botts, General Electric (NYSE:GE), Facebook, Hewlett-Packard (NYSE:HPQ), APCO Worldwide, Cooley, EMD Serono, Treasury's Office, and WeWork (VWORK).

DC represents around 21 percent of Vornado's revenues, and there have been rumors surrounding a possible separation (spin-off) of the DC business. Here's what Steve Roth, VNO's CEO, said on the recent earnings call:
Notwithstanding that we have said repeatedly and hinted that we are studying, analyzing separating Washington. So, while we are not announcing that and it may or may not happen, you could read into that whatever you care to.
Roth went on to say:
... we have a history in doing this; we have done it before. So, we are sort of experienced hands at this. So, we will do it with major speed, so that's step one.

Step two is that as we did with Urban Edge, it was properly capitalized; it had fine assets; it had enough money; it had enough capital and credit in its entity to complete its mission; it had a well-defined mission; it had basically inherited our management team plus the addition of one very, very talented CEO that we recruited on the outside, and then he added a CFO et cetera.

So, the business will be, if as and when we make that decision and launch, it will be set up for success from a balance sheet point of view, from a capital plan point of view, from a team point of view.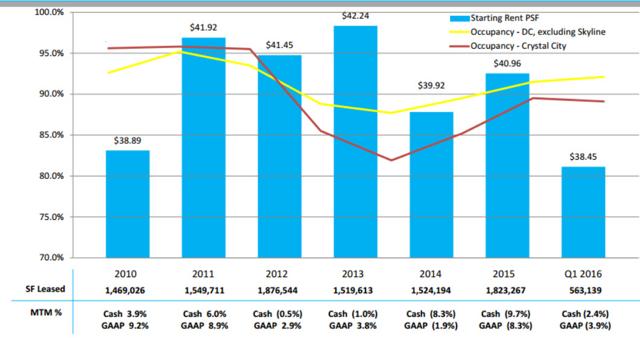 Roth added more insight on DC:
If we do separate Washington, it will be for the reasons that we have already enunciated. And that is to have a focused management team with a very specific mission in Washington, which may or may not involve capital partners et cetera and will have its own report card, namely its own stock price, and basically have its own board and be able to make its own decisions.

So, we are capitalists, we believe in incentive, we believe in report cards et cetera. So, we think that the Washington business, not that much unlike the Urban Edge business, will benefit enormously from being its own man and woman, so to speak.

We also believe that the New York business will benefit by being a focused New York business, so that global investors can invest in the New York platform, the New York assets, and our New York activities, separately from Washington or shopping centers or whatever.

So that's what our objectives would be. There is nothing - there are significant things that will be accomplished, in our mind by investors being able to choose Washington or New York as opposed to having to take both of them in the current structure.
Two Outliers
Assuming Vornado does proceed with a spin-off of its DC portfolio, the company will still own two outliers: Chicago theMART, a 3.6-million sq. ft. tech hub and 555 California Avenue in San Francisco.
The Chicago asset is productive (97.8 percent leased) and has tenants such as Motorola (NYSE:MSI), Yelp (NYSE:YELP), PayPal (NASDAQ:PYPL), and Allstate (NYSE:ALL).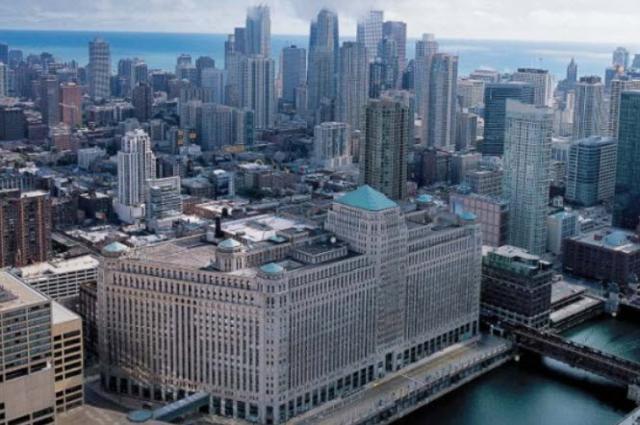 555 California Avenue is also owned with Donald Trump (Trump owned 30 percent), and is leased (93.3 percent) to a number of high-quality tenants, such as Bank of America (NYSE:BAC), Microsoft (NASDAQ:MSFT), Morgan Stanley (NYSE:MS), Wells Fargo (NYSE:WFC), UBS Group (NYSE:UBS), Sidley Austin, and AllianceBernstein (NYSE:AB). (In my book, The Trump Factor, I provide details of this property and how Trump was able to acquire an ownership interest).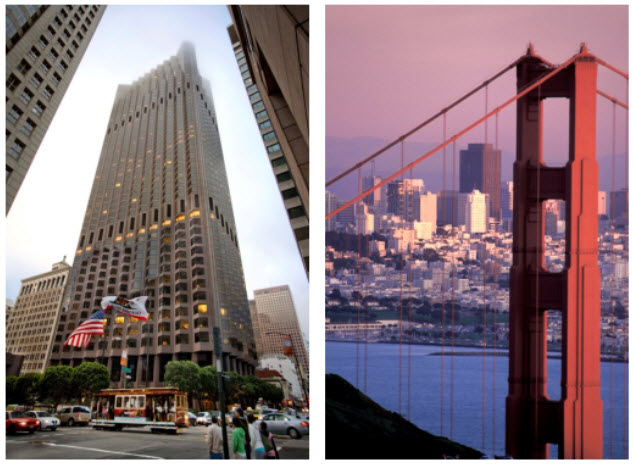 The Big Bet
Just as things are getting simpler, it seems Vornado is preparing to tackle a "big bet" in New York City.
Hotel Pennsylvania is a rare, grand-scale hotel with over 1,700 rooms and some of the most significant public space of any hotel in Manhattan. The hotel is directly facing Penn Station and is within steps of Macy's, Madison Square Garden, and the Empire State Building.
Along with Hotel Pennsylvania, Vornado has assembled a number of properties in which the company is hoping to transform the area into a Two Penn Plaza. Roth and his team intend to transform the 48-year old building into a modern age building for today's office users with a new floor-to-ceiling glass curtain wall.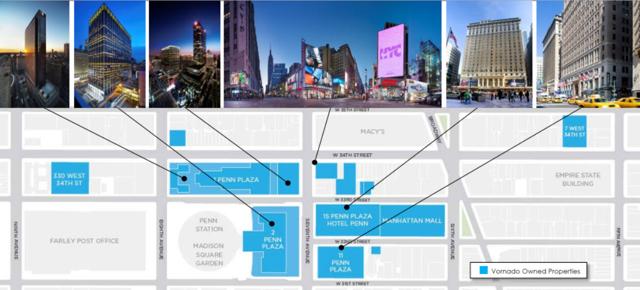 The main event here is the massive, undulating canopy (in spots, it's 85 feet high and extends out 65 feet) inspired by the iconic photograph of Marilyn Monroe standing over a subway grate holding down her skirt, which will provide grand entrances for Penn Station, Madison Square Garden and Vornado's Two Penn Plaza office building.
Vornado intends to cluster the 1.6-million square foot Two Penn Plaza and the 2.6-million square foot One Penn Plaza (currently connected underground via Penn Station) into a 4.2-million square foot complex. In the 2015 Annual Report, Roth writes:
This is an ambitious and long-term project and the first of many to transform our vast Penn Plaza holdings. Penn Plaza is Vornado's big kahuna.
This "big kahuna" is arguably a big bet for Roth, and when one analyst asked about the cost for the project he said:
Obviously we will be spending hundreds and hundreds of millions of dollars in Penn Plaza to accomplish our objectives there. But until we're prepared to make full disclosure of what our plans are in a very reasoned way, I'm not going to speculate.

The Balance Sheet
Vornado is investment grade rated by all three major rating agencies, and the company has around $4.4 billion of liquidity available ($1.9 billion in cash).

In March, the company completed a $300 million refinancing of One Park Avenue, a 947,000-square foot Manhattan office building in which VNO owns a 55% interest. In February, the company completed a $700 million refinancing of 770 Broadway, a 1,158,000-square foot Manhattan office building.
Excluding the financing of VNO's 220 Central Park South project, the consolidated debt metrics are fixed rate accounted for 77% with a weighted average debt of 3.99% and a weighted average term of 4.8 years, and floating rate debt accounted for 23% of debt with a weighted average interest rate of 2.18% and a weighted average term of 5.1 years.
The company's debt-to-enterprise value is 31%, and the debt-to-EBITDA ratio is 7.5x.
The Latest Results
In Q1-16, VNO's comparable FFO was $1.08 per share, compared to $1.07 for Q1-15. The company's New York business produced $14.9 million of comparable EBITDA growth, or $0.08 per share, and also produced a 5.5% same-store increase. Here's a snapshot of its AFFO per share:

(Source: F.A.S.T. Graphs)
Here's a snapshot of VNO's dividend history:

Here's a snapshot of the company's FFO Payout Ratio:

Getting Simpler, Should We BUY?
It's now plain to see that Vornado is getting simpler, and assuming that the DC portfolio is spun off, the New York-based REIT could become a KISS alternative. Let's see what Mr. Market thinks...

As you can see, I used a broad office peer group, and as much as I love NYC, I don't believe there's value in a 2.4 percent dividend yield. Perhaps there is an argument for price appreciation. Let's take a look at the P/FFO:

Jeez. Maybe Mr. Market thinks Vornado is already priced for perfection.
In other words, the market is suggesting VNO is already a simple REIT, when in fact, there are still a few complexity attributes - mainly DC and Penn Plaza. As a value investor, we must always wait for shares that we can purchase at a margin of safety, and Vornado is now priced like a hot potato.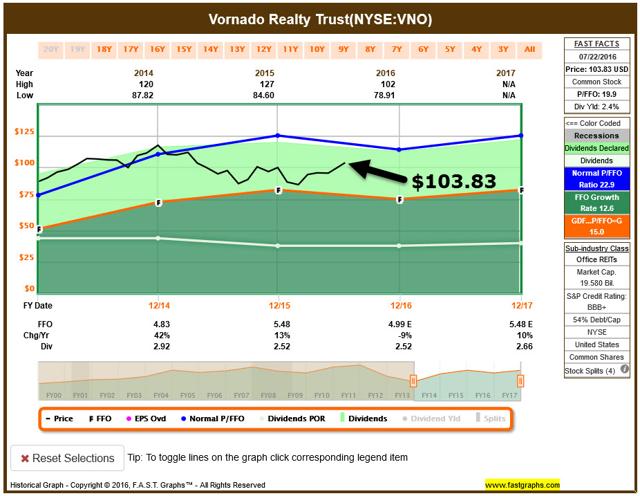 The Bottom Line
I'm warming up to Vornado, but I'm maintaining a HOLD until I can see value being unlocked in the DC business, and also until there is more clarity with regard to the "big kahuna". There are plenty of other private equity funds that I can invest in that offer the same level of complexity, and as you know, I prefer to stick with my trademark strategy - aka the KISS model - that means I sleep well at night.
Note: VNO maintains an 8.1 percent interest in Pennsylvania Real Estate Investment Trust and a 7.9 percent interest in Lexington Realty Trust (NYSE:LXP). See my article on PEI here and my latest article on LXP here.
Author's Note: Brad Thomas is a Wall Street writer, and that means that he is not always right with his predictions or recommendations. That also applies to his grammar. Please excuse any typos, and I assure you that he will do his best to correct any errors if they are overlooked.
Finally, this article is free, and the sole purpose for writing it is to assist with research (Thomas is the editor of a newsletter, Forbes Real Estate Investor), while also providing a forum for second-level thinking. If you have not followed him, please take 5 seconds and click his name above (top of the page).
Sources: F.A.S.T. Graphs, SNL Financial and VNO Investor Presentation.
REITs mentioned: City Office REIT, Inc. (NYSE:CIO), Columbia Property Trust (NYSE:CXP), Boston Properties, Inc. (NYSE:BXP), Kilroy Realty Corp. (NYSE:KRC), Piedmont Office Realty Trust (NYSE:PDM), Brandywine Realty Trust (NYSE:BDN), Highwoods Properties, Inc. (NYSE:HIW), Cousins Properties Inc. (NYSE:CUZ), Government Properties Income Trust (NYSE:GOV), and Easterly Goverment Properties (NYSE:DEA).
Disclaimer: This article is intended to provide information to interested parties. As I have no knowledge of individual investor circumstances, goals, and/or portfolio concentration or diversification, readers are expected to complete their own due diligence before purchasing any stocks mentioned or recommended.
Disclosure: I/we have no positions in any stocks mentioned, and no plans to initiate any positions within the next 72 hours.
I wrote this article myself, and it expresses my own opinions. I am not receiving compensation for it (other than from Seeking Alpha). I have no business relationship with any company whose stock is mentioned in this article.