Schlumberger Believes The "New" Break-evens are Temporary
Every quarter, we pay particular close attention to what Schlumberger (NYSE:SLB) has to say about the state of the oil markets. Being the largest service provider in the world and with nearly 50% market share, SLB has a dominant role in how the oil industry shapes out.
Q2 was no different, and SLB provided amazing commentary on the state of the oil markets. The point we will particularly harp on is the fact that we believe the new break-evens are only temporary.
To make sure biases are laid out, SLB makes money on servicing fees. So it's only logical that it talks about things like wealth transfer and servicing costs hitting a bottom. But unlike Core Labs, SLB can dictate pricing, and the leniency it gave to producers will end soon resulting in much higher servicing cost. We can see the frustration in Paal Kibsgaard, Chairman & CEO.
Paal thinks that $27 likely marks the low of the cycle and believes the recent price increase should accelerate going forward.

Paal then talked about how the cost of developing more complex oil reserves outgrew the value created as producers struggled to even produce free cash flow at $100 oil.

The next segment we are about to show validates some of the claims we were making about " the illusion of US oil production".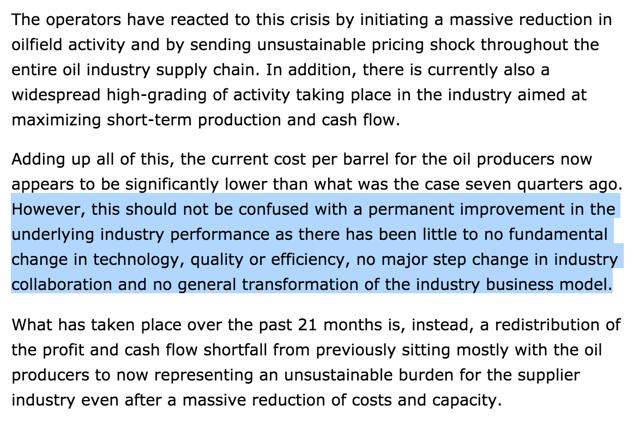 The key part we want to highlight is where Paal talks about how the industry's "new improved" performance has very little to do with fundamentals. Investors look at some of these E&P companies and say things like, "But they are drilling longer laterals, and getting more oil" don't realize that longer laterals cost more money to drill. If servicing costs decrease by 35%, and the company drills longer laterals by 35%, all of a sudden, for the same dollar amount, you got more oil! That's not magic, that's just using lower servicing cost.
We really appreciate how Paal is very straightforward about the oil industry's cost curves. Halliburton (NYSE:HAL) is way more optimistic about activity rebounding, while SLB takes a much more realistic view.
All this results in a more optimistic view for oil prices going forward as Paal explains below.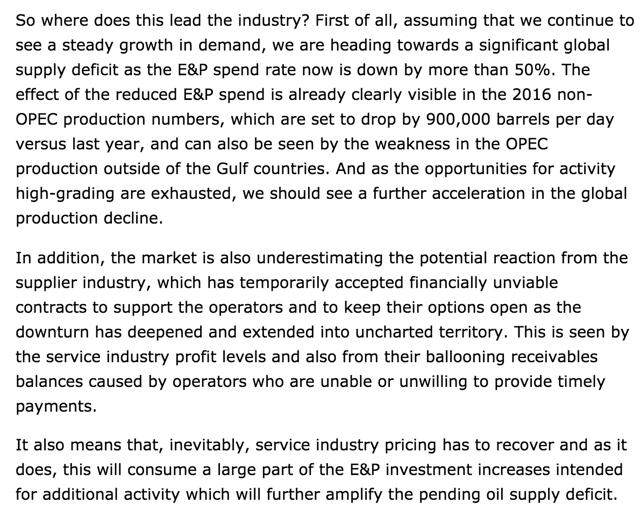 The key to the higher price argument in the future is the simple fact that lot of investors are extrapolating the current break-evens and "excel dragging" it into the future. Servicing firms have taken a large part of the hit, and during this downturn, there was quite a bit of consolidations. What this all results into is higher servicing costs in the future. It's like the saying, "I scratch your back, and you scratch mine." Service providers will charge above normal rates once prices start to recover, and E&P companies with very little access to credit will have to face lower production growth.
Overall, it's clear to us that the temporary low break-evens are just that, temporary. Once activity rebounds in response to higher oil prices, service providers will want to make their money back, which would in turn keep overall activity mute. This would respond well to oil prices as producers are forced to spend close to cash flow due to a lack of credit. US oil production would grow, but at a very slow pace. With the effects of low oil playing out around the world, we continue to believe that in the long-run, oil (NYSEARCA:USO) prices should be materially higher.
Another great article to read on this is by Open Square Capital, "Bottoms Up: Oil Service Providers Calling The Bottom, E&P Companies Beware
Disclosure: I/we have no positions in any stocks mentioned, and no plans to initiate any positions within the next 72 hours.
I wrote this article myself, and it expresses my own opinions. I am not receiving compensation for it (other than from Seeking Alpha). I have no business relationship with any company whose stock is mentioned in this article.