Heading into its Q2 2016 earnings on July 29, Chevron Corporation (NYSE:CVX) was happy to report that it had entered into an agreement with JOVO, a privately owned Chinese firm, to supply the energy company with half a million metric tons of LNG per year for five years starting with a delivery in 2018. This is a small step in the right direction, as securing long term LNG deals during volatile times often isn't prudent due to sharp differences in expectations on where prices will go.
Upstream growth in Central Asia
On July 5, Chevron and its partners in the TCO venture in Kazakhstan agreed on a massive expansion at one of the biggest oilfields in the world. Kazakhstan is a major crude oil producer and exporter in Central Asia that has seen its output steadily climb higher over the past decade. This is no small expansion, as the Future Growth and the Wellhead Pressure Management projects are expected to add 260,000 bo/d to the Tengiz oilfield for $36.8 billion. Keep in mind that doesn't include operating costs once the development is up and running.
$27.1 billion is being allocated to facilities, which will include sour gas injection infrastructure to keep reservoir pressure stable and keep wells producing near capacity. 190 additional production wells and sour gas injection wells are going to be drilled, leveraging expertise gained in the last expansion back in 2008. As the natural gas produced alongside the crude is considered sour, meaning it has elevated levels of hydrogen sulfide, additional processing equipment is needed to convert that into sulfur. TCO then markets and sells its sulfur output to major industrial consumers, but it does drive up the cost of production.
That being said, operating costs at the Tengiz oilfield are still relatively low. By 2022, these two developments should be online and operational. That will push up the production capacity of TCO to 1 million barrels of crude a day, which includes the Tengiz and the nearby Korolev oilfields. In 2015, Chevron's share of the TCO venture's production was 257,000 barrels of oil, 348 million cubic feet of natural gas, 21,000 barrels of NGLs. Its partners are ExxonMobil (NYSE:XOM), LukArco (OTCPK:LUKOY), and KazMunayGas.
This development comes on the heels of Tengizchevroil initiating the Capacity and Reliability project in February 2014. Through optimization efforts, lower third-party rates and reduced labor costs, TCO cut well recompletion costs by 70% while de-bottlenecking efforts added 16,000 bo/d in production capacity. Due to the sheer size of the TCO venture, which Chevron owns 50% of, management will definitely comment on this expansion.
As this is a massive asset even for an oil major like Chevron Corporation, any news regarding its TCO venture should be monitored. Management often doesn't bring up the development, so when information is finally made available, it's worth recording.
Petrochemical expansion
Chevron Phillips Chemical, a 50/50 joint venture between Chevron and Phillips 66 (NYSE:PSX), decided to move forward with the USGC Petrochemicals Project a few years ago after making the idea public in 2011. The $6 billion downstream project seeks to capitalize on America's surge in ethane production, which has seen ethane prices collapse (behooving downstream operators) as the infrastructure wasn't there to support production, causing a lot of ethane to be rejected. Chevron Phillips Chemical is building an ethane cracker that will have 1.5 million metric tons of capacity per year to convert ethane into ethylene in Baytown, Texas, through three different units.
In Old Ocean, Texas, two polyethylene units are being built to yield 1 million metric tons per year to make various plastics. Chevron Phillips Chemical is generating value by owning multiple pieces of the downstream supply chain that can source cost advantaged ethane, turn it into ethylene, and support growing demand for plastic related products around the world.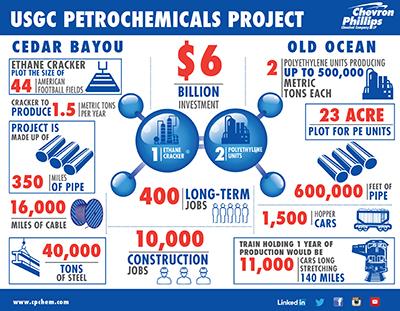 Source: Chevron Phillips Chemicals Website
After the downturn, it has become very apparent that downside protection from plummeting oil & gas prices is a must for an integrated oil major like Chevron going forward. While Chevron's other major developments have hit plenty of hiccups, with the Gorgon complex front and center, its downstream operations have been doing very well in light the current situation. Now that over 75% of the USGC project is complete and the 2017 start-up is in sight, investors should see how this endeavor is panning out in the final stages.
Financials
At the end of 2015, Chevron had $35.35 billion in current assets and $26.46 billion in current liabilities, with $33.58 billion in long term debt. That weakened during the first quarter of this year as energy prices continued to move lower. By the end of Q1 2016, Chevron had $31.71 billion in current assets, $29.16 billion in current liabilities, and $32.36 billion in long term debt. Chevron's debt load shrunk slightly but its liquidity position deteriorated as it paid off short term debt while covering a hefty outspend.
Chevron spends $2 billion per quarter just to keep its lofty dividend payments rolling out, which exceeded the $1.14 billion in operating cash flow the firm generated in Q1 2016. Add in $5.6 billion of capital expenditures and it becomes clear that Chevron's finances are very unstable in a low price environment. Sure, the oil major has a deep asset base, a relatively strong balance sheet, and plenty of liquidity but it has also plenty of debt and a deteriorating financial position with each passing quarter.
During the Q2 2016 earnings release and subsequent conference call, Chevron's management team needs to do two big things. The first is highlight how higher energy prices last quarter improved its near term financial situation. The second is to showcase how continued capex reductions over the next few years, when combined with larger cash flow streams on the back of a pricing recovery and major projects coming online, are going to right the ship.
A decent amount of asset sales is helping Chevron get by but that is purely short term. Over the long haul, either capex has to come down further and its cash flow streams have to grow, or a serious question of whether or not its $8 billion annual dividend liabilities are sustainable needs to enter the boardroom.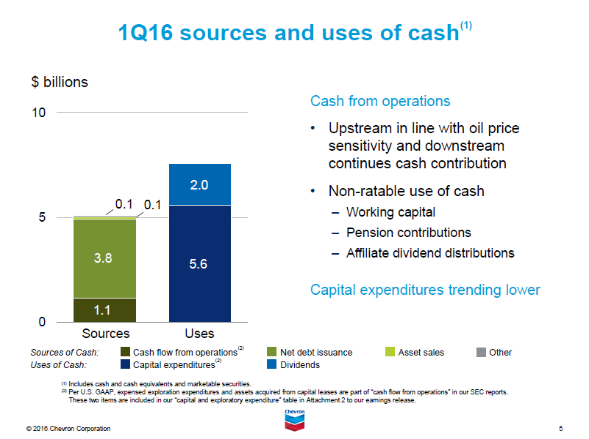 Source: Chevron Corporation Earnings Presentation
I know Chevron Corporation's lofty yield is a major plus for near term returns, but if it is destroying more value than it is creating, shareholders are getting short changed in the end.
Final thoughts
Every quarter the market picks apart news regarding Chevron Corporation's LNG developments, including the Gorgon and Wheatstone complexes in Australia and the Angola LNG facility in Central Africa. The oil major's LNG operations are worth taking a look at as the Gorgon LNG facility supposedly is now operating again, the Wheatstone LNG project progresses towards a delayed 2017 start-up and the Angola LNG complex comes back online since getting shut down back in 2014.
What matters is are the Gorgon and Angola LNG facilities really operational and producing cash flow streams or will mechanical failures and unexpected maintenance keep those assets from yielding positive results even longer. Keep in mind there is some planned downtime as Chevron gets ready to ramp up production, at least in theory.
This is the perfect time for Chevron Corporation to offer up a proper assessment of where the company thinks the market is going and how its major developments are doing, with the biggest source of potential upside coming from an improving cash flow situation. However, rosy operational guidance needs to be supplemented with actual results. The comedy of errors that is Chevron's ability to effectively turn huge projects online (see the Gorgon project's delays and overruns, only to be met with more problems after finally coming online or the Angola LNG complex getting shut down after less than a year of operating time due to various major issues, or the Big Foot development's mishaps in the Gulf of Mexico) needs to come to an end. Management has to offer something real on that front.
Author's note: Some of the companies mentioned above don't trade on a major US market, which comes with its own set of risks and rewards. Always do your own due diligence before investing.
Disclosure: I/we have no positions in any stocks mentioned, and no plans to initiate any positions within the next 72 hours.
I wrote this article myself, and it expresses my own opinions. I am not receiving compensation for it (other than from Seeking Alpha). I have no business relationship with any company whose stock is mentioned in this article.