The market is obsessed over dividends these days. Most dividend paying utility and telecom stocks trade at multi-year highs. Specifically in the telecom space, big dividend payers like AT&T (NYSE:T) and Verizon Communications (NYSE:VZ) have seen stock prices surge this year.
Ironically though, some bigger dividend paying telecom stocks like CenturyLink (NYSE:CTL) trade far from highs even back in 2015. The telecom provider is seen as a higher risk than the big wireless players, but most people seem to forget that CenturyLink is a large-cap stock with a valuation of $17 billion.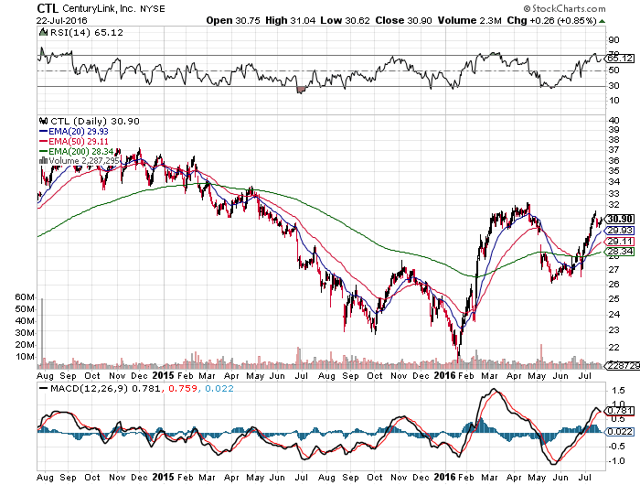 As my research has constantly highlighted, CenturyLink offers a considerably higher yield than AT&T or Verizon. For a market obsessed by dividends, CenturyLink ironically offers a 7% yield while the market continues paying up for the rather meager 4% yield of Verizon.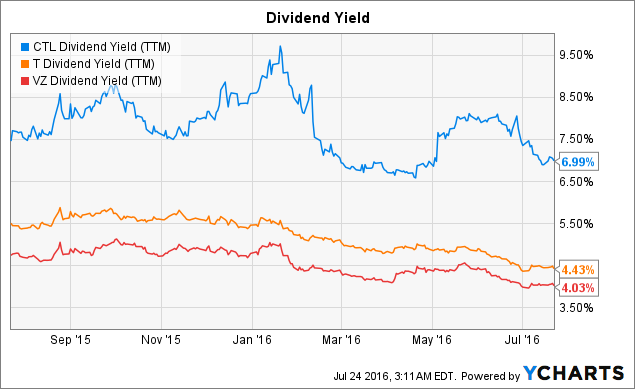 CTL Dividend Yield (NYSE:TTM) data by YCharts
In the past, one could simply argue that the potential of wireless made the wireless giants more appealing than CenturyLink. Now though, the domestic wireless business has no growth with the pricing wars and saturated markets.
The amazing part is that CenturyLink even offers a stock buyback program that further enhances the capital returned to shareholders. The telecom isn't as aggressive with the buybacks these days, but the company spent over $800 million during 2015.
Even better, the dividend payout ratio in the mid-60s range actually undercuts the level at AT&T. Another sign that the market irrationally favors the bigger stock without prudent logic to back up the move.
The key investor takeaway is that CenturyLink investors have no reasons to fear a dividend cut, yet the stock still offers superior yields. In the current race for yields, don't be surprised if this stock doesn't get a big lift the rest of the year.
Pundits in the market will point to the dividend cut back in 2013, but those same people ignore that the telecom shifted the reduced dividend payments into stock buybacks. If one wants really wants a big dividend, skip past AT&T and Verizon and own CenturyLink.
Disclosure: I am/we are long CTL.
I wrote this article myself, and it expresses my own opinions. I am not receiving compensation for it (other than from Seeking Alpha). I have no business relationship with any company whose stock is mentioned in this article.
Additional disclosure: The information contained herein is for informational purposes only. Nothing in this article should be taken as a solicitation to purchase or sell securities. Before buying or selling any stock you should do your own research and reach your own conclusion or consult a financial advisor. Investing includes risks, including loss of principal.