At the end of 2015 Santander (NYSE:SAN) looked at the height of its power: spread across three continents, having brilliantly survived the worst financial crisis since the Great Depression and holding a reputation for aggressiveness and cunning in business the presentation of 2015 results at the Corporate Centre of Boadilla del Monte was spectacular.
Nevertheless, stock price has fallen 44% since maximum, its push on investment banking is being questioned and even if Spain is recovering several of its key other operational geographic areas are in turmoil - Emerging Markets and UK after Brexit -.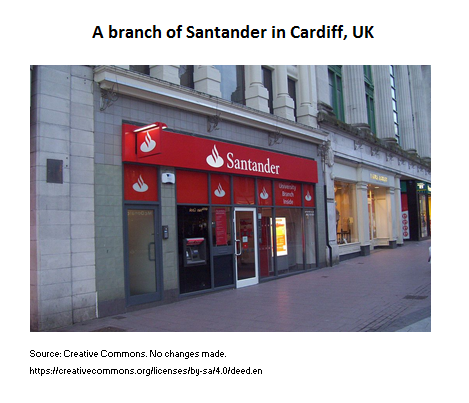 Banco Santander: from Cantabria to the world
The lender was founded in 1857 in Santander (Cantabria), Northern Spain, and under the leadership of three generations of the Botin family has become in 50 years one of the top banks in the world by market capitalization.
When Emilio Botin took over the bank in 1986 after the death of his father, he made clear he was not somebody comfortable with any form of status quo: he broke the traditional "big 7" local banking oligopoly with aggressive deposits and loan offers, was the first Spanish banker to invest significantly in the US - acquisition and subsequent profitable sale of First Fidelity - and, most importantly, acquired Banesto in 1994, at that time the biggest bank in the country, after a nasty bankruptcy.
In 10 years, and after a further merger with Madrid based lender BCH, Mr. Botin had transformed an obscure regional bank to be the top national player.
That was not enough. Once he had secured its position at home, and through an astute array of deals in Latin America, Botin built a powerful and profitable American franchise.
With the operational basis in Spain and the profits from Latin American subsidiaries Santander bought Abbey National -at what at that time many qualified as a high price - and developed Santander's North European Consumer Finance franchise; the geographic diversification was concluded with minor acquisitions in the US - Sovereign - and East Europe - Bank Zachodny.
Strategically, the genius of Botin was to create a multinational retail bank and a top banking brand from very little taking the right set of financial - and political - risks at each point of the business cycle and using it to move the organization forward. The crux of the strategy was the high price allegedly paid in some of these acquisitions.
The bank in early 2016
At the end of Q1 2016 Banco Santander was basically a multinational commercial bank with a sizeable supporting corporate banking division (77.4% and 22.6% attributable profit respectively).
In terms of business strategy, Santander combined capital generation areas (developed markets in Europe and the US) with growth areas (Latin America & Brazil) characterized - so far- by high profitability.
Funding was conservative showing a structural liquidity surplus of €149bn. Funding was autonomous to each subsidiary, a policy born from experience in past crises such as the Argentinean one in the early 2000s and aimed at insulating Santander from problems in a concrete geographic area at any particular point of time.
Autonomous funding and strict legal separation between subsidiaries are part of a wider "portfolio management" style in which each subunit on Santander is an individual constituent of an overall portfolio of businesses managed by the CEO.
The "portfolio management" approach gives the ultimate decision maker a considerable degree of freedom to reduce, increase or trade risks in one geographic area adjusting the stake at the subsidiary through the stock exchange or private placements / acquisitions or sales.
In terms of business distribution, Santander had at the end of Q1 2016 a balanced spread between Emerging Markets (38% of profits before taxes) and Developed Markets (62% of profits before taxes) with particular emphasis in Brazil (17%) and the UK (21%).
Net interest income was roughly two thirds of gross income, compared with 22% from fee income. Costs were under control, with an efficiency ratio of 48%.
Finally, credit quality continued to improve, backed by a geographically diversified loan book and the recovery of the Spanish market. NPLs ratio was 4.33%, -52bps compared with the same period in 2015. ROE (Return on Equity) was 7.5% and ROTE (Return on Tangible Equity) was 11.1%, close to the 2018 target of 13%.
Overall financial results looked healthy, but serious uncertainties lie beneath the surface. These uncertainties are having a significant impact on the stock price.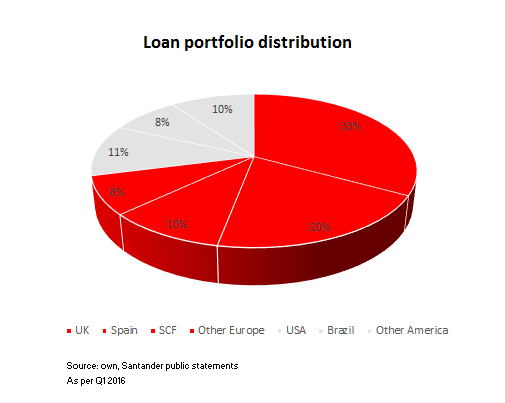 Problems on sight: UK post Brexit and Latin America
Santander's geographical diversification has been designed to insulate the group from problems in one of its subsidiaries or regions and to give the bank's senior management flexibility to reduce risks in local subsidiaries if necessary.
Nevertheless, at this point two of the three "legs" of the organization are immersed in uncertain economic conditions for very different reasons.
The slowdown of the Chinese economy is having a sizeable impact in several world regions, among them Latin America, and the banks operating in these (see for example, Article "Standard Chartered, the best bank in the worst place" and "Itau Unibanco will crack the stock price floor").
Banco Santander has 24% of its profits from Latin American countries exposed to a deepening of the China crisis through the commodities price link (mainly Brazil and Chile). On top of that the loan book exposed to Brazil and other Latin American countries is circa €141bn, or 143% of the group's total equity.
In case the China induced slowdown in Brazil deepens and extends to Chile and other Latin American countries, Santander - and its stock prices - will suffer.
Brexit is the second source of uncertainty for Banco Santander: Santander UK (former Abbey National) has 33% of the Group's loan book, contributes 23% of attributable profit and 27% of all company assets.
After the LEAVE vote on 23rd of June, the future relationship between the UK and the European Union (to which over 50% of UK exports are directed) is uncertain; political and economic instability could significantly increase in the British Isles during future years.
The Brexit uncertainty combined with the economic slowdown in Latin America will not de stabilize the bank: Santander is not a structurally flawed fading Empire and should recover in the future when both uncertainties are cleared while performing businesses keep the balance sheet stable in the short term.
But the doubts on the future UK relationship with Europe and the crisis in Brazil and potentially other Latin American countries will certainly impact the stock price of the multinational retail bank.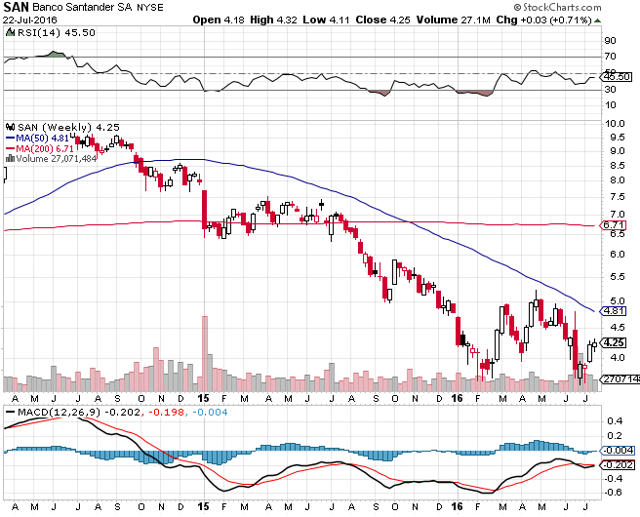 Stock price and the future
From a maximum of €7.08 in September 2014 Santander stock price has fallen 44% to €3.88 as of today; the fall was gradual during 2014 and 2015 but has accelerated in the first six months of 2016, together will the fall of the Stoxx Europe 600 Banks index and the Banking Panic of early 2016.
At PE of 9.6 times and price book of 0.64 times SAN stock price does not look cheap compared with other European banks (BNP Paribas PE 8.4, Barclays PE - estimated 2016 - 14, Credit Agricole PE 7.3, Erste Bank PE 10.19); nevertheless, Santander is a very particular bank: it is not easy to find another lender in Europe with similar geographic distribution plus exposure to Emerging Market problems AND to Brexit uncertainty.
Notwithstanding, what looks obvious is that Emerging Market fears has been the downside catalyst of stock price during the period 2014 - 2015 and Brexit unknowns are dragging stock price even further.
Both issues are expected to remain and probably worsen during the next 3 years; thus, a short position on Santander should be very lucrative for a banks investor.
Disclosure: I/we have no positions in any stocks mentioned, and no plans to initiate any positions within the next 72 hours.
I wrote this article myself, and it expresses my own opinions. I am not receiving compensation for it (other than from Seeking Alpha). I have no business relationship with any company whose stock is mentioned in this article.