Mannkind Corporation (NASDAQ:MNKD) presented at Cantor Fitzgerald's 2nd Annual Healthcare Conference on July 12, 2016, and gave an update on Afrezza's progress since its relaunch started at the beginning of July (webcast). In the presentation, Mannkind's Chief Commercial Officer Michael Castagna said that the sharp decline in prescriptions since the beginning of the year, when Sanofi (NYSE:SNY) stopped active promotion of the drug, should be finally leveling out with the start of prescription growth coming in August. Weekly Symphony and IMS data might be indicating the bottom has arrived sooner than thought and upcoming catalysts in August should help sales grow in August as the company starts to take advantage of all the changes in marketing Afrezza after Sanofi's failed launch.
Here is a graph of Afrezza's script counts since its original launch in 2015, including the drop in sales from the termination of the Sanofi agreement at the beginning of 2016.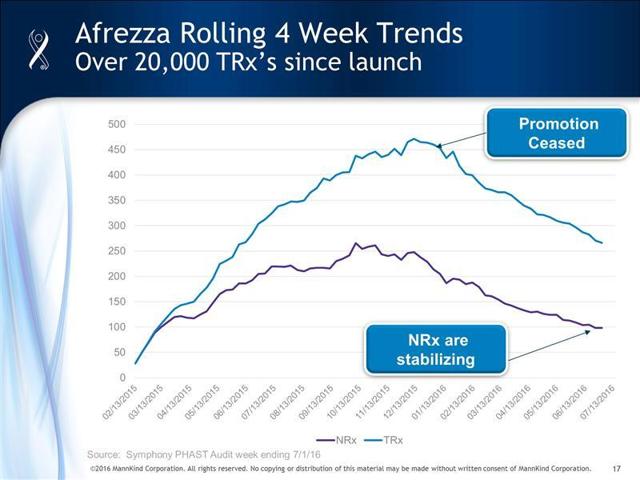 Source: Mannkind Cantor Presentation
As you can see, the top line shows total weekly Afrezza prescriptions and the bottom line shows new weekly Afrezza prescriptions month to month since the launch began. Mannkind thinks that prescriptions are finally stabilizing, and recent data is starting to support that hypothesis.
Here is a table I made of Afrezza new prescriptions over the past 4 weeks from Symphony and IMS data available on Proboards.
New Afrezza Prescriptions

| | |
| --- | --- |
| Date and NRx | % Change From Last Week |
| 6/24 NRx = 88 | 5% down |
| 7/1 NRx = 107 | 22% up |
| 7/8 NRx = 84 | 21% down |
| 7/15 NRx = 99 | 18% up |
Source: Trent Welsh
What is interesting is the divergence from the almost straight downhill slide prescriptions have had since the beginning of the year. I would argue that data from the past four weeks show that the downtrend is most likely coming to an end soon and that an uphill swing and growth in prescriptions starting in August becomes more and more likely as the downward pressure on prescriptions starts to fade away.
Mannkind's self-branded Afrezza will officially launch on July 25 as product is being manufactured and shipped to distribution centers now. The last of the Sanofi branded supply is short dated and will soon run out as Mannkind will book 100% of Afrezza revenue going forward.
Mannkind will be launching a new sample pack in late August which should help new Afrezza users get a better feel for the product before their trial runs out. The old program, which will be phased out, was based on 4-unit packs of 30 cartridges which were being used up a lot of times by Type II patients in 2-4 days. This cut the sample experience short and made it difficult for a patient to transition to a regular prescription.
The new sample packs will be combo packs consisting of either 4 and 8 unit or 8 and 12 unit packs with 60 total cartridges. These packs will give the user a much better initial experience with Afrezza means the combination pack of doses will help the patient titrate more accurately and the sample program will last longer per patient so that they get a better feel for the product and have more time to set up a regular prescription.
Mannkind has also developed a new spirometry solution for providers. Currently, about 1/3 of their targeted providers have a spirometry solution currently available in the office. About 1/3 have a spirometry referral patterns established, and the last 1/3 are looking for a better solution before they address the need. The new solution should help cut down on the number of doctor visits patients need to get a prescription and should give providers a better reason to have the solution in house.
Finally, Mannkind is setting up a reimbursement support team called "Mannkind Cares", which will actively help patients through the insurance and preauthorization process. Mannkind is confident that once patients get through all the hurdles and have a positive experience with Afrezza they will not drop out of the program, but will integrate it fully into their daily meal time plans.
Education and support is key to get patients to stick with Afrezza once they decide to try the sample pack. The benefits of properly used Afrezza can be seen through Continuous Glucose Monitoring (CGM).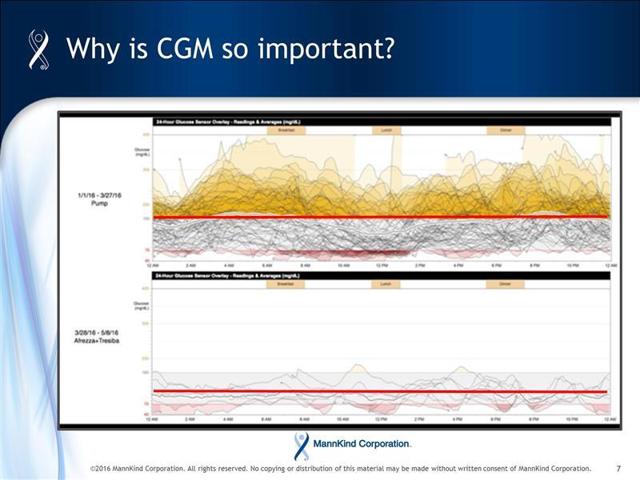 Source: Mannkind Cantor Presentation
The top line is a patient experiencing the regular ups and downs of blood sugars over the first few months of the year without Afrezza use. The bottom graph is the patient using Afrezza to help control their diabetes. Minimizing the roller coaster ride that patients can experience with the highs and lows of sugar regulation should help patients lead healthier lifestyles while being more in control of their diabetes.
Finally, with all the problems Mannkind has experienced in the past with sales and its drug approval, cash liquidity is always a concern. Mr. Castagna reiterated in his presentation that Mannkind should have funds available to support itself through the first quarter of 2017. This lines up with my analysis of the company after their last earnings call where I took a look at their cash and available financing options going forward (article). With Mannkind's 2nd quarter earnings call expected to be around the beginning of August, I expect myself and many others to take a closer look at the financing going forward to see if it still lines up with what the company proposes and what makes sense.
I continue to be long Mannkind because I believe in the product.
Disclosure: I am/we are long MNKD.
I wrote this article myself, and it expresses my own opinions. I am not receiving compensation for it (other than from Seeking Alpha). I have no business relationship with any company whose stock is mentioned in this article.
Editor's Note: This article covers one or more stocks trading at less than $1 per share and/or with less than a $100 million market cap. Please be aware of the risks associated with these stocks.