Company Basics
Annaly Capital Management (NYSE:NLY) is the largest mortgage Real Estate Investment Trust (REIT) in the US Market with a market capitalization of 10.0 billion. The company is extremely well managed and produced phenomenal returns for shareholders in the past, returning 643% since inception, significantly outperforming both Berkshire Hathaway (NYSE:BRK.A) and the S&P 500 Index. Here are some current key facts about the company.
Share Price: $10.90
Market Cap: 10.04 billion
Dividend Yield: 11.2%
Book Value: $11.61
Share Price to Book: 6% discount to book value
Current Leverage: 6.2x
Performance Since Inception: 643% (compared to 201% S&P)
Company Fundamentals
Annaly Capital Management is a mortgage REIT investing in agency backed mortgage securities, mostly 30 year mortgages. In essence, the company borrows funds using short term rates and earns interest on its longer term 30 year mortgages. In order to maximize its profit, it employs leverage to compounds its earnings. In addition, the company also holds a hedging portfolio to minimize interest rate risk.
The company's performance is mostly based on its net interest spread, the stability of the current interest rate environment and management's ability to adjust to changing rate environments. The company's ability to sustain its dividend will no doubt have a large impact on its share price, while a lower leverage always help support a stable dividend. In the sections below, we will compare and analyze each of these factors with its competitors.
Note: mREITs are quite complex and not well characterized by Generally Accepted Accounting Principals (GAAP). This is because GAAP can only account for its asset yields and not the performance of its hedging portfolio. To measure a mortgage REIT's performance, ignore GAAP "net income" and look at comprehensive income or normalized core earnings. In fact, this figure is not standard and different mREITs have different names for this non-GAAP net income.
Net Spread
The company's net spread was quite healthy relative to its peers in recent quarters (1.45% in Q4 2015 and 1.25% in Q1 2016). Refer to the chart below for a progression of its net yield in comparison to its main competitors.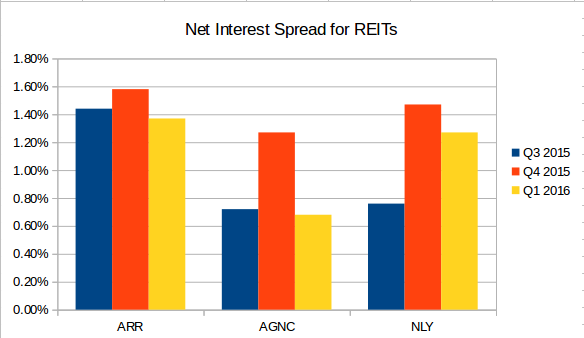 Three mortgage REITs net spread in the last three quarters.
As can be seen from the chart, Annaly's net spread is modest at 1.25%, having decreased from the fourth quarter of 2016.
Leverage and Dividend Growth
It is important for a mortgage REIT to keep a low and reasonable leverage. A lower leverage gives the company room to make adjustment in changing rate environments. In case it is required, the company can raise leverage to boost its income and avoid cutting its dividend.
Annaly Capital Management current sports a leverage of 6.2x, which is relatively low compared to its peers but high compared to its own historical figures. See the chart below to visualize Annaly's current leverage situation.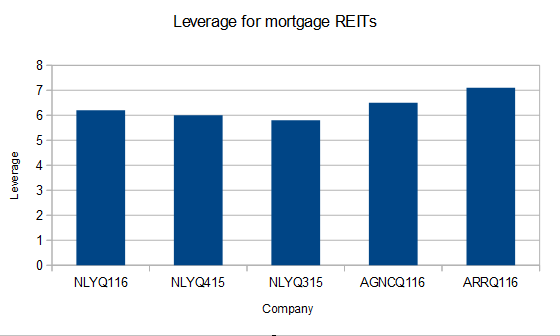 Chart comparing Annaly's leverage to its historical values and competitors.
Refer below for this quarter's net earnings, at $292 million or $0.03 per share. This value represents that the mortgage REIT is earning a "net income" of $0.33 per share in Q1 2016 and only paying out its dividend of $0.30 per share.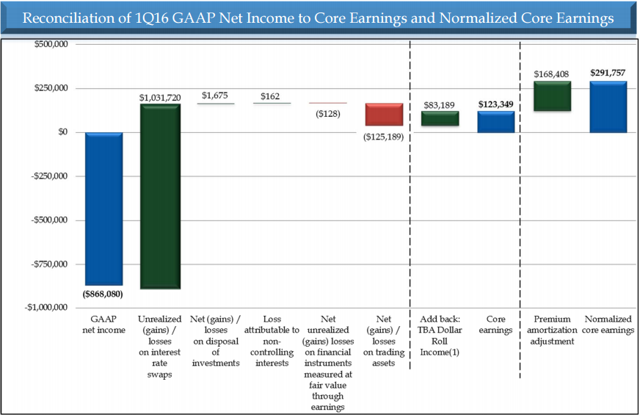 Mortgage REITs must payout 90% of its earnings by law, and Annaly is only paying out 90% of its earnings currently, with an net income of $291 million. In addition, the REIT is only leveraged at 6.2x currently (compared to 6.5x and 7.1x with competitors AGNC and ARR) and current net spreads are at historical lows. As a result, Annaly will have to increase their dividend payouts or lower their leverage to maintain its status as REIT. However, since leverage is only 6.2x currently, it is likely that Annaly will bump its dividend to $0.31 to $0.33 per share in the coming quarters to realign the dividend payout with its earnings.
Current Valuation
Annaly is the bluechip of mortgage REITs with a phenomenal performance record and a market cap of 10 billion. With its industry leading position in mind, Annaly deserves a premium compared to its peers. However, the company's current valuation is rather expansive. Here is a comparison with its peers.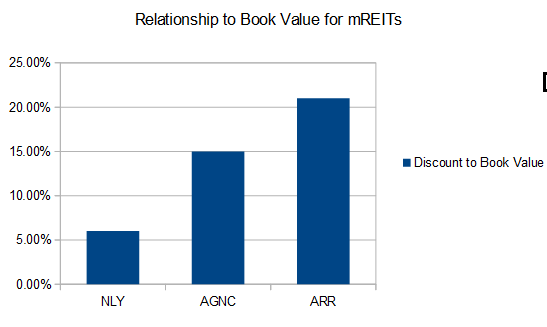 Currently, AGNC (market cap 7.0 billion) valued at 15% discount to book and Annaly (market cap 10 billion) valued at only 6% discount to book. As a result, Annaly's shares are not attractively valued despite its industry leading status. It may be better to wait to purchase the company.
Fundamentals Summary Versus Competitors
Finally, here's a chart summarizing the information for NLY and its fundamental position to its main competitors.
| | | | | | | |
| --- | --- | --- | --- | --- | --- | --- |
| | Discount to Book | Dividend Yield | Market Cap | Leverage | Dividend Sustainable? | Related Articles |
| ARR | 21.0% | 12.8% | 765M | 7.1x | Yes | Click Here |
| AGNC | 15.0% | 12.4% | 6.41B | 6.5x | Yes | Click Here |
| NLY | 6.0% | 11.2% | 10.0B | 6.2x | Yes with possibility of slight dividend increase | Current Article |
Position Sizing, REIT Taxation and Tax Sheltering
Annaly Capital Management is the bluechip amongst mortgage REITs and its status in an investor's portfolio should be treated as such. A large holding in Annaly is always a great cornerstone to a income portfolio. However, it is advisable to keep NLY out of most cash management accounts because mortgage REITs and other REITs are fundamentally different to other companies with regard to their taxation structure - REITs do not pay corporate income tax. In exchange for this benefit, the company must payout >90% of its comprehensive income to shareholders to stay as a REIT and benefit from the no income tax treatment.
Since REITs do not pay corporate income tax, the shareholders receiving the dividend will have to pay the ordinary income tax at their marginal rate on every dollar received, amounting to a large tax bill. To avoid this tax, a Roth IRA account or self directed 401(k) is perfect for its tax sheltering effect on these assets. In fact, holding REITs in tax sheltered accounts create a situation where all earnings are distributed untaxed. In contrast, a normal corporation would have to pay corporate income tax (~50%) and its dividends are also taxed (15%).
Conclusion
Annaly Capital Management is the bluechip of mortgage REITs out there and the company has a long history of delivering superior returns. The company should be considered a cornerstone of an income portfolio, producing incredible and consistent dividends. However, the company is currently not attractively priced compared to its competitors as most mREITs are significantly cheaper than the company. As a result, the author recommends waiting for a more attractive price or taking a looking at other mREIT companies for now, including AGNC or ARR. However, there is nothing wrong with purchasing a high quality company at reasonable prices, and buying Annaly at the current price would not be a mistake.
Disclosure: I am/we are long NLY.
I wrote this article myself, and it expresses my own opinions. I am not receiving compensation for it (other than from Seeking Alpha). I have no business relationship with any company whose stock is mentioned in this article.