Introduction
Tupperware Brands Corporation (NYSE:TUP) is a company that's a household name in the United States and around the world, due to its popular and ubiquitous brand of containers and other kitchen products. The company also sells personal care products through its Avroy Shlain, BeautiControl, Fuller, NaturCare, Nutrimetrics, and Nuvo brands.
From the outside, the company has many of the traits of a classic value stock. It's large, it has tremendous brand recognition, and it makes a simple product that people will want for a long, long time. But I was completely mistaken.
Much to my surprise, the company actually seems to be in decline, with earnings, cash flow, and book value decreasing over the past few years. The company is also experiencing no growth in emerging markets, which are the only places it truly can hope to grow into the future.
I was disappointed to find that Tupperware would actually be a very unwise investment.
Earnings
The company's net sales decreased from 2014 to 2015, going from $2.6 billion to $2.3 billion. The decline was a result of lower sales from Europe, where sales went from $730 million to $605 million, Asia, where sales went from $850 million to $779 million, and from beauty products in North America, where sales went from $291 million to $240 million. Before 2015, net sales were somewhat stable. Sales were roughly $2.58 billion in 2011 and 2012. In 2013, they rose to $2.67 billion and went to $2.6 billion in 2014. The relative stability of the sales in prior years makes the decline from 2014 to 2015 more alarming.
The decrease in net sales, the company says, is mostly a result of currency exchange rates. If sales were adjusted for currency exchange rates, they would have stayed constant in Europe and would have increased by 1% in Asia Pacific. Sales of beauty products in the United States decreased by 6% after adjusting for exchange rates - and decreased by 17% without accounting for exchange rates.
Unfortunately, net income has been decreasing over the past few years. It went from $274 million in 2013 to $214 million in 2014 to $186 million in 2015.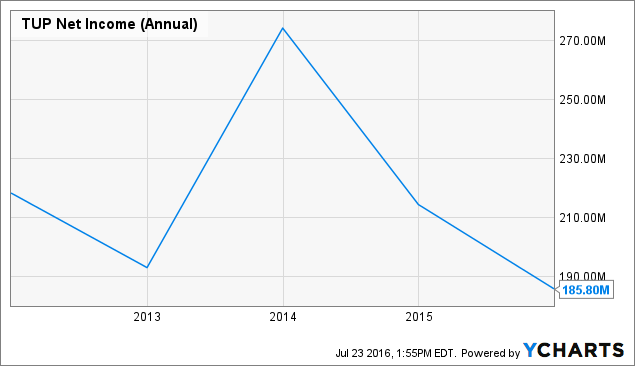 TUP Net Income (Annual) data by YCharts
Overall, net income has somewhat decreased over the past five years. However, it's interesting to note that it increased dramatically from 2012 to 2013, a closer look at the statements of income reveal the reason behind the sharp increase: The company had roughly $80 million more in extra impairment charges in 2012 than it did in 2013, which were infrequent or one-time charges that definitely deflated the company's net income value for 2012, thus making the gain from 2012 to 2013 look astonishing when it really wasn't.
According to its 2015 annual report, the company considers the need for an impairment charge when "events occur that indicate that the book value of a long-lived asset may exceed its recoverable value. Upon the sale or retirement of property, plant, and equipment, a gain or loss is recognized equal to the difference between sales price and net book value." If these non-routine charges are accounted for, net income stays roughly the same from 2012 to 2013.
The company's recent earnings record doesn't look stellar. Its net sales have declined over the past few years while its net income has also decreased in the aggregate. There doesn't seem to be any growth in business.
Cash Flow
The company's cash flows have a similar pattern to its net income. Cash flow from operations went from $299 million in 2012 to $324 million in 2013 to $284 million in 2014 to $226 million in 2015, a steep overall decline. The decline in 2014 was a result of $15 million more in accounts payable and an overall decrease in net income, and the decline in 2015 was, again, a result of much lower net income to start out with.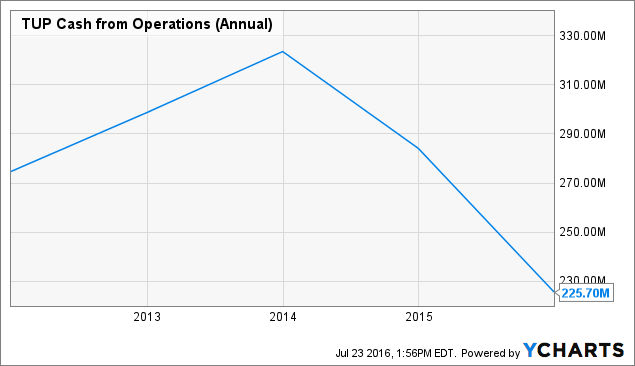 TUP Cash from Operations (Annual) data by YCharts
The chart above shows the company's decline in cash flow over the past few years. It's important to keep in mind that it would have had a longer run of declines was it not for the one-off impairment charges mentioned above.
Book Value
In keeping with the story line, the company's total assets declined from $1.77 billion in 2014 to $1.6 billion in 2015. Although cash on hand increased slightly from $77 million to $80 million, the company had greater inventory, greater accounts receivable, and greater property, plant, and equipment value in 2015 than it did in 2014.
Total current liabilities decreased from $740 million to $614 million. Long-term debt went from $612 million to $608 million. Overall, shareholders' equity decreased from $186 million to $161 million. And as the chart below shows, the company's book value has been declining for quite some time.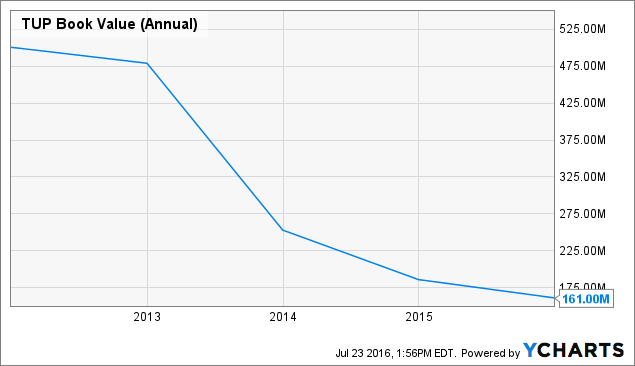 TUP Book Value (Annual) data by YCharts
Despite the sharp decline, the company's P/B ratio is still roughly 18.5, which is remarkably high.
Reasons for the Decline
As was mentioned above, the company's sales have decreased over the past few years, and the decline has led to an overall decrease in income. The company says that its losses in Europe and Asia from 2014 to 2015 would have been nullified if exchange rates were accounted for. This really isn't a satisfying explanation since the decline in sales was steep and the company lost significant ground at home in the US, but even if the investor does accept it, it's important to realize that this doesn't explain the whole problem. Sales have declined overall over the past few years. It's important to look at the reasons for declines in years before 2015.
Sales in Europe declined from 2013 to 2014 as a result of a "reduced volume of products sold." Sales decreased in Germany as a result of a "lower number of active sellers." Reported sales were even from 2013 to 2014 in Asia, but increased 6% if exchange rates are taken into account. Tupperware sales in North America decreased 2% from 2013 to 2014. Beauty product sales in North America decreased 6% from 2013 to 2014 after exchange rates were taken into account. Sales in South America increased 3%. It's safe to say that despite some increases here and there, the company's performance in 2014 to 2013 was worse, irrespective of currencies.
One topic keeps coming up over and over again when the company discusses its declines: its sales force. The company seems to have trouble training and motivating its sales forces across all of the regions it serves. And there seems to be an inescapable link between poorer sales and a smaller or underperforming sales force. Sales forces underperformed in the emerging markets of India and Turkey, in Mexico, and in the beauty product segment in North America.
The problem and the inherent risk in having sales forces is the amount of control the company has. As it says in the company's latest annual report, "The Company frequently makes promotional offers to its independent sales force to encourage them to meet specific goals..." The problem is that simply "encouraging" the sales force to do better doesn't mean that they will do better, as is evidenced from the inconsistent performances over the past few years. Sales forces in some regions, like China, seem to perform well, whereas others in the US and Russia, for example, seem to underperform. As a result, the company's products aren't being sold as well as they probably could be, which is impacting the bottom line.
The company has no retail presence at all, despite the fact that it has a powerful brand and would still be able to make a healthy profit with less risk if it didn't have a direct-to-consumer approach.
With that in mind, it's also important to note that the company's beauty products segment seems to be completely dissociated from its other segment. When I was first researching the company, I was surprised to find that they sold products in a segment as removed from containers as beauty products. There are a few reasons the decision to start selling beauty products was a bad idea.
Firstly, the company can't use its recognizable brand name to sell beauty products. It also had to compete against much more popular and famous brands for the same customers, and it also had little experience and expertise in the field. It's no surprise that the company's beauty product sales have been the worst performing amongst all segments. If the company had moved on to selling other kitchen-related products like faucets or drawers, it would have had a much greater chance of success. The decision to enter the beauty field was a poor one and sales are suffering as a result.
The inconsistent sales force performance and the poor choice to enter the beauty product industry have been the biggest reasons for the company's overall poor performance in the past few years.
Price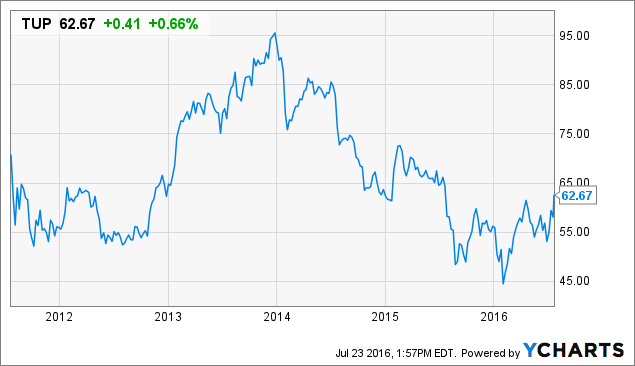 The price of Tupperware's stock adequately reflects its performance over the past few years. The company has lost a third of its value since 2014. In many cases, a price decline could signal an opportunity to buy, but not in the case of Tupperware. The stock's change in price is a reasonable response to its recent - and seemingly never-ending - woes.
In Conclusion
I approached Tupperware with a great deal of optimism. I like investing in companies that are leaders in their field and have great brand recognition, but are overlooked because they aren't new, flashy, or in the news a lot. But I was disappointed.
What I thought was a company that might be too boring to be noticed while simultaneously carrying on its successful business through its world-famous brand was actually a company in decline. Its method of sales as well as its decision to enter a field it had neither the experience nor the expertise to enter into also reflect poorly on the state of the business as a whole. Furthermore, it's also uncertain if the exchange rate woes that have impacted the company's sales over the past few years will continue to have an impact or subside. And for these reasons, I don't think the business's performance will improve and I don't think investors should buy Tupperware, even at these prices.
Those that agree with my analysis might feel like Tupperware might be a good shorting opportunity, but I don't agree. Firstly, it's important to keep in mind that short positions usually fail, since the market has a tendency to increase in value over time and the shorter has limited upside with essentially limitless downside. So, a short position is only viable if the odds of success are incredibly high. Although I don't think Tupperware is a sound investment, its past earnings performance has shown that it's capable of being unpredictable. And if the shorter is caught up in any bad luck, his or her position will suffer.
Disclosure: I/we have no positions in any stocks mentioned, and no plans to initiate any positions within the next 72 hours.
I wrote this article myself, and it expresses my own opinions. I am not receiving compensation for it (other than from Seeking Alpha). I have no business relationship with any company whose stock is mentioned in this article.