IBM (NYSE:IBM) is showing upside potential of over 10% in the current market environment. For technology investors now is an opportune time to buy and hold IBM for the long-term and here is why.
On Monday, July 18, IBM released its second quarter earnings. In trading on Tuesday morning the stock opened higher at $161.78. This is only a small reflection of where the stock is going. The second quarter earnings showed the company's progress in strategic imperatives, cloud and cognitive cloud, which will fuel the stock's growth over the near-term and long-term.
Second quarter revenue for IBM was $20.24 billion. The second quarter revenue report beat analysts' average estimate by $210 million, alone a good sign for the company, which has not consistently matched the Street's expectations. For the second quarter, revenue was down 2.7% from the comparable quarter but increased 8% from the first quarter. Given the cyclicality of IBM's strategic imperatives and business bookings, the strong quarter over quarter growth is more in line with its total outlook. The 8% growth rate also gives even more support for its strategic imperatives.
Further evidence of the company's strengthening can be seen in the quarter over quarter comparisons in earnings. Earnings per share for the second quarter were $2.95 -- an increase of 26% from the first quarter of 2016.

Strategic Imperatives
IBM's ongoing strategic imperatives plan is improving revenue and earnings growth. The firm's key focus areas under its strategic imperatives include cloud, analytics and engagement. In the second quarter, revenue from strategic imperatives was $8.3 billion. Strategic imperatives revenue increased 12% from the comparable quarter. Revenue from cloud alone was $3.4 billion, increasing 30% from the comparable quarter. Analytics revenue increased 5% from the comparable quarter. The firm's third strategic imperative category, engagement, includes mobile and security. Both mobile and security showed significant growth in the second quarter, up 43% and 18%, respectively. The firm expects to see continued rates of growth at these levels in the near-term.
The focus on strategic imperative metrics for IBM is a solid way to report on the firm's business growth. As a huge conglomerate, the breakdown of strategic imperatives along with the newly outlined business segments provides much greater transparency for investors and makes investing in the stock much more compelling. The strategic imperatives are driving growth and success at IBM. Highlighting the firm's initiatives make this much clearer against the broader framework which shows negative revenue growth of 2.7% for the quarter on revenue of $20.24 billion.
Not only do the strategic imperatives highlight the revolutionary growth occurring at IBM, they also spotlight how IBM is leading an epic time in the industry. IBM's cloud revenue was reported at $3.4 billion for the second quarter, an increase of 30%. This is only expected to improve as IBM continues to lead with solutions for the cloud in the near-term and long-term. Where IBM is ahead of its competitors is in cognitive, and this is a main reason why investors can bet on IBM.
Cloud
In cloud, IBM is doing revolutionary things. Cloud revenue accounted for $3.4 billion in the second quarter, which included public, private and hybrid cloud. Cloud is only going to continue to grow, making now an opportune time for investors to buy into both the company's growth and the technology's growth. For the second quarter, the firm's technology services and cloud platforms business segment accounted for $8.857 billion and increased 5% from the first quarter of 2016. Earnings in technology services and cloud platforms increased 396% from the first quarter of 2016. Profit margin in technology services and cloud platforms was also higher by 0.70%. In cloud computing, IBM is leading in cloud video services, quantum computing, internet of things, blockchain solutions and hybrid cloud infrastructure services. All of these standalone cloud programs fueled growth in the business segment with earnings in cloud expected to continue growing exponentially.
Cloud and Cognitive
The added incentive for IBM as a cloud investment is its cognitive innovation. Cognitive and cloud are linked at IBM, with each driving the other. As you will find each quarter, cloud revenue contributes significantly to the firm's cognitive solutions business segment. In the second quarter, cognitive solutions accounted for $4.7 billion. In the business segment, contributing cloud revenue grew 54% from the comparable quarter.
Cognitive solutions revenue was up 17% from the first quarter. Earnings in cognitive solutions increased 43% from the first quarter of 2016. Profit margin in cognitive solutions also improved by 0.20%.
The high growth numbers that can be evidenced in IBM's cognitive business are primarily driven by Watson. Watson is IBM's leading cognitive solutions product. Watson's programming is linked to the cloud, thus requiring cloud solutions and systems. Watson is the firm's leading artificial intelligence capability, and the leading artificial intelligence solution in the industry. Additionally, the firm has added Watson Health which provides cognitive solutions specifically for healthcare. New initiatives similar to Watson Health are likely to follow for other industries.
Currently, some of the initiatives with Watson include Watson for cybersecurity, Weather Channel Watson Technology, Watson Engagement Advisor and Watson Company Analyzer. Within all of these initiatives, IBM cloud is being utilized in new and extensive ways. Earnings expectations for cognitive solutions are expected to continue growing on a quarter over quarter basis.
The firm's cloud and cognitive growth along with the strategic imperatives give the firm upside potential of approximately 10% in the current market environment and potentially even more over the long-term. Annualized earnings per share growth over the next five to ten years is estimated at approximately 8%, according to Morningstar data. Free cash flow levels also continue to remain high for IBM. Over the past five years it has reported one of the industry's highest free cash flow to revenue ratios at 14.32%.
At its current price of $162.07, the company's shares look to increase to $184.99 given current expectations, with even greater growth potential over the longer term. Using a pure price to earnings measure the stock's price is valued at $178. This accounts for the current projection of $13.50 for annual earnings per share in 2016 and a forward price to earnings ratio of 13.17.
Overall, the growth in cloud and cognitive along with the continued gains expected in the market make now an opportune time to buy and hold IBM. As investors continue to search for yield in equities, IBM recently increased its dividend, now paying a forward dividend yield of 3.46%.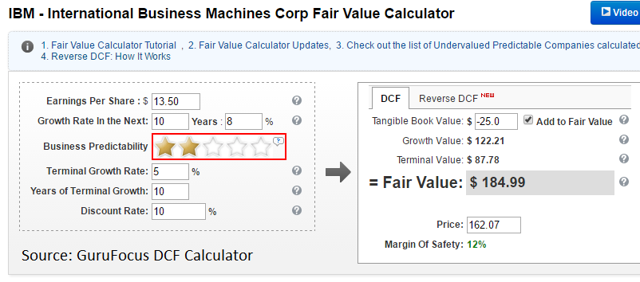 Disclosure: I/we have no positions in any stocks mentioned, and no plans to initiate any positions within the next 72 hours.
I wrote this article myself, and it expresses my own opinions. I am not receiving compensation for it (other than from Seeking Alpha). I have no business relationship with any company whose stock is mentioned in this article.