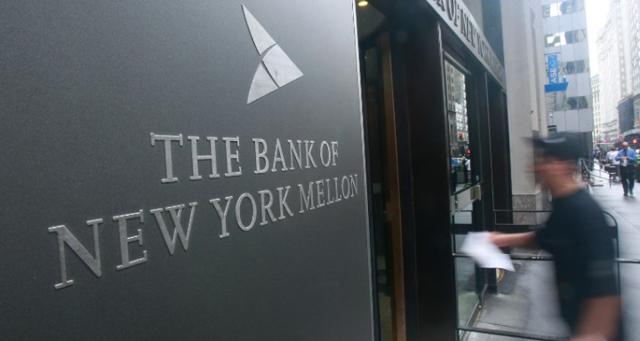 At times in the past, I've been critical of Bank of New York Mellon (NYSE:BK). I've thought its fee-heavy model was setup for underperformance against a back drop of rising rates and at times, its valuation was one that I thought was unreasonable. However, shares have sold off and made the stock cheaper and a complete lack of follow through from the Fed means that rates are lower than they were last year, not higher. These and other factors led me to flip bullish on BK earlier this year as it reached a trough valuation and heading into the Q2 report, I said BK was a buy. But now that the report is out and BK has rebounded back near $40, is it time to sell it again?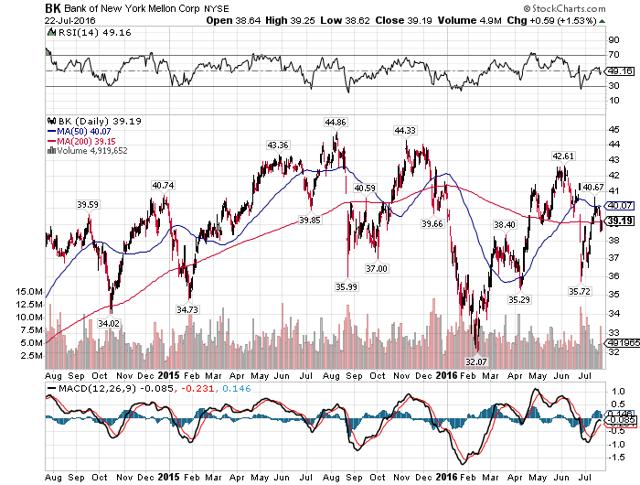 In what has become a very common theme for banks in Q2, revenue was down for BK as well. The 3% loss isn't devastating by any means and as we'll see later, actually allowed for some EPS growth. But before we get to that, let's take a look at the composition of the revenue number.
Every major revenue segment saw a decrease with the exception of a marginal gain in investment services. Otherwise, investment fees fell 5%, forex revenue fell 8%, investment and other revenue fell and net interest revenue was down as well. In other words, Q2's revenue wasn't exactly great but this is what we've seen this earnings season from the banks. Still, as I mentioned, the fact that revenue growth was negative wasn't a big deal because we all knew it was coming; the fact that it was so manageable is a plus.
The reason is because the rest of BK's operating metrics - namely, expenses - performed better and thus, earnings still grew. BK has been working on its cost base for a long while now and the results have been terrific. Q2 saw another 4% decrease in noninterest expense thanks to lower spending everywhere including some operating leverage as well as the impact of the dollar. BK's tight expense controls have been working wonders for its bottom line in the last few quarters, remedying one of my biggest pain points with the stock from a couple of years ago. BK is no longer the bloated, inefficient behemoth it used to be and that work continues through today; that bodes very well for earnings going forward.
We know revenue is weak for BK and is going to continue to be but with the catalyst of lower costs and out next topic - capital returns - BK should continue to be able to grow EPS even absent top line expansion. BK received approval from the Fed to buy back $2.7 billion in stock - good for ~6.4% of the float at today's price - and raise its dividend by 12%. BK is no income stock but it is getting closer as the new yield is closer to 2% and BK has many years of increases ahead of it. I'm more excited about the buyback, however, as it will add a tremendous tailwind to EPS growth and in concert with expense reductions, has the ability to make a meaningful impact on the stock's valuation.
Analysts have BK hitting 10% EPS growth next year on 5% sales growth. But if BK does hit 5% sales growth, its EPS expansion will be well in excess of 10%. Thus, either the market doesn't think BK can hit 5% sales growth or it isn't respecting the buyback and expense reduction efforts. If BK gets 6% EPS growth from its buyback and continues to reduce expenses at a rate of 3% or 4%, even flat revenue would produce something like 9% or 10% EPS expansion. If we throw in 5% revenue growth, that additional money would flow almost directly to the bottom line, indicating that actual EPS growth would likely be more like 13% to 15%, not 10%. At any rate, whichever combination of metrics you choose, estimates are very achievable next year for BK and that's great news. Even if you think BK will produce flat spending next year, it will still likely beat 10% growth.
At 11.7 times next year's earnings, BK is on the higher end of big bank valuations. But it also has better growth prospects than many other big banks as double digit EPS growth isn't exactly commonplace these days in the sector. And with what I'd characterize as very achievable EPS growth estimates for next year, BK looks setup well to meet or exceed those estimates. It seems analysts are too pessimistic and if BK does hit 12% or more EPS growth next year - which it should - we should see some multiple expansion as it is still trading for a lower PE than it has historically. In other words, BK still looks fairly cheap to me here and while the easy money has been made, I think there is more on the table.
Disclosure: I am/we are long BK.
I wrote this article myself, and it expresses my own opinions. I am not receiving compensation for it (other than from Seeking Alpha). I have no business relationship with any company whose stock is mentioned in this article.