One of my favorite investment themes is water, one of nature's most interesting assets.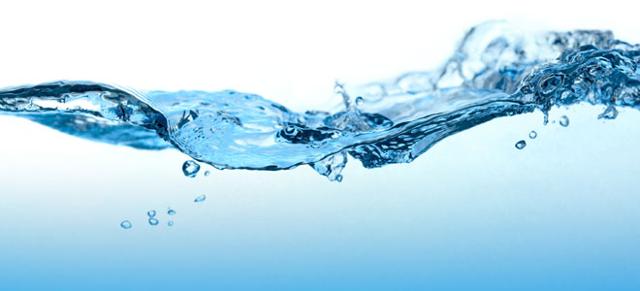 The issues concerning water are clear and very straight forward. We are all aware of problems such as water scarcity which is becoming increasingly worrisome due to the growing population on earth. This problem goes hand in hand with wasting water. Either way, water is the circle of life and apparently a lot of people on this planet are in lack of it. The given fact that the process of obtaining 'useful' water is rather complicated doesn't help either. All in all, water is likely to become more and more valuable over time unless a solution is found to most of the water related issues.
"The process of recycling Water"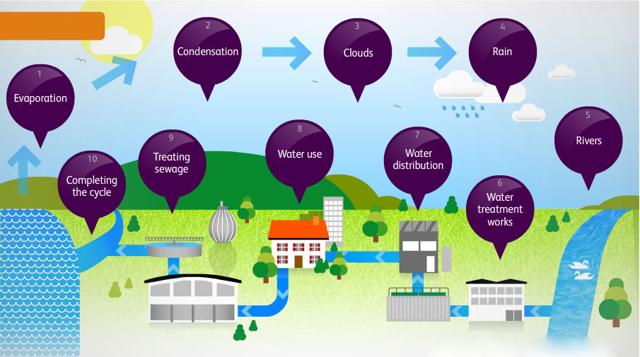 Recent figures show that the economy is slowing down and voices of concerns are addressed as the stock market had an impressive run for quite a few years. This includes the variety of water related firms I've covered on Seeking Alpha. So far I've written 9 specific water-related investment articles. The previous parts are the following: Part 9: How to Hedge A Water Portfolio (link), Part 8 (Kurita Water Industries), Part 7 (Suez Environnement (OTCPK:SZEVF) Part 6 (Veolia (OTCPK:VEOEF)), Part 5 (American Water Works (AWK)), Part 4 (Water ETFs), Part 3 (PowerShares Global Water Portfolio ETF (NYSEARCA: PIO)), Part 2 (First Trust ISE Water Index ETF (FIW)) and Part 1 (PowerShares Water Resources Portfolio ETF (PHO)).
After looking at water related investments in the US (American Water Works), Japan (Kurita) and France (Veolia and Suez), it's time to look at England related water stocks. As we all know, Britain is currently in a little bit of distress regarding the outcome of the EU referendum, where a small majority of the population voted out of the European Union.
Water In Britain: Why Water Is Important On An Island
Water in Britain is split up under a variety of water related utility firms as can be seen in the picture underneath: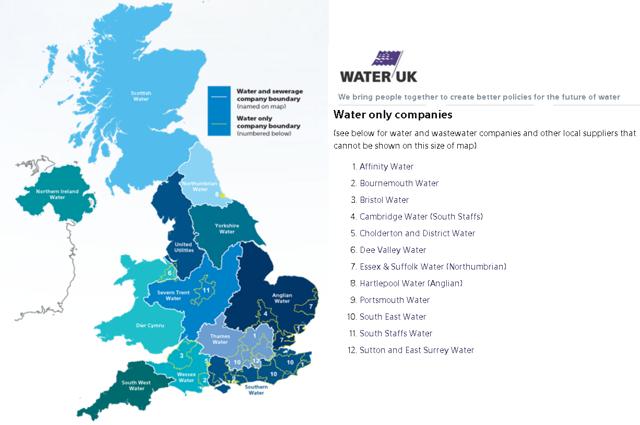 Source: Wikipedia: "Water Utilities In The UK"
The largest listed water utility providers are United Utilities (OTCPK:UUGWF) (OTCPK:UUGRY) and Severn Trent (OTCPK:SVTRF) (OTCPK:STRNY) with both revenue around 1.8 billion in pounds. Thames Water (not listed), is a little bit larger. Britain has a privatized water industry which effectively is a monopoly as people don't really have a choice over who provides their water and sewage services, all price rises have to be approved by the regulator, Ofwat. Annual price rises or cuts are usually set every five years so that companies can plan long-term investment decisions with certainty. The regulator has prices fixed until 2020 after that another 5 year plan will be set in motion.
Another important source is Water UK. This institution has an informative website which has educational information (financially as well as technical) published on its portal. Many in specific, such as a paper released by PWC: regards the future of the water and waste industry in the UK. An interesting read I must say.
Additionally, for the financial enthusiast, Water.org.uk has an interesting financial database where they publish the like-for-like comparison between UK water utilities with metrics such as capital expenditure grants, cash flow statements, profit-loss, balance sheets and much more.
The future of "Water businesses" in the UK
The water industry in the UK got privatized in 1989. Now years later there are plans are to open this market bit by bit. The category of water in the UK can be split as wholesale and retail, the first being the actual pipes (and more…) while retail focuses on the customer-facing perspective such as billing, account handling, complaints and more.
In England and Wales only business customers using five million liter a year (or more) can presently choose their retail service provider: however in April 2017 the British Government plans to do away with this five million usage threshold. This will expand the current £540 million-a-year water retail market to one worth £2.5 billion.
Water in the UK legislation: timelines
2011 - Ofwat reduced the water use threshold for contestable business customers to five million liter a year, opening up a market worth £540m a year with 29,000 customers for retail service providers to compete for.
2012 - The Government's Water Bill set out a timescale for full liberalization of the water retail market for business customers in England and Wales, bringing it into line with Scotland.
2017 - The Government is expected to liberalize the water retail market to all business customers in England and Wales, as is already the case in Scotland. This will kick off a nationwide competitive market with total revenues £2.5bn a year.
Severn Trent & United Utilities: Investors Paradox
Let's look at the 2 major listed Water related firms in the UK:
United Utilities: Helping Life Flow Smoothly

United Utilities has a license to provide water and sewage services to around seven million people in the North West of England (as can be seen in the graph earlier in this article). United Utilities helps life flow smoothly (their main slogan) for about 200,000 businesses in their region. United Utilities also participate in the North West's wastewater cleansing.
Financially, the firm is increasing revenue and business in total but got hit in operating profit last year chiefly driven due regulated price control.

Source: United Utilities
Looking at the key performance indicators, everything is heading in the right direction, but it quickly emerges that price control, regulation and debt are not too far behind. Brexit on the other hand might be good for United Utilities as the borrowing costs is likely to decrease and dividend is linked to inflation. Which seem to benefit internal firms like United Utilities. Some risks are outlined by their auditor (including the response of United Utilities).
Stock price wise, United Utilities has struggled to top the share price pre-crisis 2008/2009: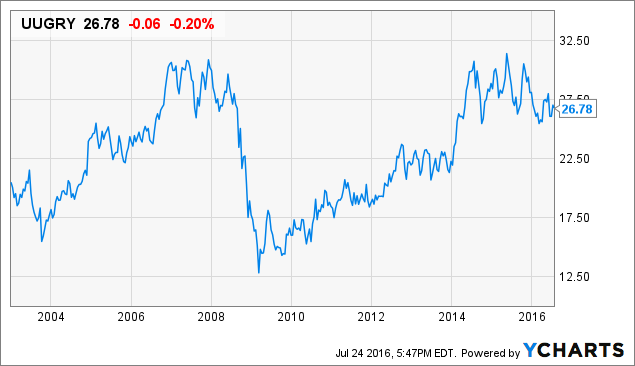 To conclude, I believe United Utilities has the opportunity to continue its growth, also with the market opening up next year. Whether its location is advantageous mostly depends on the outcome of the Brexit negotiations which will likely start in the end of this year. The shift of immigrants, businesses, changes in demography might all eventually impact United Utilities as it does depend on the overall strength of the UK economy. Looking at their website on how the firm is trying to get ready for the opening of the water market in 2017 isn't making me confident: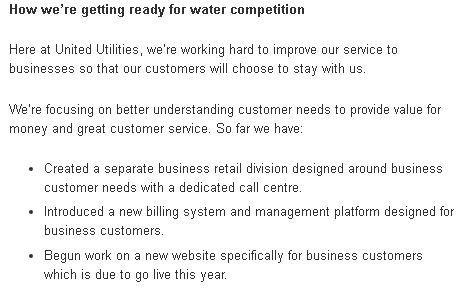 Source: United Utilities
Severn Trent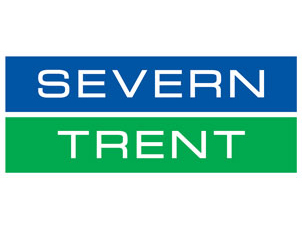 Severn Trent Water is one of the largest regulated water and sewerage companies in England and Wales which provides services to more than 4.2 million households and businesses in the Midlands and mid-Wales.
Severn Trent offers many similarities to United Utilities with a heavy loaded debt position as well as offering inflation linked dividend. The firm has been enjoying the fact that borrowing costs is low, but it pats itself on the shoulder for being able to offer the lowest prices to costumers, something I've never been fond of as investor as I believe firms shouldn't keep prices the lowest in the markets but rather go for the best price to quality ratio.
Interestingly enough, both firms (United Utilities and Severn Trent) agreed on a joint venture to hold hands for business customers when the market opens in 2017. Based on the accounts of UU and Severn Trent and before allowing for any financing or synergy effects, the joint venture would have had sales of £940.2m, gross assets of £200m and profit before tax of £9.7m for the year ended 31 March 2015. It will be a 50/50 JV and after completion, UU and Severn Trent will account for the JV, through share of profits of joint ventures, using equity accounting.
It is highly likely that the water sector in the UK will continue to see more M&A in the run up to the opening of the market.
Price wise, both firms have done the same dance over the last few years: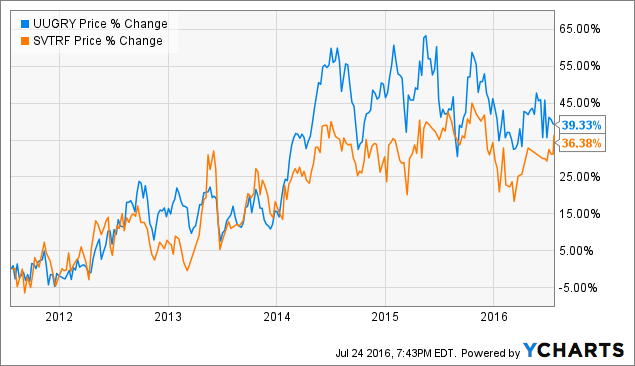 Comparing the two looking at profit margin, revenue and free cash flow per share, it's clear there are many similarities between the 2 water firms: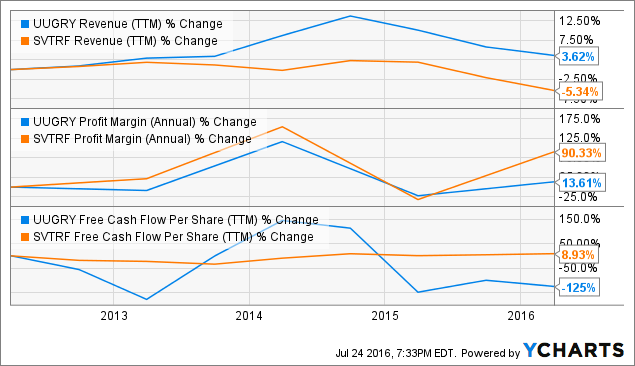 Britain: Water Preservation will become a reality on this island
Research indicates that Britain is actually under quite a bit of stress when it comes to water preservation. One should not just think of water as in human consumption, but also for other uses, such as for cattle and other livestock.
Both Severn Trent and United Utilities have outperformed the major British index (FTSE) over time (the last 5 years), yet United Utilities had a better performance than Severn Trent.
Looking outside the English borders and it can be seen that French counterparts Suez and Veolia performed much better than Severn Trent and United Utilities. The French or the British, differences in culture should also be accounted for when looking at the how these businesses are driven.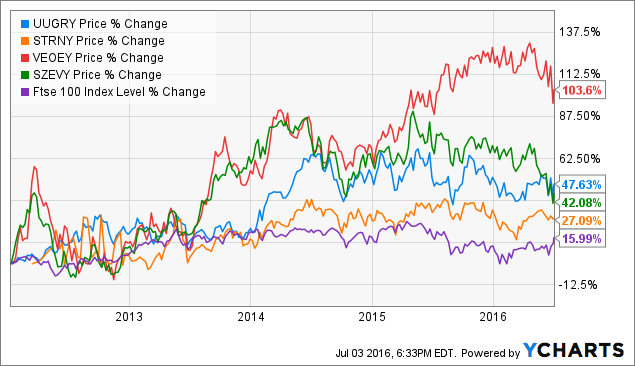 Conclusion
The United Kingdom has a specific setup of water utilities and I'm not convinced this is the best setup from an investor perspective. Especially as investor interested in water stocks, opportunity is abundant as these stocks are listed all over the world. Nevertheless, similar to Veolia and Suez, these 2 British Water stocks have interesting characteristics to offer. Lower borrowing rates for both United Utilities & Severn Trent will be important for the business going forward as dividend this way will keep the long-term investor interested.
Disclaimer: This article provides opinions and information, but does not contain recommendations or personal investment advice to any specific person for any particular purpose. Do your own research or obtain suitable personal advice. You are responsible for your own investment decisions from beginning to end. This information is not a recommendation or solicitation to buy or sell securities, nor am I a registered investment advisor. I have no business relationship with any company whose stock is mentioned in this article.
Disclosure: I/we have no positions in any stocks mentioned, and no plans to initiate any positions within the next 72 hours.
I wrote this article myself, and it expresses my own opinions. I am not receiving compensation for it (other than from Seeking Alpha). I have no business relationship with any company whose stock is mentioned in this article.
Editor's Note: This article discusses one or more securities that do not trade on a major U.S. exchange. Please be aware of the risks associated with these stocks.