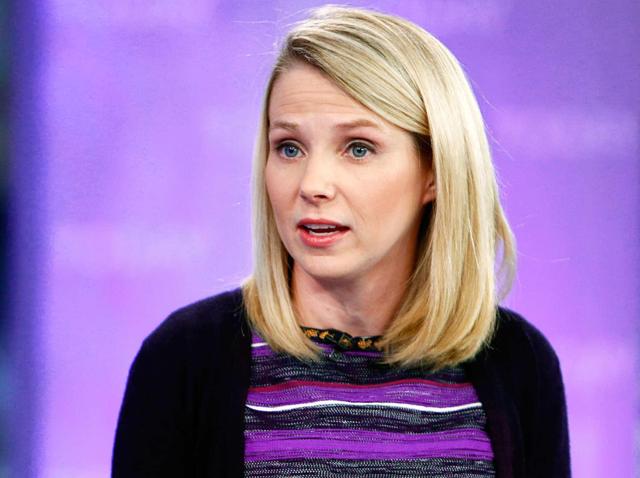 Yahoo CEO Marissa Mayer
The fight for Yahoo (YHOO) is apparently over. Reports suggest Verizon (NYSE:VZ) is set to announce the acquisition of Yahoo's core assets for $4.8 billion:
Verizon Communications Inc. will announce plans to buy Yahoo's core assets for a bit more than $4.8 billion before the market opens, said two people with direct knowledge of the situation who asked not to be identified because the information isn't public. The deal includes Yahoo real estate assets, while some intellectual property is to be sold separately, the people said. Yahoo will be left with its stakes in Alibaba Group Holding Ltd. and Yahoo Japan Corp., with a combined market value of about $40 billion.
Verizon is expected to merge Yahoo with AOL and offer Yahoo's vast content and advertising services to Verizon's customer base.
The Situation
Yahoo CEO Marissa Mayer has been scrutinized by several activist hedge fund managers and analysts. They encouraged her to [i] pursue "tax-advantaged" schemes to monetize the company's investment in Alibaba (NYSE:BABA) and Yahoo Japan (OTCPK:YAHOF), (OTCPK:YAHOY), and [ii] break up the search and display segments to increase shareholder value or [iii] merge the company with AOL to create synergies and maximize AOL's video ad technology. That dream appears to have become a reality.
Yahoo's core ad revenue from display and search has been in a steady state of decline. There has also been a shift in mix of ad revenue from Yahoo Properties to Affiliates. The company earns a lower margin on revenue from Affiliates because it has to pay transaction acquisition costs ("TAC"). Yahoo's Q2 revenue was up 20% sequentially but its revenue ex-TAC was down 2%.
After adding back restructuring charges, impairment charges and other one-off events, I derived Q2 EBITDA of $135 million, or a run-rate of $540 million. A purchase price of $4.8 billion equates to about 8.8x EBITDA.
Sum-of-the Parts
Yahoo closed Friday with a $37.4 billion market capitalization and a share price of $39.38. Based on the sum-of-the-parts, YHOO could be worth $51 or 29% above Friday's closing price.
Yahoo Core Business - $5 Per Share
This assumes the core business is being sold for $4.8 billion, as reported. How much of Yahoo's $6.4 billion net cash ($7.6 billion cash less $1.2 billion convertible notes) is transferred to Verizon remains to be seen.
Intellectual Property - $3 Per Share
Some intellectual property is being sold separately. According to the New York Post, Yahoo's intellectual property could be worth from $3 - $4 billion. I took the low end of the valuation range.
Yahoo Japan - $9 Per Share
Yahoo Japan has a market capitalization of about $25 billion. According to SA author Nicholas Mushaike, Yahoo has a 35.5% stake in Yahoo Japan. That would equate to a $9 billion value.
Alibaba - $33 Per Share
Alibaba has a market capitalization of $209 billion. Yahoo's 15% stake would be worth about $32 billion.
Takeaway
Including the reported Verizon deal, Yahoo could be worth $51 or about 29% above Friday's closing price of $39.38. The quirkiness of the deal is that investors would have to wait for Yahoo to sell its intellectual property and monetize its holdings in Yahoo Japan and Alibaba. That said, if YHOO approaches the $50 range then it may be a good time to sell as the arbitrage opportunity will probably have been realized.
Disclosure: I/we have no positions in any stocks mentioned, and no plans to initiate any positions within the next 72 hours.
I wrote this article myself, and it expresses my own opinions. I am not receiving compensation for it. I have no business relationship with any company whose stock is mentioned in this article.
Editor's Note: This article discusses one or more securities that do not trade on a major U.S. exchange. Please be aware of the risks associated with these stocks.