After having previously been a fan of BB&T (NYSE:BBT) due to its long history of paying a strong dividend, I flipped in recent quarters to a position of concern. BBT has long had a growth-by-acquisition strategy, something I'm vehemently against for any company in any sector. While acquisitions make sense in some cases, constantly buying competitors is not only expensive up front but is also very expensive for a long time while integrations are taking place. That leads to a long road of subpar earnings and as I explained in a recent article on BBT, that has me cautious still to this day. But the stock has reacted favorably to the company's Q2 earnings so is it time to start running with the bulls again?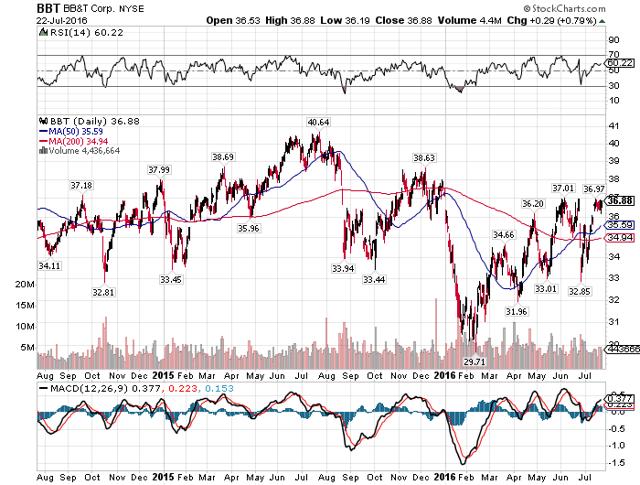 BBT's revenue flew higher in Q2 thanks to its recent acquisitions of National Penn and Swett & Crawford, both of which closed on April 1st. The National Penn purchase was a big one and added a sizable amount of revenue to the top line such that it grew almost 8% over the first quarter. That kind of growth is impressive for a bank in particular but again, consider the source; BBT isn't growth anywhere close to that quickly on its own.
At any rate, net interest income was up $89 million during Q2 thanks largely to the National Penn business, although combined NIM was down two bps to 3.41%. That's one of the strongest NIMs I've seen so far this earnings season and BBT is always good for that kind of production; it always has been. Its focus on bread-and-butter lending has always produced high NIMs relative to its peer group and that hasn't changed as it typically buys competitors with similar profiles. Fee income also increased during the quarter and now makes up almost 43% of revenue against less than 41% in Q1. That reduced reliance on NII could come in handy if rates stay lower for longer but if the Fed actually does hike at some point, perhaps it may keep a lid on potential revenue growth for BBT. We will just have to wait and see how it plays out.
So why am I so negative on constant acquisitions if we get huge revenue growth? In one word: expenses. I love revenue growth as much as the next guy but you have to consider what the acquirer is paying for that growth and in virtually every case of every acquisition I've looked at, the valuations are tough to justify. Not only does BBT have to pay sizable premiums to acquire its targets but it then has to sort through the mess of constantly integrating those targets. That leads to things like higher personnel expenses and in Q2, we saw just that.
Total noninterest expense was up in the mid-teens in Q2 as we saw BBT struggle with not only much higher personnel costs (+$124 million) but also merger-related costs (+$69 million). This is exactly what I mean when I say acquisitions are expensive; they are expensive to initiate and expensive to finish and that has continued to cost BBT dearly in the past couple of years via its enormous number of purchases. BBT's efficiency ratio in Q2 was 59.3% against 58.3% last quarter; you'd think a company with 7% sequential revenue growth could achieve some sort of scale but you'd be wrong. That's the problem with constant acquisitions; profit margins tend to suffer because it is so very expensive to make them work. And as efficient as BBT is at extracting revenue from its portfolio with its mid-3% NIM, its efficiency ratio should be a lot lower but it isn't and it won't be as long as it continues to buy everything in sight.
BBT's other metrics remain strong including deposit growth, loan growth and credit losses. But then again, we'd expect nothing less from BBT. And that's what's so frustrating for me; BBT is one of the better run regional banks in the US and I want to own it but it continues to throw hundreds and hundreds of millions of dollars at merger expenses and it is killing its profitability. I've said that if BBT ever stopped buying so many competitors it could be a truly special bank and I still believe that. But Kelly King has proven that he doesn't know how to stop and that scares me away from the stock. Indeed, one look at the chart will show that the strategy hasn't worked; despite huge growth in revenue, the stock is flat over the past two years.
After the Fed approved BBT's dividend increase, the stock is yielding right at three percent. I've also said in the past that if you don't care about capital gains, BBT is a fine bond replacement. After all, it is yielding twice the 10Y Treasury and to be honest, BBT has a much better credit profile than the US government. So if that's your thing, you can certainly do a lot worse than BBT. In addition, its payout is very modest, leaving plenty of room for further gains down the road; think of it as a bond with an increasing coupon over time. But as an earnings growth story, it comes up short.
Analysts have BBT hitting 11%+ revenue growth this year but only 6% EPS growth; that's my problem with this stock. BBT is great - or at least it would be if it would stop with the acquisitions. At today's price, it is trading for 12 times next year's earnings, one of the highest valuations in the entire sector. Valuations have come down for the banks in the last couple of quarters but not for BBT and I think that is a mistake. Given the recent rally, the current valuation and the fact that BBT has resistance at $37, $38 and $40 overhead, I think upside is very limited from here. Again, if you want a bond replacement, BBT is a great buy but for capital appreciation, it just isn't and nothing about Q2 changed that for the better.
Disclosure: I/we have no positions in any stocks mentioned, and no plans to initiate any positions within the next 72 hours.
I wrote this article myself, and it expresses my own opinions. I am not receiving compensation for it (other than from Seeking Alpha). I have no business relationship with any company whose stock is mentioned in this article.