Source: Kinder Morgan
Kinder Morgan (NYSE:KMI) shares have been on fire so far in 2016, thanks to a strong recovery in oil prices, as well as decreased uncertainty regarding its dividend, and capital funding sources.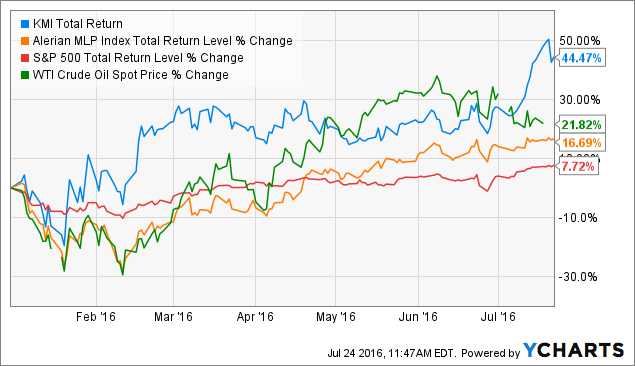 KMI Total Return Price data by YCharts
Of course, with the opportunity for "easy money" potentially gone value investors may be wondering if Kinder Morgan is still worth buying at today's prices. Read on to learn five key facts from Kinder's most recent earnings results to see how the company's turnaround efforts are going. More importantly, find out if Kinder shares are still worth buying today, despite its strong performance over the past seven months.
Mixed Q2 results due to ongoing weakness in energy markets
Source: Kinder earnings release
| | | | |
| --- | --- | --- | --- |
| Metric | Q2 2016 | Q2 2015 | Year-Over-Year Change |
| Revenue | $3.144 Billion | $3.463 Billion | -9.2% |
| Operating Income | $940 Million | $892 Million | 5.4% |
| Adjusted EBITDA | $1.762 Billion | $1.773 Billion | -0.6% |
| Distributable Cash Flow (NYSE:DCF) | $1.050 Billion | $1.095 Billion | -4.1% |
| DCF/Share | $0.47 | $0.50 | -6.0% |
| Dividend | $0.125 | $0.49 | -74.5% |
| Dividend Coverage Ratio | 3.76 | 1.02 | 268.6% |
Source: Kinder earnings release
| | |
| --- | --- |
| Business Segment | Year-Over-Year EBDA Change |
| Natural Gas Pipelines | 4% |
| CO2 | -15% |
| Terminals | 5% |
| Product Pipelines | 6% |
| Kinder Morgan Canada | 8% |
| Total | 4% |
As you can see, continued low oil and gas prices continue to act as a drag on Kinder's revenue and cash flow. However, nearly all of that weakness is a result of Kinder's long-suffering CO2 segment, with all other businesses showing positive earnings and cash flow growth.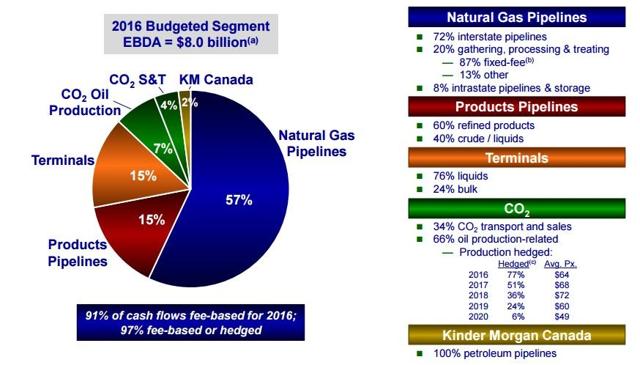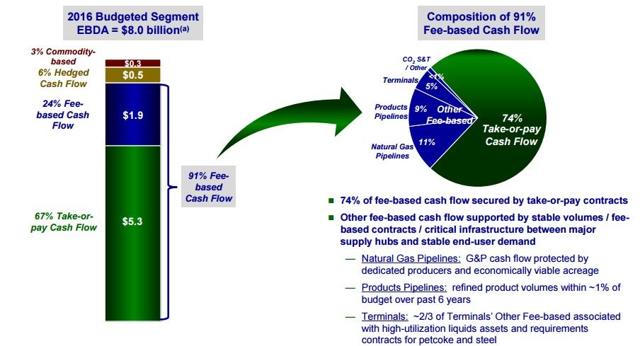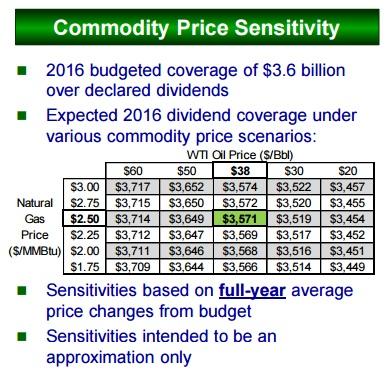 Source: Kinder Morgan investor presentation.
This shows the strength of Kinder's diversified, fee-based midstream business model. Despite the worst oil crash in over half a century, Kinder's wide moat, tollbooth assets are still able to generate steady cash flow that has minimal exposure to commodity prices.
The key to Kinder's cash flow stability is the fact that most of its contracts are "take or pay" meaning that oil and gas producers agree ahead of time to ship a certain volume of product through its pipelines. That means that even if producers pull back on production, Kinder still gets paid.
Combined with the long term, and inflation protected nature of its contracts, Kinder's assets are well suited to helping management execute on its long-term turnaround plan.
Turnaround plan accelerates meaning dividend growth is now potentially in sight
The biggest cause of Kinder's woes since the start of the oil crash has been its massive debt load, which now stands at $41.5 billion. When oil prices collapsed, debt and equity markets began to dry up, forcing Kinder to slash its dividend by 75% in order to redirect distributable cash flow, or DCF, to funding future growth, and deleveraging efforts.
Thanks to its most recent debt reduction deals, Kinder reduced its debt load by $3 billion in the past quarter, and now expects to bring its Debt/EBITDA ratio down to 5.3 by year-end. Management's long-term goal is a ratio of 5.0 or less. According to CFO Kim Dang, once Kinder hits that target, sometime in 2017, the company will consider rewarding long-suffering and patient investors with some combination of share buybacks, and or a dividend increase.
While such talk should bring a smile to dividend growth investors' faces, keep in mind that Kinder's primary focus remains long-term DCF/share growth. Since DCF is what funds the dividend, this conservative approach to excess DCF allocation is one that should be applauded.
As should management's extreme focus on cost reductions. For example, thanks to management's focus on only investing investor capital into the most profitable and least commodity-sensitive growth projects, Kinder's "right sizing" of its growth pipeline has brought its growth backlog down to $13.5 billion.
While that $600 million decrease since last quarter may initially cause some growth-focused investors to worry, keep in mind two important facts. First, most of that backlog reduction was due to Kinder's recently announced $4.15 billion SNG deal with Southern Company (NYSE:SO). In exchange for a 50% equity stake in Kinder's massive southern natural gas pipeline system, Southern Company is paying $1.47 billion in cash, and assuming $2.68 billion in debt.
Second, management expects its new backlog to result in a projected EBITDA yield of 15.4%, meaning it will pay for itself in just 6.5 years. That's up from the first quarter's 13.3% projected backlog EBITDA yield.
Another thing Kinder investors should like is that management has apparently learned its lesson about relying excessively on outside capital markets. For example, Kinder anticipates needing $0 debt or equity raises for "the foreseeable future."
That being said, during the conference call, founder and Chairman Richard Kinder did tell analysts that debt markets are now viewing Kinder far more favorably than before, which means that, should energy prices recover sufficiently to allow Kinder to expand its backlog once again, the company may consider pre-funding some projects with debt. However, only if the terms are highly favorable, and won't excessively threaten the ongoing deleveraging efforts.
Major growth project remain on track
Fully 42% of Kinder's backlog consists of the Trans Mountain Pipeline expansion project, which is expected to receive final approval from Canadian Federal regulators in December. The preliminary approval from the Canadian National Energy Board included 107 conditions Kinder would have to meet. The city of Vancouver, which houses the final export facility of the project, recently tried to overturn the NEB's recommendation by challenging the ruling in court.
Fortunately, Kinder has made excellent progress in meeting British Columbia's five specific conditions to approve the pipeline expansion project, including ensuring economic benefits, and strong spill protection protocols. According to Bill Bennet, the province's Energy Minister, Kinder has been "Working very hard, and frankly they are going to get there."
While this is indeed great news for Kinder's DCF growth prospects, dividend investors need to keep a few important things in mind. First, The terms imposed by various city, provincial, and federal governments will raise the cost of the project. During the conference call, management wasn't willing to give an estimate of exactly how much, as the company is working with contractors to determine the amount.
Second, the Trans Mountain expansion won't be complete until the end of 2019, meaning it will be a long time before any increase in DCF/share might translate into dividend growth.
Finally, while the preliminary approval and ongoing provincial support of this mega-project is very promising, keep in mind that it remains a political hot potato. Numerous environmental groups continue to challenge the project in court, and apply considerable political pressure. Which means there is always a risk that the Federal government may decide to kill the project, which would deal a massive blow to Kinder's future growth prospects.
Long-term growth catalysts remain strong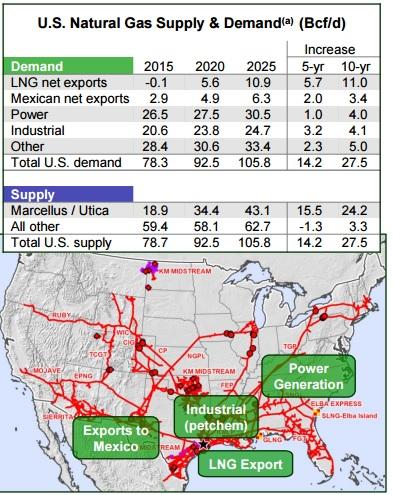 Source: Kinder Morgan investor presentation.
Don't get me wrong, there are still many challenges likely facing Kinder in the years to come, including: potentially stagnating energy prices, rising interest rates, and ongoing legal challenges from groups opposed to pipeline expansion.
That being said, Kinder's long-term growth potential remains strong thanks to its dominant position as North America's largest transporter of natural gas. As you can see above, US natural gas supply and demand is expected to increase greatly over the coming decade, due to very favorable trends include LNG exports, pipeline exports to Mexico, and America's ongoing switch from coal fired to gas fired power plants.
Kinder run up means it's trading slightly above fair value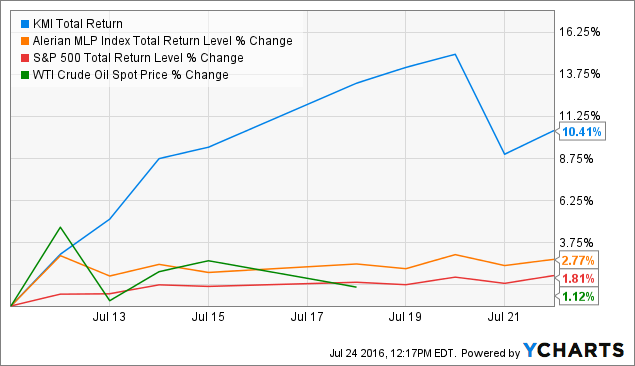 KMI Total Return Price data by YCharts
Since Kinder announced its major debt reduction deal with Southern Company on June 10, shares have rebounded strongly. Unfortunately, in the short term this means that dividend investors who are bullish on Kinder are likely to have to pay a premium to fair value in order to initiate or add to their positions.
Source: Morningstar
| | | |
| --- | --- | --- |
| Morningstar Fair Value Estimate | Current Share Price | Premium |
| $20 | $21.22 | 6.1% |
According to Morningstar Analyst Peggy Connerty, Kinder Morgan is trading 6.1% above its fair value at the moment. That valuation is based on long-term growth projections based on assumed long-term capital investment of $3 billion to $4 billion, as well as America's ongoing shale gas boom achieving its potential.
Should energy prices not recover over the next year or two, Kinder likely won't be able to hit those investment and growth targets, meaning that shares bought today might prove even more overvalued than they currently appear.
Bottom line: Kinder executing well on turnaround effort but significant headwinds, and risks remain
While I applaud management for its strong efforts in deleveraging its balance sheet, and executing on its plan to maximize returns on investor capital, dividend investors should remember that Kinder Morgan remains one of the more speculative midstream oil recovery investments.
Factor in this year's strong price recovery and it becomes obvious that the easy money has been made. Which is why, at current valuations, I recommend potential investors wait for a pullback before adding to their positions. For long-term investors who don't yet own shares, and are willing to roll the dice on Kinder's turnaround ultimately being successful, the current price potentially still represents a decent entry point. However, be aware that Kinder could be due for a short-term correction, especially if crude prices continue to drift lower as they have in recent weeks.
Disclosure: I/we have no positions in any stocks mentioned, and no plans to initiate any positions within the next 72 hours.
I wrote this article myself, and it expresses my own opinions. I am not receiving compensation for it (other than from Seeking Alpha). I have no business relationship with any company whose stock is mentioned in this article.