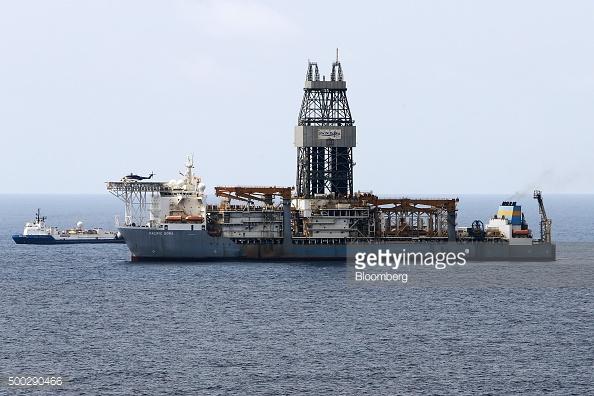 Schlumberger (NYSE:SLB) reported Q2 revenue of $7.16 billion and EPS of -1.56. Analysts were expecting revenue of $7.13 billion. The loss per share included impairments of $2.6 billion and merger integration costs pursuant to Cameron of $335 million. I had the following takeaways on the quarter:
Latin America Could Be A Problem
On a pro forma basis, including the effects of the Cameron acquisition, total revenue was off 12% sequentially. The worst performers were North America (down 20%) and Latin America (down 26%).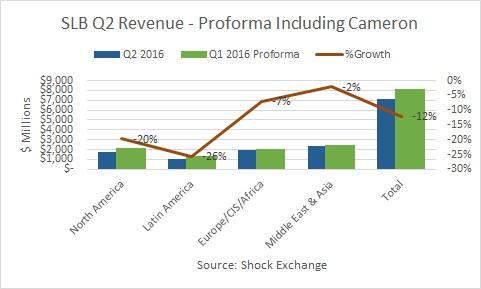 North America has been the hardest hit segment of the oilfield services sector. Management intimated that the region's worst days could be behind it:
In North America, revenue declined 20% sequentially against an average drop in the U.S. land rig count to 25%, as the activity slide now have reached bottom. The doubling in the WTI oil price since the lows seen in January of this year has also led some customers to start moving drilled but uncompleted shale wells out of inventory and into production, with the associated increase in hydraulic fracturing activity.
North America represents 27% of Schlumberger's total revenue. A rebound in the region could be a boon to the company. Personally, I believe the situation is fragile. Shale plays have high break-even costs and any dip in the oil price could cause them to cut production. Secondly, several raised debt to fund themselves and if it comes down to increasing capex and servicing debt, many may choose the latter.
Latin America (17% of total revenue) could become Schlumberger's next worry. The rig count in Brazil and Mexico have fallen to levels not seen in decades. In April, the company decided to cut back operations in Venezuela due to slow payments from state oil company PDVSA. Amid Venezuela's economic turmoil, PDVSA's oil production fell to a 13-year low in June. It has amassed nearly $20 billion in unpaid bills to vendors. According to RBC, over 10% of Schlumberger's 2015 accounts receivable of $8.8 were related to Venezuela.
Activity in Brazil and Mexico also fell during the quarter as customers curtailed their budgets. If the U.S. raises interest rates it could [i] cause capital flight from Latin America and other emerging countries and [ii] hurt their currencies and economies further. It could get worse for Schlumberger in the region before it gets better.
The Cameron Deal Has Gotten Off To A Slow Start
Cameron International generated revenue and pretax income of $1.5 billion and $243 million, respectively. Revenue fell Y/Y by 31% and pretax income fell 26%. At oil sub-$50, many deep water drilling projects are uneconomical. Major buyers of subsea equipment have been canceling contracts and shoring up their own balance sheets. The dearth of new orders have forced Cameron to rely heavily on its backlog built up when oil prices were much higher.
Industry experts believe deep water E&P could rebound in 2018, which means Cameron's results could underperform for several more quarters. Meanwhile, the acquisition did not come without a cost. Schlumberger's net debt increased $3.4 billion to $10 billion during the quarter. It was driven by $2.8 billion in cash paid to Cameron shareholders and $785 million in debt assumed from the deal. I expect Cameron's results to continue to weigh Schlumberger in the near term.
EBITDA Margins Have Taken A Hit
Schlumberger has been able to maintain its best-in-class EBITDA margins of 28%-29% by cutting costs in lockstep with revenue declines. Q1 margins fell to 26% and they slid further this quarter to 23%. The decline may have been due to the pullback in Venezuela or the integration of Cameron. Prior to the merger, Cameron's EBITDA margins were 18%, so it would make sense that Schlumberger's blended margins would decline. Declining revenue and falling margins do not bode well for SLB.
Disclosure: I am/we are short SLB.
I wrote this article myself, and it expresses my own opinions. I am not receiving compensation for it. I have no business relationship with any company whose stock is mentioned in this article.