With the S&P 500 (NYSEARCA:SPY) closing at another all-time high on Friday, it is prudent to look at valuation levels at other local peaks. The graph below shows the S&P 500 graphed against its P/E ratio historically.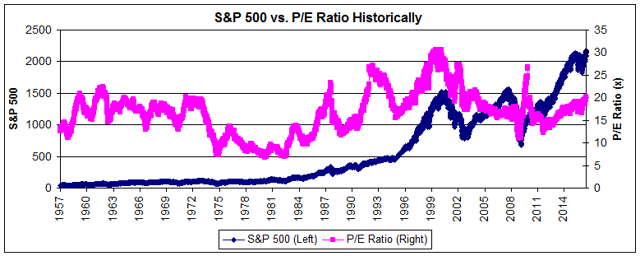 This second graph shows just the S&P 500 and its P/E ratio at all-time highs since the index went to 500 constituents in 1957. For purposes of this article, the PE ratio is current price divided by trailing twelve month earnings with Bloomberg as the source.
The current P/E ratio of 20.2x is at its highest level since the post-crisis earnings trough in 2009. To find a P/E greater than 20x in a bull market, one would have to go back to 2004. While the current market P/E ratio is relatively stretched, it is still not extraordinarily elevated relative to the average valuation level at market highs. The graph below plots the P/E ratio at market highs versus its average level at those highs to make this point more clear.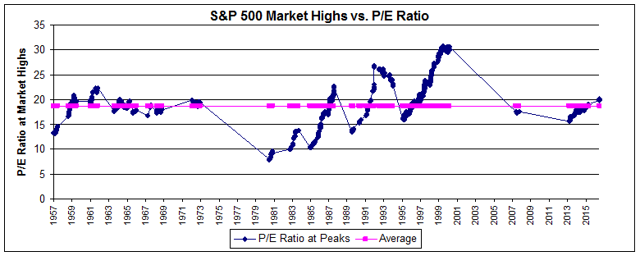 While the market P/E ratio is above 20x for the first time this cycle and is now about 8% above its historic average at previous peaks, it is still meaningfully lower than the earnings multiples at previous market peaks - notably the late 1990s tech bubble. However, the market multiple today is higher than when the market topped out in 2007.
When I first wrote a version of this idea regarding the market valuation at market peaks, it was March 2012 and markets were making new highs for the first time in 45 months. In that article, I struck a fairly bullish tone. Remembering back there was considerable negative sentiment in the market at the time - U.S. sovereign debt had been downgraded for the first time after a contentious debt ceiling debacle, and the Eurozone sovereign debt crisis was escalating. When the market made its first new high of this cycle, the P/E ratio was just over 14x, the lowest P/E ratio for a new high since 1989.
Adjusted for the very low interest rate environment in place in March 2012, the earnings yield (E/P) less the 10-yr Treasury yield was at least a fifty year high for a market peak. Despite all of the market uncertainty, investors were getting very well compensated for this risk. The question today for investors is whether they are still being compensated for today's market risks in this aging bull market (slowing Chinese growth, the risk for a disintegration of the Eurozone experiment, geopolitical tension).
Historically, earnings yields - the reciprocal of the price/earnings ratio - have moved in tandem with 10-yr Treasury yields as shown below.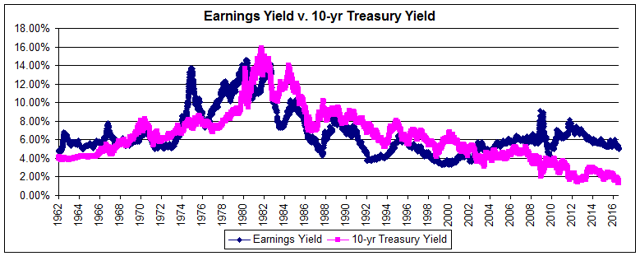 To measure how much an investor has historically been paid for taking risk in the equity market, we can subtract these two measures above. We get the following graph: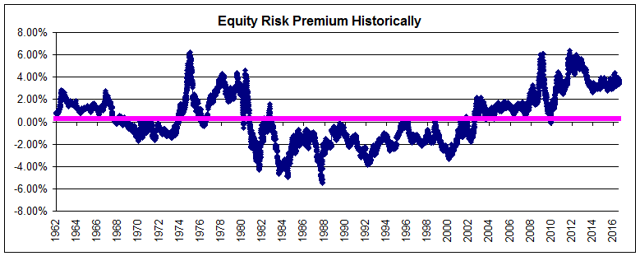 With a measured equity risk premium of more than 3%, investors in the U.S. stock market are still getting paid handsomely relative to historic levels. While the sub-5% earnings yield is at multi-year lows, a 20x equity multiple still seems more attractive to the 62x earnings multiple of a 10-yr Treasury at 1.6%. In the Treasury bond, investors are going to get their principal back for this low level of returns; equity investors will see earnings grow - on average - over the next decade.
Yes, it is much more difficult to be sanguine about the U.S. equity markets at these valuation levels than when we saw the first cycle high in 2012. The expansion of multiples (lowering of earnings and bond yields) means that forward returns are likely to be subnormal. That does not mean that we are headed for a material correction in the near-term. I believe most U.S. equity investors would welcome a modest pullback as an opportunity to add exposure at relatively more attractive levels. That might mean the pain trade for investors is even higher multiples; certainly we have seen that occur in past bull markets.
Risk abounds. U.S. Treasury bonds are historically a "flight-to-quality" instrument in times of stress, and ultra-low yields in the developed world reflect expectations for lower economic growth amidst geopolitical uncertainties and a historic demographic shift towards aging populations. This isn't 2012. We aren't going to be rewarded with a 30%+ market move like we were in 2013. It is easier to be pessimistic than optimistic at these valuation levels, but that does not mean we won't go higher. I am not sure that investors still seeking to grow the principal of their investments should be heading to the exits. Tilts towards lower volatility stocks and dividend growth stocks, which outperform in down markets might be a more appropriate move. Valuations are high; expected forward returns are lower; risk abounds. Are you getting paid to take it?
Disclaimer
My articles may contain statements and projections that are forward-looking in nature, and therefore inherently subject to numerous risks, uncertainties and assumptions. While my articles focus on generating long-term risk-adjusted returns, investment decisions necessarily involve the risk of loss of principal. Individual investor circumstances vary significantly, and information gleaned from my articles should be applied to your own unique investment situation, objectives, risk tolerance, and investment horizon.
Disclosure: I am/we are long SPY.
I wrote this article myself, and it expresses my own opinions. I am not receiving compensation for it (other than from Seeking Alpha). I have no business relationship with any company whose stock is mentioned in this article.