It's no news that the Brexit fiasco has left a lasting impression on the eurozone and the U.K. so much in fact that the German ZEW sentiment index is at a four-year low. To go combat this low, the ECB is trying to "rally the troops" and it let sleeping interest rates lie during its last meet in hopes of preventing further devaluation of the euro FXE. ECB President Mario Draghi is saying that the European financial markets VGK had shown "surprising resilience" and that further stimulus might not been warranted yet, I, however, am not buying it.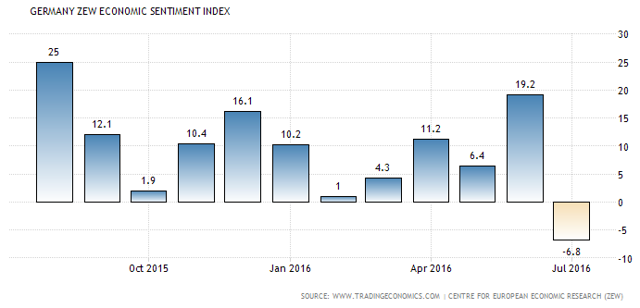 Meanwhile, in the shadows, the ECB has been gobbling up bonds like crazy, so much so that it has essentially run out of bonds to buy, unless it changes the rules that is... Currently, the ECB's rules do not allow the buying of bonds yielding less than its -0.04% deposit rate, or owning more than 1/3 of an individual bond issue. That puts about half of all German bonds out of the ECB's reach, and in short order, it will run out of room entirely.
These limits have already been hit in some of the smaller economies in the eurozone, but because Germany represents such a large portion of European economic activity, the risk it introduces is that much greater. The 1/3 cap on buying bonds of any particular issue is actually already a modification of the original rules set out in March of 2015 when this round of QE was instigated. The original cap was 1/4 of any bond issue due to the risk involved with larger purchases once this current 1/3 runs out within a couple months; increasing the cap to 1/2 will only give about another 10 months worth of Bunds that the ECB can buy.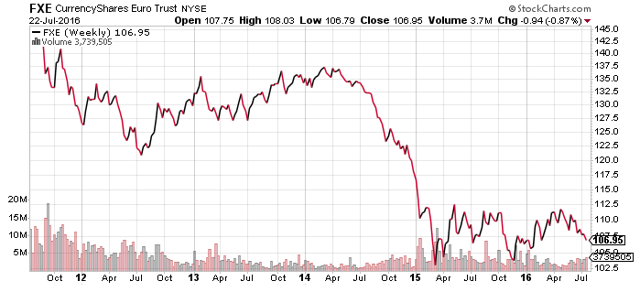 If this wasn't bad enough, keep in mind that this easing was scheduled to end in March of 2017; however, due to the low and slow inflation, which this easing was supposed to help pick up, all accounts are that the QE will have to be extended and the rules changed soon, possibly multiple times.
After the rule restricting how much of a bond issue can be bought by the ECB gets taken out, the next step to increasing the available bonds to buy is by lowering the bond grade threshold. As it stands now, "investment grade" bonds are the only ones that qualify as part of the Corporate Sector Purchase Plan, but unless things pick up, don't count on it staying this way for long.
In the near term, count on the arbitrageurs of the world to keep taking advantage of the higher bond yields in the US and for the cash inflows to the American economy to keep coming. Until such time that the yield spread diminishes, it will continue to perpetuate the search for greener pastures. This drive lower in yields has us bearish on VGK and bullish on TLT, and we expect to stay that way until the yield spreads narrow.
Thanks for reading the first Donuts to Dollars article, drop me a line and let me know what you liked and didn't like and what can be made better!
Disclosure: I/we have no positions in any stocks mentioned, and no plans to initiate any positions within the next 72 hours.
I wrote this article myself, and it expresses my own opinions. I am not receiving compensation for it (other than from Seeking Alpha). I have no business relationship with any company whose stock is mentioned in this article.