The Group of 20 wrapped up its meeting in the Chinese city of Chengdu and through a communique, leaders have stated that "all policy tools" are on the table. The G20 explicitly said monetary, fiscal, and structural tools will be used, individually and collectively, in order to stimulate growth. For investors, this is good news, and could result in a Monday bump.
The communique maintained that "monetary" policy (meaning interest rates and monetary supply) will continue to be conductive to growth, suggesting further "loose money" policies, including quantitative easing. By and large, Q.E. policies equate to rising stock markets as investors pull wealth from cash and bonds and sink it into stock markets and other assets to hedge against inflation (among other things). The below chart shows some of the past correlations between stock market performance and Q.E. policies.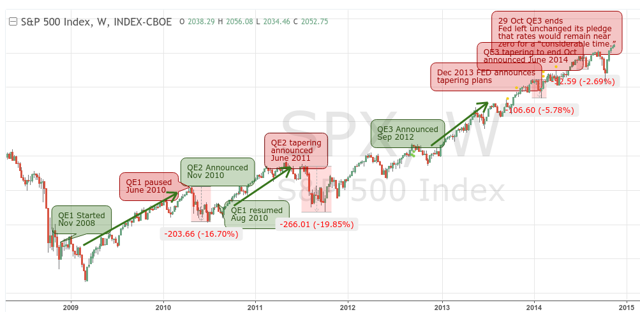 Perhaps more interestingly, the G20 explicitly mentioned that fiscal policies (meaning taxes, government policy, etc.) will be used to spur growth. Both tax policies and government expenditures will be made more "growth friendly". In other words, governments will push for lower taxes and increased spending. While the long-term sustainability of such policies is highly debatable, in the short term, such actions should reinforce markets.
In regards to "structural" or macroeconomic policies, the G20 reiterated the general resistance to protectionism. Between the Brexit vote and the surging populism of Donald Trump, the prospect of protectionism is becoming an increasing threat to global markets. Policy makers endorsed the Enhanced Structural Reform Agenda, a set of principals, outlined this past April, meant to smooth out and guide policy changes and structural reforms to ensure more even and sustainable growth.
On a side note, with the economy as weak as it is in Europe, it's possible, likely even, that members of the E.U. will eschew the saber-rattling that has so far characterized talk following Brexit vote. At the G20 meeting, the United Kingdom's new finance minister, Philip Hammond, has suggested that uncertainty over Brexit will begin to cool down as the U.K. lays out its future relationship with the E.U. later this year. Hammond is optimistic that the E.U. will be receptive. E.U. leaders will most likely be conscious of the fact that continued in-fighting between the U.K. and E.U. could disrupt the already weak regional economy, and fragile global markets.
Could Markets Enjoy a Monday Bump?
Following the "all tools" talk, there's a good chance that markets will enjoy a bump over the next few days. Investors tend to react warmly to stimulus talk, and the unified message sent by G20 officials should come as welcomed news on Wall Street, in London, and elsewhere.
As already pointed out, Q.E. has a tendency to lift markets. Europe and Japan have been using Q.E. quite a bit as of late, while China has been using its own style of Q.E. to boost markets. The Chinese haven't been as direct as their counterparts abroad in their Q.E., but the central bank has been quick to pump money into government-linked policy banks and other government-linked companies.
Meanwhile, spending stimulus plans have long been a favorite among policy makers. The long-term sustainability and payoff of such measures in debatable, but in the short-term, government spending usually spurs economic markets. Given overall global sentiments, governments will likely continue to spend fast and loose in the months ahead. This week, the reaffirmation of government's commitments to spend should boost markets.
Any bump enjoyed following such announcements, however, can be short lived. Several important measures for the U.S. economy will be released this week, and if the indicators turn negative, it could cool enthusiasm quickly. This week will see several important indicators released, including consumer confidence, key PMI numbers, and key housing market indicators will be released. In the U.S., both PMI and consumer confidence numbers have been high, but many analysts are expecting a pull back.
Chicago PMI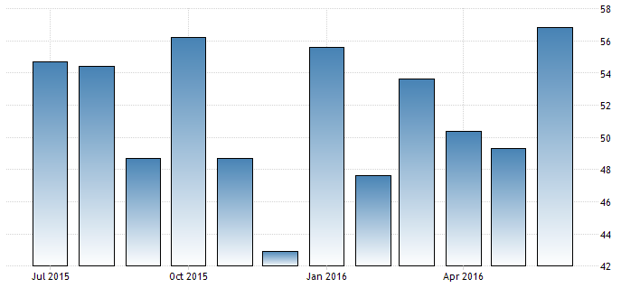 Sometimes, bad news can actually result in a bump as negative indicators reduce the risk of interest rate hikes, and other government actions that could cool markets and economic growth. The Fed, however, doesn't appear to be set to raise interest rates this month, reducing the potential bump that could result from negative indicators.
Of course, the G20 is also only one announcement and one that investors may decide not to read too much into. With markets at or near historical highs, and so much uncertainty and such high risks of recession, many investors may be looking for reasons to pull out of the market.
Trump's Protectionism Forcing Unity?
In the past, some G20 meetings have been filled with tensions and debates. Different policies will ultimately be beneficial and detrimental to different countries. With the specter of protectionism slowly growing, especially in the United States, the touchy subject emerged as a key point of discussion among the G20 officials, and may be forcing unity.
Globally, the risk of protectionism is on the rise. Trump has called for the United States to pull out of various trade deals, a part of his populist appeal that has allowed him to seize the GOP nomination. The general consensus among many economists, however, suggests that protectionism will also reduce growth and increase instability in the global economy.
G20 officials appear to be recognizing that the economic recovery, near a decade in, has not benefited everyone and that many people are still struggling. The reasons for this are debatable, automation, globalization, exploitation, under-valued currencies, etc. What isn't debatable is that protectionist populism is becoming more popular, especially in the United States, United Kingdom, and other "Western" countries.
For policy makers, heading off populism is quickly becoming a priority. Officials at the G20 noted the need to make global growth more "inclusive", and that market distortions were being created by subsidies and other types of government support may be hurting workers. This appeared to be a shot at China, which has been accused of providing large benefits to state-linked companies.
For China and others, accepting such words and any resulting actions by G20 officials may be becoming more palpable as politicians like Donald Trump gain ground, and with voters voting the way they did in the United Kingdom.
Disclosure: I/we have no positions in any stocks mentioned, and no plans to initiate any positions within the next 72 hours.
I wrote this article myself, and it expresses my own opinions. I am not receiving compensation for it (other than from Seeking Alpha). I have no business relationship with any company whose stock is mentioned in this article.