GE (NYSE:GE) management stated in their most recent earnings call that 85% of the company is going strong whereas 15% of the company is being weighed down by predominantly oil and gas and transportation. The company easily beat earnings estimates in its first quarter but the stock tanked on the news. The fact is that industrials are operating in a very difficult environment at present especially in resource industries and crude oil's bounce off its sub $30 a barrel lows has down nothing to help industrials shift more gear in this space. $44 crude is just not cutting it at present and it appears that we will need to see far higher prices in energy before we see a long awaited recovery.
Nevertheless other industries are going very well. Aviation, Power and Healthcare continue to drive the company forward. Healthcare especially has momentum and with the company not changing its full year revenue growth guidance, it is apparent that way more backlog will be shipped from the Power and Aviation units in the second half of the year. This is a key point that investors should close in on. The more product that gets shipped, the more the company can get its teeth into costs which is key.
We saw this in its second quarter with operating margins remaining flat despite poor organic revenue growth. Further, we are still very early into the Alstom story where I feel synergies will have to come into play in the near term. Therefore if the company can hit its guidance figure for fiscal 2016, it would illustrate to me the resiliency its diversified business model has. The move out of finance and back to its roots was definitely the right decision that should pay off in spades in years to come.
With relation to the crude oil market, lets take a look at a chart. The blue arrows represent intermediate cycle lows and the red arrows daily cycle lows. Intermediate cycle lows can last anything up to 35 weeks. Presently we are at week 25 week into this cycle but because we dropped below the most recent daily cycle low, an intermediate cycle decline is presently playing out.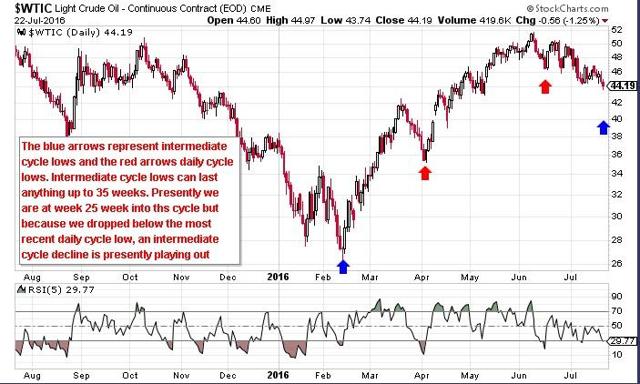 The 5 day RSI level is approaching oversold levels and with crude oil down again today in pre-market, I don't think it will be long now before this market prints its intermediate cycle bottom. Furthermore if we look at sentiment readings, we can see that crude oil has a bit more to go before we print our intermediate bottom. I'm watching out for sub 30 levels. A rising crude oil price should overtime be bullish for GE's struggling oil and gas division.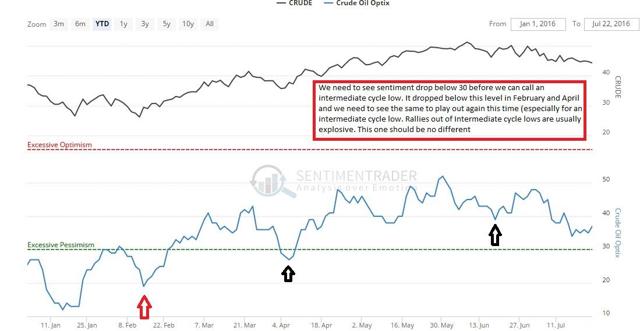 Source : Sentimentrader.com
The leveraged energy ETF (NYSEARCA:ERX) furthermore has traded in a range as crude oil has lost over $8 a barrel. This is another sign that crude oil is close to a bottom. My reasoning is that if crude oil is at $70+ within 12 months, GE could easily be at $40 a share in that timeframe. At the moment, the oil and gas division is being propped up by other divisions but if we had all divisions growing their profits and margins, the valuation at present doesn't look that expensive. We may look to go long this stock when oil bottoms or when the stock market puts in its own daily cycle low. Either way, we will attempt to get long GE in the near term.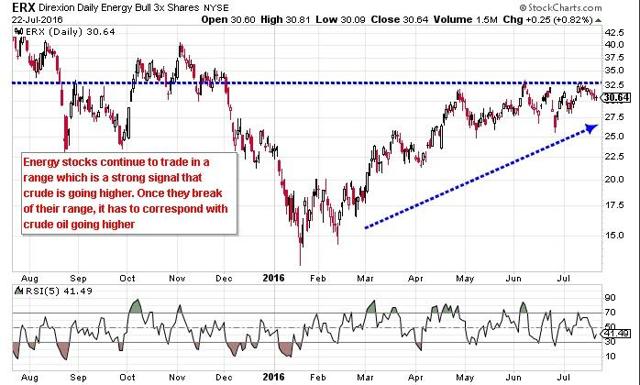 To sum up, I'm going to be adding a few good dividend and growth stocks to the Elevation Portfolio over the next several weeks when I see value. In order to ensure that income is brought in every month, it's imperative that they are not correlated and all don't have similar valuations. You can follow along by pressing the"Follow" button above
Disclosure: I/we have no positions in any stocks mentioned, and no plans to initiate any positions within the next 72 hours.
I wrote this article myself, and it expresses my own opinions. I am not receiving compensation for it (other than from Seeking Alpha). I have no business relationship with any company whose stock is mentioned in this article.