During the past twelve months, shares of McDonald's Corp. (NYSE:MCD) have appreciated by 33.47%, from 96.10 on July 24, 2015 to 128.26 on July 22, 2016. Such stellar performance has exceeded both the Dow Jones industrial average, which appreciated by 5.74% during the same period, as well as the S&P 500 index which appreciated by 4.59%.
Many analysts continue to be optimistic for further gains, as illustrated by the fact that the whisper earnings estimate for McDonald's upcoming Q2 2016 earnings release on July 26, 2016 is $1.43/share, 5 cents ahead of consensus estimates of $1.38/share. However, we believe McDonald's will face several challenges in the next several months driven by A- slowing future same store sales growth, B- expensive P/E, P/B, P/S valuations and C- increased indebtedness in an uncertain macro environment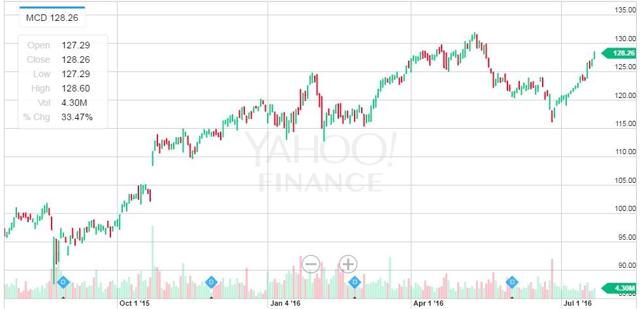 McDonald's stock price 1-year chart - Source: Yahoo Finance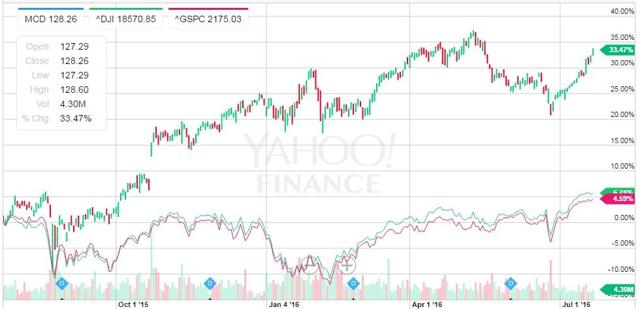 McDonald's shares vs. S&P 500 index and Dow Jones industrial average, 1-year chart - Source: Yahoo Finance
Valuations & Same Store Sales Growth
McDonald's currently has a market capitalization of $112.59 billion, and P/E ratio (TTM) of 24.65. With consensus earnings estimates of $5.53/share for the current year and $6.17/share for next year, McDonald's shares have forward P/E ratios of 23.2 and 20.8 respectively. During the past 13 years, McDonald's P/E ratio has fluctuated between 13.4 and 31.31, with a median of 17.41, substantially below current P/E ratio of 24.65.
Hence, from a P/E ratio perspective, it seems McDonald's shares are expensive. Some may argue that McDonald's elevated P/E ratio is justified given its healthy same store sales growth during recent quarters: 6.2% for Q1 2016, 5% for Q4 2015 and 4% for Q3 2015. The only other chain to beat McDonald's in same store sales growth for Q1 2016 in the 'quick service' category was Sonic Drive-In (NASDAQ:SONC), which had reported 6.5% for the quarter ending on 2/29/2016.
However, such performance is unlikely to repeat for McDonald's, as same store growth expectations for Q2 2016 are about 3.6%, despite last year's negative quarter comparison. Furthermore, future quarters will be disadvantaged by the prior year's all-day breakfast boost; consensus estimates are 2.2% for Q3 2016, 1.9% for Q4 2016, and 1.8% for Q1 2017.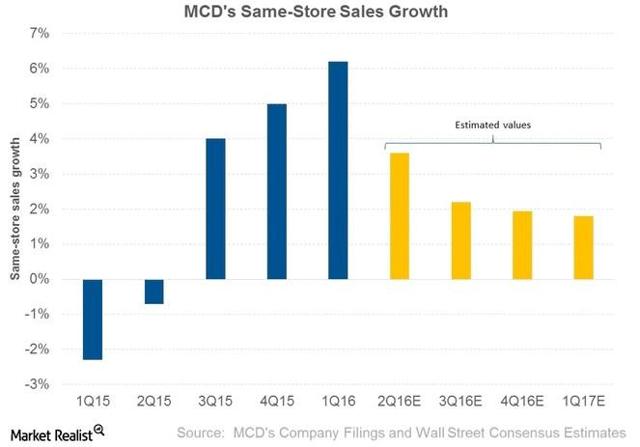 McDonald's same store sales growth - Source: Market Realist
McDonald's price to book ratio (P/B) is at a historic highs and is simply off the charts, currently standing at about 29.15 vs. industry average of 11.2. Likewise, McDonald's price to sales ratio (P/S) currently stands near all time highs both for P/S ratio at 4.68, as well as for 1-year forward P/S ratio at 4.786, vs. industry average of 2.5.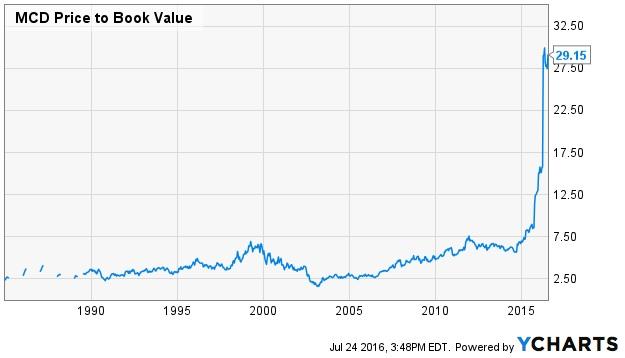 McDonald's price to book ratio (P/B) - Source: Y-Charts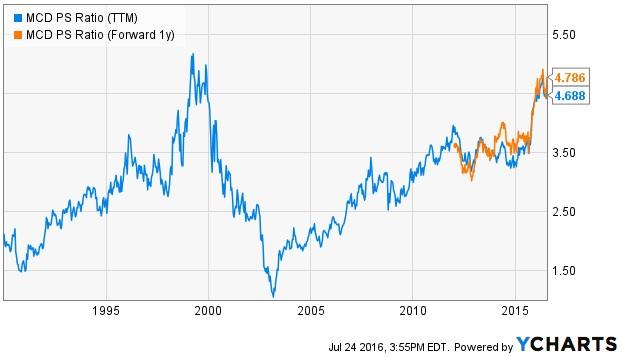 McDonald's price to sales ratio (P/S) - Source: Y-Charts
Indebtedness
Although McDonald's boasts an attractive forward annual dividend yield of about 2.78%, the company has accumulated substantial debt in order to finance its dividend payment and share buyback programs. Its debt to equity ratio has also skyrocketed to a historic high of 6.045.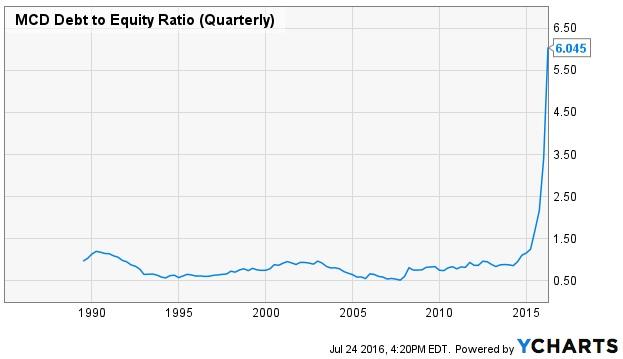 McDonald's debt to equity ratio - Source: Y-Charts
At the end of 2013, McDonald's had a total of $17.4 billion in long term debt, other liabilities and deferred long term liability charges, which have grown to about $27 billion as of March 2016. In addition McDonald's had $32.2 billion in treasury stock at end of 2013, which has grown to $44.8 billion as of March 2016. Shareholder equity has fallen from $16 billion at end of 2013, to about $3.9 billion as of March 2016.
As a result of McDonald's action to increase its indebtedness to fund its dividend and share buyback programs, its credit rating was lowered last year by all 3 major credit rating agencies. McDonald's currently stands at a rating of Baa1 by Moody's, BBB+ by Fitch, and BBB+ by S&P. As per below credit rating scale, McDonald's is within 3 notches from being non-investment grade.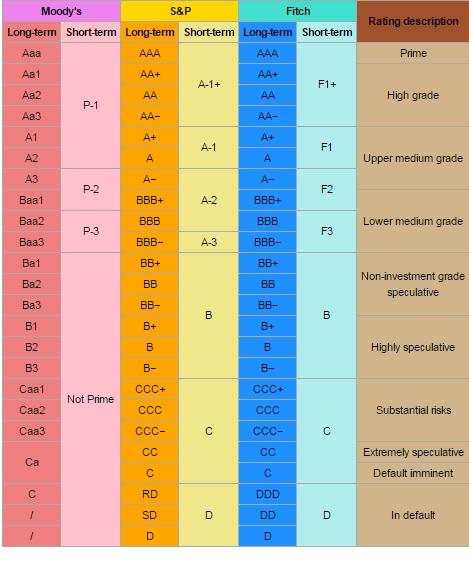 Credit ratings scale - Source: Wikipedia
McDonald's indebtedness could place it in a tight position in case of unexpected circumstances, such as a slowing economic environment due to Brexit, inflation, higher interest rates than expected, slowing consumer consumption, or shifting tastes.
Macro Headwinds
The market could face substantial macro headwinds during the next several months, as we have already expressed in recent articles we published. Such headwinds are driven by Brexit, a strong dollar, the upcoming U.S. presidential elections, global political instability, and uncertainty about the Federal Reserve. We also believe that there are early signs of potential inflationary risks, as per article we published on July 18, 2016, "Could inflation derail the stock market rally?"
It is estimated that McDonald's generates about 35% of its revenues in Europe. European jitters, as well as a strong dollar will pose a serious challenge to McDonald's as well as other U.S. companies that generate a large percentage of their revenues from overseas operations.
Most recently, Starbucks (NASDAQ:SBUX) missed its revenues consensus estimates as it reported revenues of $5.24 billion vs. expectations of $5.33 billion for the quarter ending in June 2016. Interestingly, Starbucks CEO Schultz highlighted such macro headwinds, as he stated:
In Starbucks' 24 years of public life, I can't recall a quarter quite like Q3 of 2016, when a confluence of social and political turmoil at home, weakening consumer confidence, increasing global uncertainty, and the launch of one of our most significant long-term initiatives of all-time all occurred within a single earnings period
What may seem to be an aberration to CEO Schultz is likely to persist for the next several months. Brexit jitters are here for several years, global political instability is unfortunately expanding (as we have witnessed in Turkey and the declared state of emergency), and U.S. presidential elections are still many months ahead. All such events are also likely to result in the persistence of a strong dollar, which may even get stronger, as we wrote in our June 28, 2016 article: "The inevitable fading of the Euro: Brexit", as well as our July 11, 2016 article: "Should the queen rule England again?"
Conclusion
McDonald's shares are too risky and too expensive at current levels. Valuations are high, indebtedness is worrying, same store sales growth is likely to decelerate and macro headwinds will persist at least for several months. As a result, we would favor a short position ahead of earnings, looking to maintain such position for the next several months.
Disclosure: I/we have no positions in any stocks mentioned, but may initiate a short position in MCD over the next 72 hours.
I wrote this article myself, and it expresses my own opinions. I am not receiving compensation for it (other than from Seeking Alpha). I have no business relationship with any company whose stock is mentioned in this article.