A move on headlines
I took a position in Yahoo Inc (YHOO) on Friday. Yes this is a headline move. Word broke out Friday morning of a potential deal for Verizon (NYSE:VZ) to buy out Yahoo's core business for $5 billion. Since then, the stock moved 1.36% during the day and another 0.66% after hours. The company (and more directly its CEO Marissa Mayer) has taken severe flak for its stagnating business. The companies annual revenues were the same in 2015 as they were in 2011, yet the cost of goods sold have increased dramatically. Clearly there needs to be a shakeup in the business. For Verizon, the purchase of Yahoo's business will give them a strong platform since they already bought AOL last year. For Yahoo, it's basically one of their few options available. They cannot seem to do it on their own as net income (or lack thereof) was atrocious in 2015.
My Trade
On the one hand, buying on Friday means I got in near the 52-week high for the stock which is not necessarily the best thing. On the other hand, this coming week could mean a lot of excitement as investors hinge on every little bit of news regarding Yahoo's sale. Make no mistake, I'm not in this for illusions of grandeur. I lack the optimism and patience to look for $14 gains like some. I am looking for a quick move on hype. 3-4% this week and then I'm out. With the movement in the last few days, it's evident that people are excited to see this sale.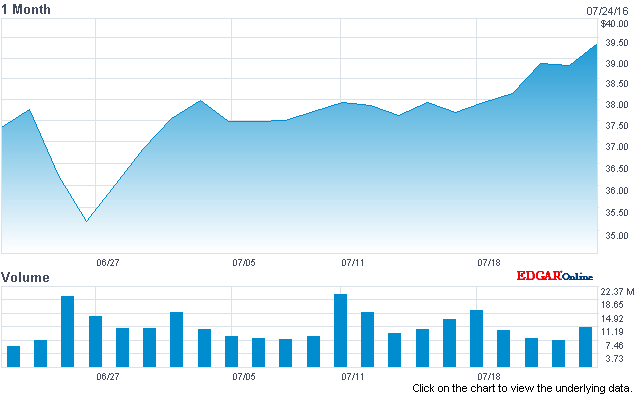 Even as the firms earnings report on the 18th was less than exciting, the stock has maintained a climb this month on the momentum of possible selling. Barring news of a fallout with Verizon, I see no reason why this uptrend cannot continue Monday and Tuesday. This obviously isn't a stock you really want to hold long term at this point, but news of a $5 billion infusion could make this week a lot of fun. The 0.66% growth in after hours trading is a very encouraging sign. I'll touch base more on Yahoo later this week after we see what happens Monday Morning.
Disclosure: I am/we are long YHOO.
I wrote this article myself, and it expresses my own opinions. I am not receiving compensation for it (other than from Seeking Alpha). I have no business relationship with any company whose stock is mentioned in this article.