By Raul de Frutos
Copper prices rose in July on expectations that policymakers' efforts to spur economic growth will increase demand for the metal.
Expectation of a new round of infrastructure spending in China is giving investors reasons to bet on the metal.
China's Imports Are Up
In June, China imported 420,000 metric tons of unwrought copper and copper products, up 20.3% from June of last year. For the first half of the year imports increased 21% compared to the same period in 2015. The growth in imports has helped support metal prices, too. However, there are different opinions on whether those imports are actual demand or just stockpiling into warehouses.
Prices Test $5,000/mt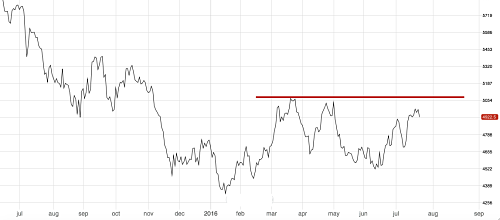 Three-month LME copper struggles near $5,000/mt. Source: FastMarkets.com.
So the whole metal complex is performing well, investors are optimistic that they'll see more stimulus coming from China and copper imports are strong. This all sounds bullish for copper prices this month but copper only recently passed that 5,000-$5,100/mt level that it has failed to overcome several times this year.
If sentiment in copper is actually shifting to bullish, we should see that reflected in the price soon, with prices climbing into new ground as we've witnessed in other base metals this year. We'll have to wait and see if the bulls have found enough reasons to overcome the bears at the level prices are approaching this month.