Refiners have been having a bumpy ride. Low prices and increasing EPA Mandate costs are squeezing refiner's crack spreads. In fact, the entire refiner market is in the midst of a paradigm shift, and the direction is not yet clear. That said, which refiners are best positioned to do well?
Where We Are
U.S. gasoline crack spreads have plunged to $13.00 (RBOB) a barrel, down from over $28 a barrel last year at the same time. The summer driving season has been strong, which historically means the best season for refiners, but massive over supplies in crude oil, gasoline and diesel have surprised many managers and analysts.
Meanwhile most refiners have seen their stock prices slide as margins squeeze, and in some cases dividends shrink: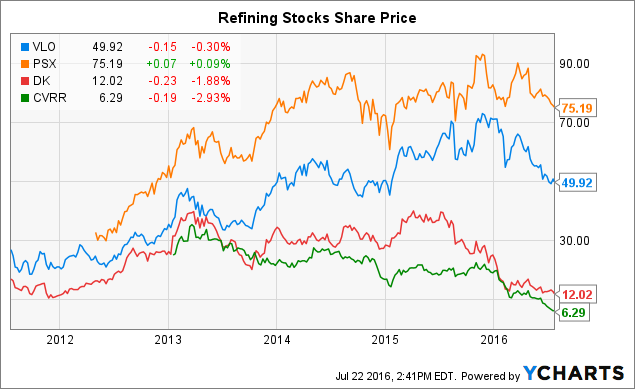 How We Got Here
The long-term answer to how we got here is simple supply and demand. While world demand was sluggish, the North American expansion in producing crude and gas out of the Canadian Sands and areas like North Dakota and the Appalachian Basin was initially a profitable godsend to refiners. As I discussed in this 2012 article, regional refiners like Holly Frontier (NYSE:HFC) were able to buy US product at a discount to world prices, and crack spreads widened, while refiners profits skyrocketed.
Fast forward to today and production has vastly outpaced supply, and both crude and gasoline face near historical over-inventories. The result has squeezed those refiner margins paper thin.
But what is really making refiner management reach for the pink chewables are RINs - Renewable Identification Numbers - which are part and parcel of the Environmental Protection Agency's effort to emphasize the development and use of more renewable energy sources.
Running On RINs
All U.S. refiners and those who blend fossil fuels such as diesel and gasoline are mandated to add biofuel to the mix. The amount they have been required to blend in has been stepping up since 2007.
Refiners and blenders have two options in complying with the EPA Mandates. They may:
Blend enough biofuel into their fuel to meet the EPA requirement
Purchase a Renewable Identification Number (RIN)
Every time a gallon of biofuel is produced it is assigned a RIN. The producers of RINs can then sell those RINs (separate from the actual gallon of bio fuel). Refiners who are unable to actually blend in the biofuel into their diesel or gasoline can then buy RINs.
RINs are a close cousin of the carbon credits system, where air polluters can buy credits, allowing them to continue legally operating even though they are polluting above EPA emissions standards. In this case, refiners and fuel blenders can continue operating even if they are unable or unwilling to blend in biofuels.
In the last few years, the amount of renewable fuels that must be part of the fuel mix has reached a critical level:
| | | |
| --- | --- | --- |
| YEAR | Renewable Fuel Volume (in billions/gallons) | Renewable Fuel Percentage |
| 2014 | 16.28 | 9.19% |
| 2015 | 16.93 | 9.52% |
| 2016 | 18.11 | 10.10% |
Ethanol, which is the most common additive to fuel, has been increasing in demand to mirror these requirements.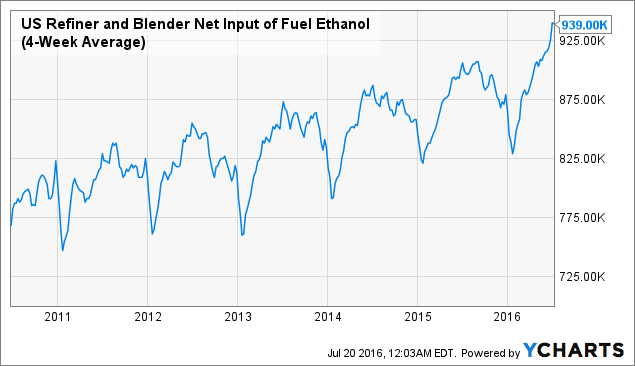 The real key to why this is so important is that physical blending into fuel is capped at 10%. A fuel at 10% added biofuel is the most allowed by the EPA. It is also the most that most vehicle manufacturers allow to be used in their vehicles without invalidating the warranty.
Yes, you read that right. Refiners can only use 10% in producing fuel, yet are required to us 10.10% of their fuel volume. How can the refiners comply with the EPA mandates? By buying the RINs.
In years past, a refiner only had to buy RINs if they were cheaper than blending in biofuels, or if the refiners did a bad job of managing their biofuel supplies and were forced to use RINs when no biofuels were available.
Starting in 2016 every refiner or blender was forced to buy RINs. The sole exception is if the refiner also produced biofuel, produced more than they needed, then theoretically they could use credits from their excess to satisfy the EPA.
With crude prices nearer towards $80 or better the RIN problem would be much less of an issue. However crude has settled at a much lower rate: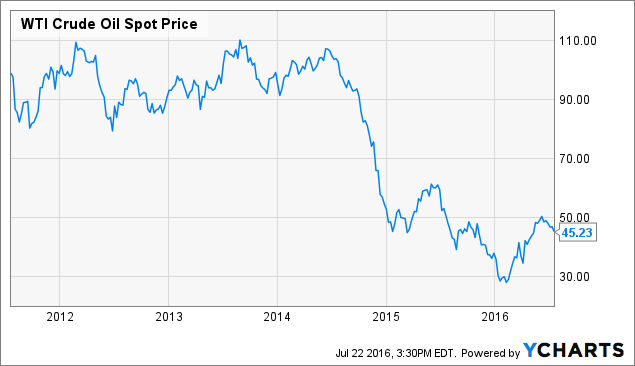 WTI Crude Oil Spot Price data by YCharts
In years previous ethanol was not too much of an issue. RINs often were as low as $0.01/gallon. Now the demand for biofuel keeps biofuel prices higher, and RIN futures are running around $0.95-$1.30.
The lower gasoline and crude market prices mean that the costs for abiding by the EPA Mandate have drastically increased their impact on refiner margins. As a result refiners such as Valero (NYSE:VLO) and Delek (NYSE:DK) are initiating or expanding renewable fuel operations. Meanwhile any management team with a pulse is scrambling to tie up long term contracts for biofuel sources to protect their margins.
Where We Go From Here
The fly in the ointment is 2017, because the EPA standards are not holding still. In May the EPA proposed a sharp uptick to the Renewable Fuel Standards to 18.8 billion gallons - or 10.44% of fossil fuel. True, that is about a 3.8% increase in the volume mandate.
However, this is an expected 340% increase in the 2017 amount over the 10% blending barrier which RINs fill. By my calculations, EPA requirements will be requiring refiners and blenders to subsidize a bit over 82 million gallons of biofuel production through the RIN system in 2017 - biofuel that will never actually be added to diesel or gasoline.
Assuming, as many do, that the gasoline and crude oversupplies continue, this becomes an unsustainable position. I foresee several ways the market will react to this upcoming situation:
Refiners will become more efficient at using ethanol and other biofuels, including locking in supplies to long-term, price advantaged agreements.
Smaller, less efficient refiners and refineries will be squeezed and go out of business.
Refiners will begin cutting back on production, allowing the gasoline oversupply to dissipate.
Since this is an election year, there is a possibility that a new administration and deteriorating conditions (and sharp lobbying from the energy industry) could cause a re-look at the RIN system.
Three Refining Groups to Watch
In all problems there are opportunities. Some refiners will work through these market problems. They will either be diverse enough or financially strong enough to survive as the environment shifts. Other refiners will not be able to adapt. These will either close or be swallowed up by bigger fish.
Large Diversified Refiners
In my mind, this group is the best positioned. My poster boy for this group is Phillips 66 (NYSE:PSX). Phillips is a leading refiner, financially solid and has a healthy downstream business to cushion any shocks in the refiner market. Better yet, it will be in a position to snap up any bargains that come its way as smaller fish stumble in the market ahead.
Blenders
As mentioned earlier some companies like Valero and Delek are initiating or expanding their biofuels production arms. Theoretically it helps to meet their EPA requirements and also take advantage of the current environment.
These are situations I would advise to watch closely. If done well - this could turn lemons into lemonade. But I do have two concerns:
Refiners are refiners, not necessarily fuel producers, and it takes a different skill set to profitably produce biofuel than it does to refine crude oil. I would want to see some history from a company that it can produce biofuel at a competitive price.
Producing biofuel seems a smart investment now, but if the current EPA levels change their upward arc, or the market ends up overproducing biofuels or RINs, then a hefty investment could be wasted.
Little Fish
From this view, smaller refiners are in real trouble. My poster boy for this group is CVR Refining (NYSE:CVRR). With only two refineries, CVR does not have the economies of scale of a Phillips 66 to whether cost shifts, nor the clout to tie in advantageous long term supply contracts, nor the resources to get into biofuel production.
I expect a lot of small companies, as well as smaller, borderline performing refiners to suffer in the next 12 months. I also expect several to end up being snatched up by bigger fish like Phillips 66, in whose better economies of scale and deeper pockets can squeeze more productivity and profit out of the assets, in whatever the refining environment transitions through via EPA Mandates.
Disclosure: I/we have no positions in any stocks mentioned, and no plans to initiate any positions within the next 72 hours.
I wrote this article myself, and it expresses my own opinions. I am not receiving compensation for it (other than from Seeking Alpha). I have no business relationship with any company whose stock is mentioned in this article.