The recovery in crude oil and natural gas has been a boon for Diamond Offshore Drilling (NYSE:DO). In fact, over the past six months, the offshore driller's shares have shot up more than 40% and now trade within close range of its 52-week highs. In my opinion, the rally in Diamond's shares could continue going forward on account of improving demand and supply conditions in the oil market, which will eventually lead to an increase in offshore drilling.
So, in this article, we will take a closer look at the prospects of the offshore drilling market as this will play a key role in Diamond's performance in the long run.
Oil market dynamics will lead to an increase in offshore drilling
The oil market is gradually correcting on account of increasing demand and lower supply. In fact, according to the IEA, crude oil supply will fall by 1% to little more than 96 million barrels per day for the first time in more than two years while demand is expected to be at 96.75 million barrels per day by the end of the third quarter of 2016.
The following chart clearly shows how oil demand and supply will coincide by the end of the year: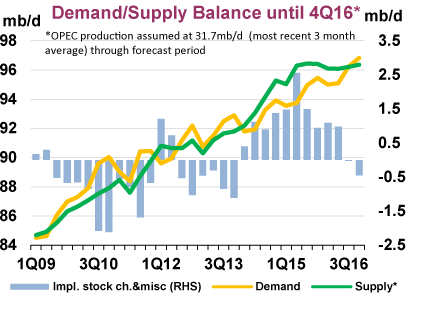 Source: IEA
The decline in oil production will result from cutbacks in the capital expenditure budgets of oil exploration and production companies. In fact, the total capital expenditure for upstream, midstream, and the downstream segments in the U.S. is expected to decline 25.4% this year to $136 billion. This will be on top of a 36.1% decline in capital expenditure last year.
This decline in capital spending has drastically reduced, or deferred, the crude oil production that needs to be processed for demand to be fulfilled in the future. For example, to meet the projected oil demand of 100 million barrels per day by 2040, the supply has to increase at the same level.
As a result, drilling activities need to pick up pace, and this will lead to an increase in capital spending by E&P companies that has been left unsanctioned so far. The following chart clearly shows the decline in overall production by the end of the decade due to unsanctioned projects: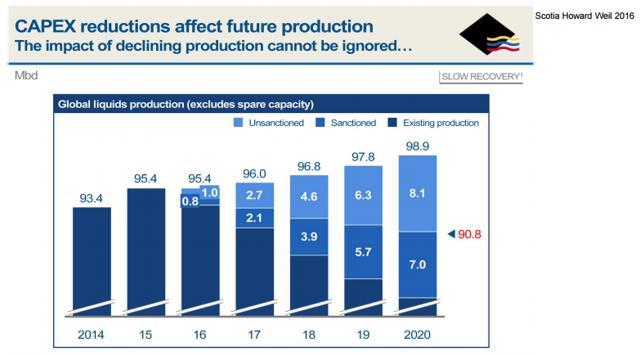 Source: Diamond Offshore Drilling
Thus, by 2020, the combination of existing production and sanctioned production will lead to 90.8 million bpd of annual production, down from 95.4 million bpd last year as the chart above shows. This presents an opportunity for Diamond Offshore since a recovery in offshore drilling needs to take place in order to fill the supply gap.
Offshore will play a key role in filling the supply gap
In my view, to meet the gap between demand and supply in the long run, offshore drilling will play a key role and this will drive demand for floaters and jack-ups. This acceleration in offshore drilling will be the result of depletion at many unconventional fields.
For instance, Saudi Arabia, which currently accounts for nearly 5% of the world's consumption, is expected to soon run out of oil at its Ghawar Field. Meanwhile, Exxon Mobil (NYSE:XOM) recently failed to replace all of the oil and natural gas it pumped last year with new discoveries and acquisitions for the first time in more than two decades.
Due to this decline in oil reserves at conventional fields, offshore drilling will become important for oil and gas companies to improve their production, thereby presenting a tailwind for Diamond Offshore. In fact, according to Energy Insights, offshore drilling in deep and ultra deepwater will account for approximately 4.8 million barrels per day of oil going forward as other conventional sources drop by 4.2 million bpd. As shown in the chart below, offshore oil will be second only to unconventional sources of oil in terms of production share: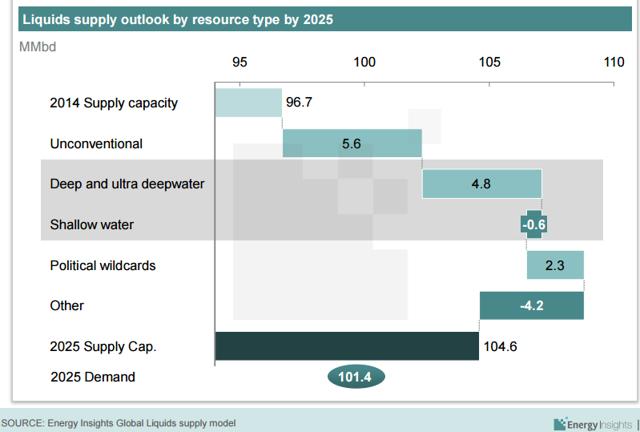 Source: Energy Insights
Moreover, a decline in deepwater development costs will also help Diamond gain more contracts. In fact, Diamond expects industry-wide deepwater development costs to decrease by over 30% in the coming few years, which will make deepwater development economical at an oil price of between $50 and $60 per barrel. This is given in the chart below: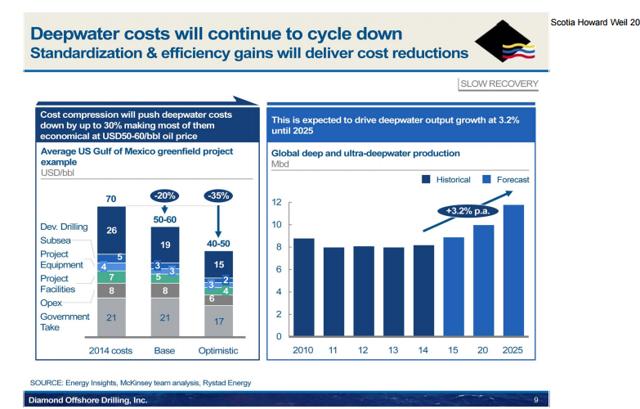 Source: Diamond Offshore
Therefore, supply cuts, which are currently the reason behind the downturn in the offshore drilling industry, will ultimately prove to be growth drivers for the same. Moreover, a decline in offshore drilling costs will be another reason why the attractiveness of this segment will improve going forward. The good news is that Diamond has already started witnessing a turnaround of sorts in this segment, with the company's revenue from ultra-deepwater floaters increasing by $74.6 million, or 29% year over year, in the last reported quarter as they were deployed for a higher number of days.
Conclusion
Diamond Offshore Drilling's recovery is dependent on the offshore drilling industry. While it is true that the industry is currently under duress on account of the oversupply in the oil industry, but the situation is improving on account of higher demand and lower supply. Moreover, as discussed above, offshore drilling is set to fill a major portion of the supply in the oil industry going forward, which will be a tailwind for Diamond Offshore Drilling in the long run.
Therefore, as the situation in the oil market improves going forward, Diamond Offshore will continue to gain further momentum, which is why investors should continue to hold the stock despite strong gains.
Disclosure: I/we have no positions in any stocks mentioned, and no plans to initiate any positions within the next 72 hours.
I wrote this article myself, and it expresses my own opinions. I am not receiving compensation for it (other than from Seeking Alpha). I have no business relationship with any company whose stock is mentioned in this article.