Last week, I shorted Nintendo (OTCPK:NTDOF) when prices were around 30,000 JPY. Shortly thereafter, Nintendo's shares dropped 20 percent and I largely realised the profit. The price drop after Nintendo's Pokemon GO rally was pretty foreseeable. I am still short with 10 percent of my initial investment, because I expect further price declines are yet to come. Let me tell you why.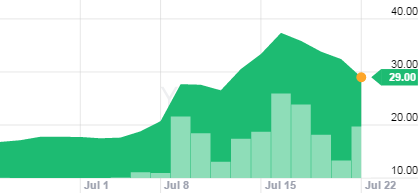 There is no question that Nintendo's Pokemon GO release was a huge success. Pokemon GO is the biggest U.S. game ever and people are using the app way more than any other app. Nonetheless, I think that there are some reasons why Nintendo's $10 billion increase in market value is unjustified.
Where there is hype, there will be exaggeration.
Investors loved Nintendo's Pokemon GO story. As a consequence, Nintendo's share price rose by 240 percent (!). At first, there were a lot of people who wanted to participate in Pokemon GO's success. They heard the news and thought: Hey, that's the next big thing. As Economics works, stock prices rose because of the demand surplus.
But there generally comes a time when there are more people who want to realize their profit than people who want to buy the share. So it is always likely that a huge rally is followed by a setback.
To be honest: I already tried to short Nintendo at a share price of 29,000 JPY. Fortunately, my buy limit order hasn't been accepted, so I shorted Nintendo way later.
Every hype recedes someday.
Social media has been flooded with Pokemon GO posts after its release. Honestly, nearly every second post in my Facebook timeline has been related to Pokemon. Obviously, this supports the exaggeration mentioned in previously.
When the hype recedes, it's a good time to speculate about a setback. As a matter of fact, Google search queries about Pokemon GO decreased during last week - and also my Facebook timeline emptied.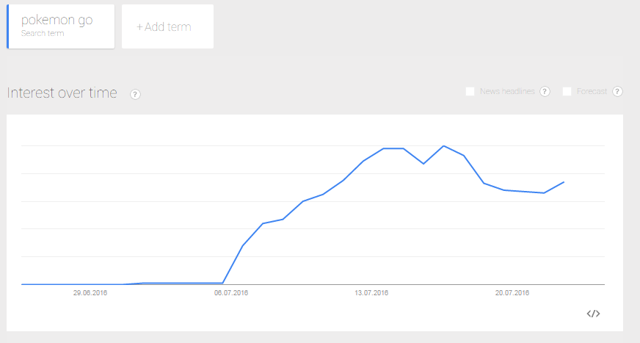 Remember that Nintendo only owns a partial stake in the game developer.
Before any revenue reaches Pokemon GO's producer, Niantic, Apple and Google are taking a 30 percent cut of sales.
In addition, Nintendo only owns a share of the revenues through the game. Twitter user Necrosofty created a nice chart showing the owner structure of Pokemon GO. Nintendo owns partial stakes in The Pokémon Company and in Niantic.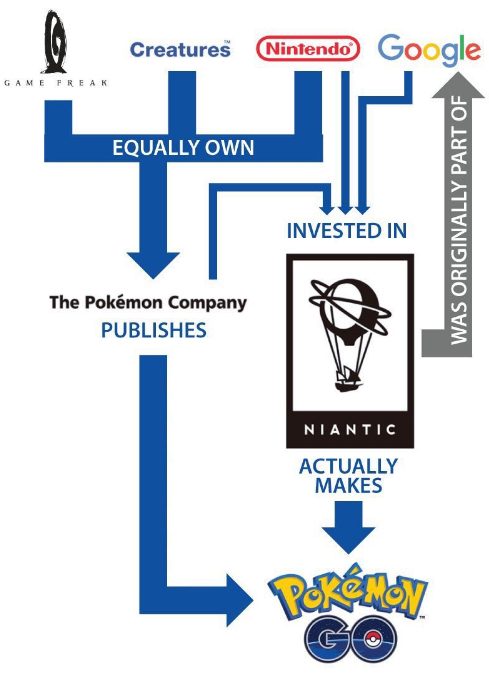 Pokemon GO's success must be persistent.
In order to get a long-term financial success, the following requirements must be fulfilled:
The number of users and their engagement must be maintained at high levels.
Users must spend a significant amount of money in the game
Especially the first prerequisite will be a hard task. In rural areas, there are only a few so-called Poke Stops and Poke Arenas, which are keeping the user engagement high. Furthermore, there are a lot of users who are likely to lose their interest in some weeks. It also remains to be seen if Pokemon GO's user engagement stays high aside from the target group. At the moment, 40 percent of the game's players are female.
I am also skeptical regarding the second point. SurveyMonkey claims Pokemon GO is generating $0.25 per user per day. I would venture this number is far too high. None of my friends who play Pokemon were spending one cent on the game. Of course this is not a representative sample, but nonetheless, I have the feeling the game isn't generating that much money with every user.
An Outlook
Of course, the release of Pokemon GO was a huge success and it has opened up growth opportunities. However, Pokemon GO won't have a significant influence on Nintendo's revenue in the short term. When Nintendo wants to justify a $10 billion increase in market value through Pokemon GO, a lot of further measures have to be taken.
Nintendo's share price will likely retreat in the coming weeks. Now might be an opportunity for further short positions.
Disclosure: I am/we are short NTDOF.
I wrote this article myself, and it expresses my own opinions. I am not receiving compensation for it (other than from Seeking Alpha). I have no business relationship with any company whose stock is mentioned in this article.
Editor's Note: This article discusses one or more securities that do not trade on a major U.S. exchange. Please be aware of the risks associated with these stocks.