Ford (NYSE:F) is an iconic American company yielding 4.34% and trading at less than 7 times earnings - based on that, the stock sounds like a no-brainer buy. There have recently been a lot of bullish Ford articles on Seeking Alpha highlighting those features and others.
It may not be the popular thing to do, but I am going to present some brief arguments as to why investing in Ford might not be such a sure thing in the current market. I am not shorting the company, just keeping clear right now for reasons this article will explain.
If you are a very short-term investor (say, someone looking to play earnings), this article will not help you. And if you have held Ford for 30 years through all of the ups and downs, I probably won't be able to convince you to sell now. But for medium-term investors (1-5 year time horizon), hopefully, this report can provide something to think about before you go out and bet the farm on Ford.
Auto Cyclicality
The US auto industry, headlined by Ford, GM (NYSE:GM), and Chrysler (NYSE:FCAU), has historically been extremely cyclical and has harbored major booms and busts. As evidence of this, we can take a look at US auto sales over the past 40 years (65% of Ford's 2015 revenue was generated in the US, making it the dominant geographical segment):

Here's how Ford has moved during that period; note the similarity between US auto sales and the company's stock performance: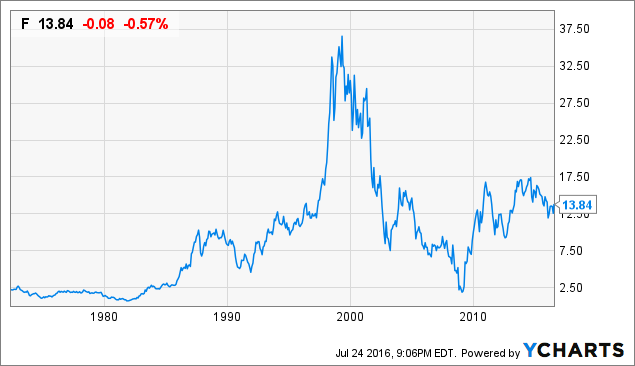 Given the volatile cyclicality, a major part of investing in auto stocks becomes determining where the industry is in its cycle. The winning strategy is to wait for the bottom and then make bets on companies one expects to survive the downturn - one successful example is the group of insightful/fortunate investors that bought Ford at the beginning of 2009.
Today, we are obviously not at the bottom of a cycle for the US auto business, and may even be at or near a peak looking at the chart above. Even if the uptrend in auto sales continues for a few more years, picking a top is a dangerous game when considering the extreme downside that Ford and other auto stocks have seen in years like 1990, 2000, and obviously 2007. For my taste, a few more quarters or even a couple of more years of strong auto sales in the US and correspondingly nice share appreciation and dividend payments from Ford stock are not worth the risk of waiting too long and getting hit by the next downcycle.
Fierce Competition and Capital Intensity
If anyone out there has read "The Reckoning" by David Halberstam, they will know that the auto business has always harbored brutal competition. Carmakers need to spend huge amounts of capital on advertising to convince consumers to buy their vehicle rather than the dozens of other options on the market. The materials, facilities, and labor needed to manufacture cars add onto advertising cost and lead to razor thin margins for auto companies. As visible in the chart below, Ford has averaged a net margin under 5% over the past few decades: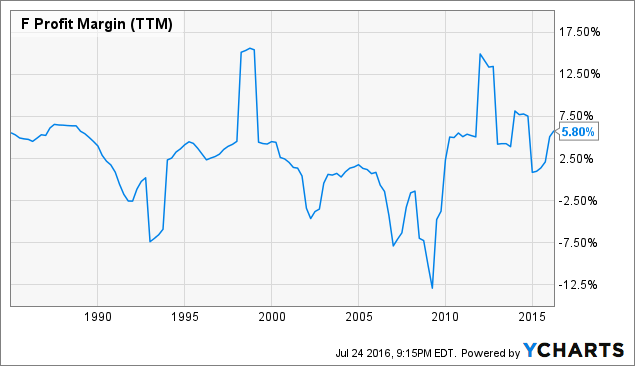 F Profit Margin (TTM) data by YCharts
Also evident in the chart is how easy it is to slip from a low margin level to a negative one. Ford's P/E has often been under ten throughout its history partially because investors know that auto cyclicality can switch a profitable Ford to a money-losing one.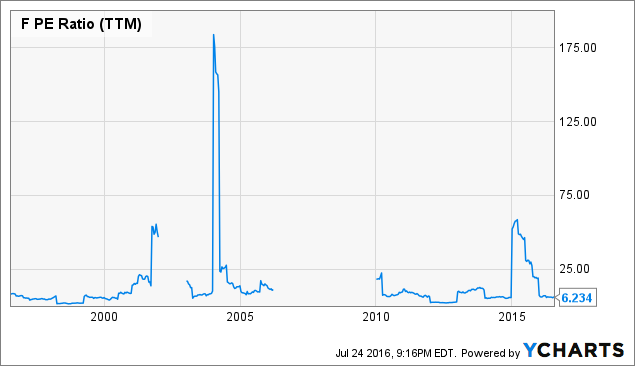 F PE Ratio (TTM) data by YCharts
Low levels of profitability and the intense industry competition have contributed to Ford underperforming the Dow over the past 40 years: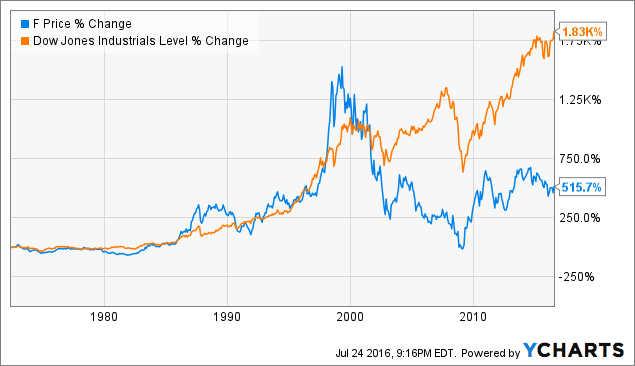 In recent history, the only way people have been generating alpha with Ford is by playing the cycle - buying at the bottom and selling at the top. While identifying stages on the cycle can be difficult, to me it is clear that we are not anywhere near a bottom and therefore there is no reason to invest in Ford right now unless one predicts a big change from the historical norm.
This could be forecasting that Ford cars will suddenly gain a competitive advantage over peers, allowing the company to rise above industry competition, or that Ford will see huge international expansion that will render US auto cyclicality less relevant. I do not see a change of this caliber happening and will wait for a downturn before considering any auto investments.
Note on Dividends
This section is for dividend investors. Ford does currently pay a hefty dividend at 4.34%, but examine the chart below: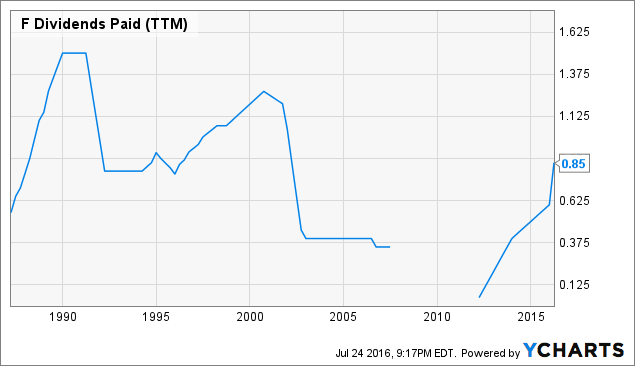 F Dividends Paid (TTM) data by YCharts
The company does not have a consistent dividend growth history, having cut payments numerous times, and therefore one should be hesitant to invest in Ford just for their dividend. It is very possible, if not probable, that the company will cut their dividend again during the next auto downcycle because that's what they have done in the past when business conditions deteriorated.
Conclusion
Despite Ford's solid dividend and low P/E, investing in the company is dangerous given where we are at in the US auto cycle. Avoid companies like Ford and GM until the next downcycle materializes.
Disclosure: I/we have no positions in any stocks mentioned, and no plans to initiate any positions within the next 72 hours.
I wrote this article myself, and it expresses my own opinions. I am not receiving compensation for it (other than from Seeking Alpha). I have no business relationship with any company whose stock is mentioned in this article.